You can now buy Mac and Cheese candy canes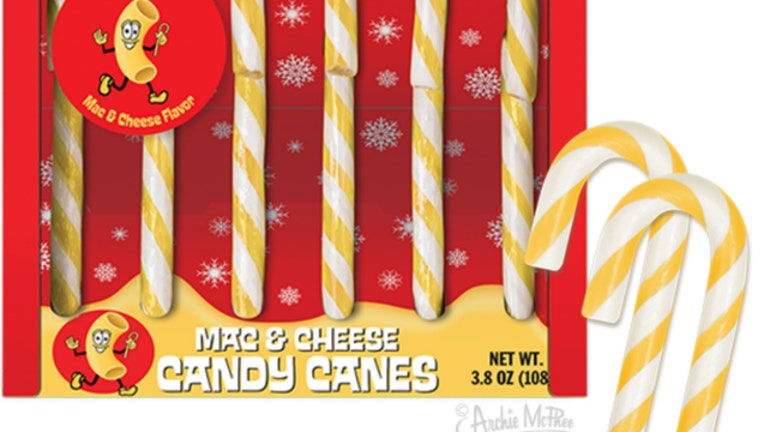 article
FOX NEWS - This Christmas, you may find something "cheesy" in your stocking: macaroni and cheese-flavored candy canes.
Archie McPhee, a Seattle-based novelty retailer, said a 6-piece box of the treat will set you back $5.95. The treats "are a particular favorite of picky eaters" and "taste like your childhood favorite — mac and cheese," the company added. 
"It's like comfort food-flavored comfort food!" Archie McPhee said. "Macaroni and cheese has become a holiday family tradition in many parts of the country, so why not let our holiday candy reflect that?"
Some Twitter users were quick to voice their displeasure with the product. 
"Okay I love mac and cheese as much as the next guy but NO!!! Keep it to only peppermint and cherry candy canes only!" one person insisted.
Another declared, "I think I just threw up a little... I love mac and cheese and I like candy canes, but can you imagine the horror?"
"Is Santa mad at us? Mac and Cheese candy canes sound like something Jack Frost made while on brown acid," one user asked.
A few people, however, expressed a willingness to check it out.
"This really doesn't gross me out..." one wrote.
"To be honest, I kind of want to try these," another shared. 
At least one Instagram user claims to have tested the food. 
"This one isn't bad! Smells like cheese and tastes like Mac n cheese but the sweetness overpowers the flavor eventually so it's doable," @junkfoodmom wrote in a Sept. 12 post.