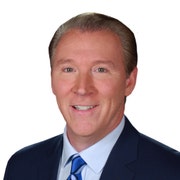 Kevin O'Donnell
Sports anchor
Kevin O'Donnell is a sports anchor for FOX 13 News. He joined the FOX 13 team in June 1988.
Kevin graduated with a Bachelor of Science degree in Communications from the University of South Florida in Tampa.
He began his broadcasting career at WTVT as an intern in 1987. He is now not only a sports anchor for FOX 13 but also a reporter and producer.
Kevin has won various awards for his work including the Associated Press and Society of Professional Journalists Awards for Best Sports Reporting and Best Sports Special.
Kevin was born in Troy, New York and grew up in Manchester, Vermont. Kevin and his wife, Julie have two children, Jacob Anthony and Camden Grace. They have three dogs. He enjoys all sports, and is a coach for his son's Little League team and tackle football team.
If you would like to contact Kevin, you can email him at Kevin.O'Donnell@fox.com. You can also connect with him on Facebook and follow him on Twitter @ODonnellFOX13.
The latest from Kevin O'Donnell