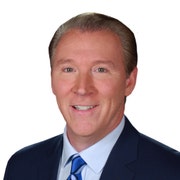 Kevin O'Donnell
Sports anchor
Kevin O'Donnell is a sports anchor for FOX 13 News. He joined the FOX 13 team in June of 1988.
Kevin graduated with a Bachelor of Science degree in Communications from the University of South Florida in Tampa.
He began his broadcasting career at WTVT as an intern in 1987. He is now not only a sports anchor for FOX 13 but also a reporter and producer.
Kevin has won various awards for his work including the Associated Press and Society of Professional Journalists Awards for Best Sports Reporting and Best Sports Special.
Kevin was born in Troy, New York and grew up in Manchester, Vermont. Kevin and his wife, Julie have two children, Jacob Anthony and Camden Grace. They have three dogs. He enjoys all sports, and is a coach for his son's Little League team and tackle football team.
If you would like to contact Kevin, you can email him at Kevin.O'Donnell@FOXtv.com. You can also connect with him on Facebook and follow him on Twitter @ODonnellFOX13.
The latest from Kevin O'Donnell
For 60 minutes, the Lightning and Panthers traded shots -- a first-round match that played out like a heavyweight championship. In the end, it was the Lightning's Stanley Cup pedigree shining through.
The Rowdies' Eastern Conference championship banner hangs at Al Lang field as a reminder of what could have been. A COVID outbreak within the Rowdies team -- days before the USL's Championship – led to an abrupt cancelation of the title game on November 1.
Wiregrass Ranch quarterback Rocco Becht has come of age; a rising senior who now has the size to match his toughness.
Eric Zimmerman arrives for practice with the Tampa Spartans, proudly sporting his new Army fatigues. Zimmerman just graduated first in his class from UT's ROTC program.
At the start of the season, the Tampa Bay Lightning's rookies had no chance of getting the call from Syracuse, but in a grinding sport like hockey, injures create chances. 
Jacob Harris grew up on soccer. He had multiple Division I offers coming out of high school at Palm Harbor University, but he tossed that ball aside after getting a taste of the other football his senior year.
It certainly wasn't a great day for golf, but that didn't stop some of the Tampa Bay Buccaneers' biggest names from teeing it up for the Bruce Arians Family Foundation Celebrity Golf Classic at Innisbrook.
Randall Thompson never made it to the major leagues, but this former Toronto minor leaguer's idea has. Dugout Mugs popped into Randall's head while sitting on the bench coaching at his alma mater, Florida Tech. 
U.S. Amateur Pool Champion Jeannie Seaver went undefeated in her first-ever shot at the sport's most prestigious amateur women's title.