Bucs' cornerback situation still very much in the works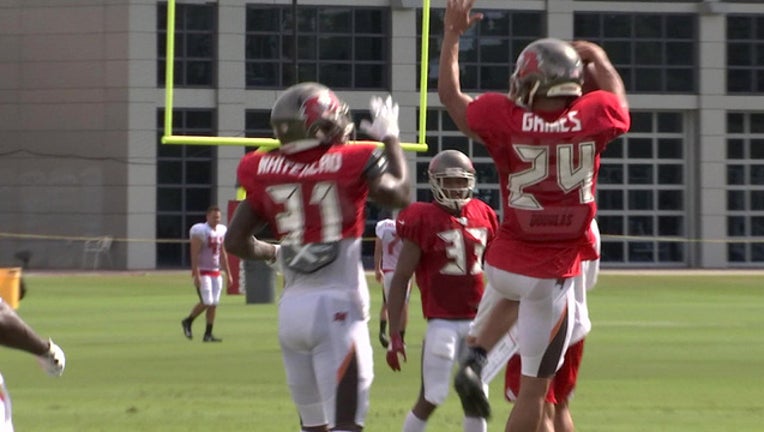 article
TAMPA (FOX 13) - The two weeks Brent Grimes spent not practicing with his teammates was two weeks too long – at least for him.
"For my sanity, I just need to move around," he said. "I'm not good at sitting still for real long. It's good to come out and work with the guys." 
Grimes was out the first part of training camp with and undisclosed injury. The Bucs eased him back in to practice: Grimes was limited Saturday before the day off, but was a part of 7-on-7 and 11-on-11 drills to kick off the week.
"We want Brent Grimes out there," said head coach Dirk Koetter. "He's our best cover guy, so it's great to have Brent out there."  
The veteran is the most stable piece of the Bucs cornerback situation.  Vernon Hargreaves, the Bucs' likely starter at nickel, suffered a groin injury against the Dolphins in the team's first preseason game.
Rookies M.J. Stewart and Carlton Davis have had seen an increased amount of reps as a result of the injuries. Ryan Smith, a fourth-round selection from 2016, is also seeing a heavier workload. He had the game-ending interception against the Dolphins, but has struggled often during camp. 
"You know, it's training camp, there's going to be ups and downs," said Grimes. "People are going to be tired, people are going to be sore. What you can see every day is that guys are learning, guys are having fun competing, guys are also asking questions trying to get better and learn things and learn situations. There's been a lot of good things this camp." 
With more than half of camp still to be played, the Bucs have the rest of August to recover and set the depth chart. 
Today, the Bucs also announced they had been awarded cornerback De'Vante Harris off waivers from the New Orleans Saints, and that cornerback Aaron Davis was waived.