Bucs' Deven Thompkins making his mark at training camp
TAMPA, Fla. - Deven Thompkins knows he won't intimidate anyone – especially not in the NFL – with his size. 
"That's been my thing ever since high school," Thompkins said. "I play bigger than everybody else being smaller than everybody else." 
But what the 5'8" receiver out of Utah State lacks in height, he more than makes up for in confidence heading into just his second season with the Tampa Bay Buccaneers. 
READ: Bucs tight end Cade Otton ready to step up in sophomore season
"I want to be an all-pro returner," Thompkins said. 
To some, that may sound more like overconfidence than self-confidence. But to those that see the Bucs' return man and wide receiver practice every day, they know better. 
"Thompkins coming back for his second year has been impressive," said Bucs head coach Todd Bowles.
Even just eight days into training camp, Thompkins has also turned heads from those newest to the Bucs such as quarterback Baker Mayfield. 
MORE: Bucs' Shaq Barrett opens up about 2-year-old daughter's passing, expecting baby girl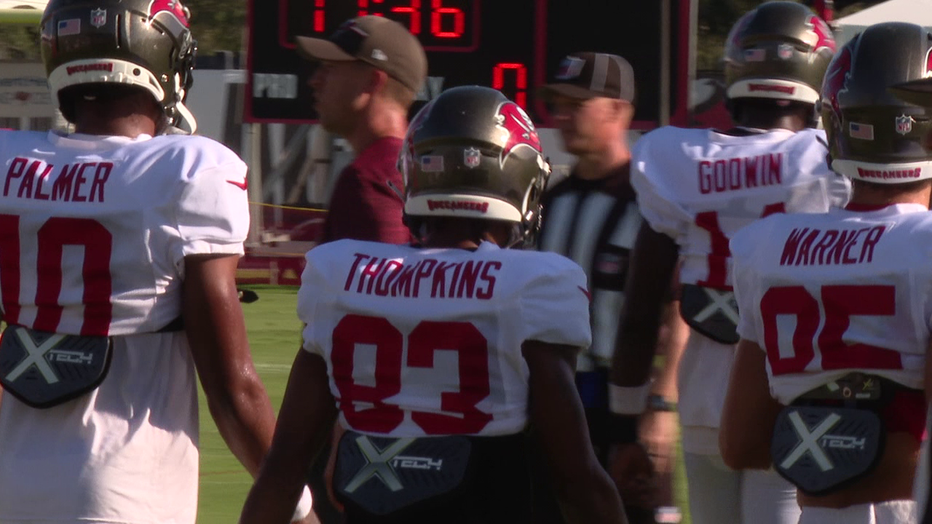 "Deven can jump out of the gym," Mayfield said. "He is not the biggest guy by any means, but he can really, really jump."
Under recruited out of high school, undrafted out of college and reserved to a practice squad role for most of last season, Thompkins is now focused on proving to anyone watching that he deserves a spot on the field. 
"At the end of the day, it allows me to prove everybody wrong and everybody that thinks one way," Thompkins said. "I just want to continue to progress the way that I have, continue to improve and prove everybody wrong." 
Part of Thompkins proof will come on special teams where he will start this season just as he ended his last, as the Bucs feature kick and punt returner. 
"You can change the game a lot of different ways on special teams, and I want to master my role at that," said Thompkins. 
SPORTS: Quarterback battle persists as Bucs training camp continues
On the other hand, the sophomore receiver also expects to see more time on the field on offense with a greater understanding of the playbook this season. 
"Any time they have a play for me, or if I get in there, I just want to do my job and help us win football games," he said. 
For now, however,  Thompkins continues to turn heads and catch the praise of his teammates and fans, a like, at Bucs training camp while waiting to do the same during the regular season.