Bucs' revamped offensive line delivers winning performance in first test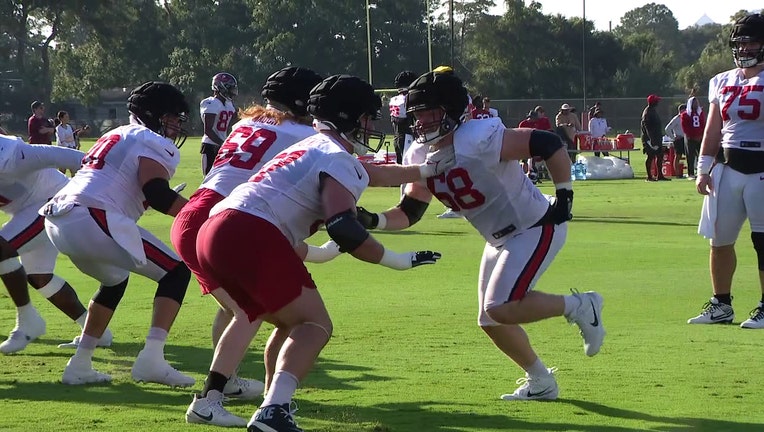 article
TAMPA, Fla. - Heading into a new season, they were the great unknowns – revamped offensive line that was playing in a real game for the first time. 
That offensive line for the Tampa Bay Buccaneers turned in a winning performance on the road in a loud and hostile Minnesota environment and played near flawlessly. There were no false starts, just two holding penalties and newly named starting quarterback Baker Mayfield was sacked once.
"The sack, to be honest with you, is on me," said Mayfield. "The expectations for that O-line compared to how they played – furthest thing from the reality. We knew what they were capable of, we knew what we had going into that game, so I'm really proud of those guys, and they're only going to continue to get better, especially in the run game aspects."
RELATED: Baker Mayfield makes quick impression, impact as Bucs starting quarterback
"It does start with my calls," said Center Robert Hainsey. "In a loud environment like that, I need to be on point and try and get it communicated. When you're up there screaming every play at the top of your lungs. You want to make sure everything is communicated and things are going well it feels good."
Success in football for offenses starts up front and for the Bucs it starts with Hainsey, who is the one returning constant on the offensive line from a year ago.
"It all starts with [Robert] Hainsey," said Bucs Offensive Coordinator Dave Canales. "Him getting everybody targeted to the right spot, it's fantastic."  
Tristian Wirfs move from being an All-Pro right tackle to left tackle gave him worries during the offseason, but his concerns are gone now.
MORE: Mike Williams, former NFL wide receiver, dies from injuries in construction accident
"I thought it was nice to get out there…being able to go on the silent count and get those kind of reps [was] nice," said Wirfs. "I thought it was great."
Luke Goedeke, now at right tackle didn't show the struggles he had as a rookie at left guard.
"Moving back to right tackle I feel very comfortable," said Goedeke. "I feel at home and everything. I feel very smooth, fluid and everything."
It's a strong start for a new group that feels they're only going to get better.