Bucs rookie traded lacrosse for football and never looked back
TAMPA, Fla. - As rookie camps begin across the NFL, these players are reminded of their love for the game, which, for most, began before they could even tie a pair of shoes.
"I was four. I didn't want to sit in the house anymore," remembers first-round pick Calijah Kancey.
"Being in the house was boring to me, but going outside, playing football, being in the sun, I fell in love with (football). So that's when I knew, from that point on, I'm going to be a football player."
"Going into high school, I wanted to play lacrosse year-round and travel," said Durham.
"Recruiting also starts a little earlier for lacrosse, so that's what I thought I was going to do in college."
READ: Bucs lend indoor facility to Robinson Flag Football team
Growing up as a lacrosse player in Georgia, Durham decided to go out for football in his senior year of high school because he lost a bet to his school's football coach. 
"He made a three-point shot on a basketball court," Durham recalls.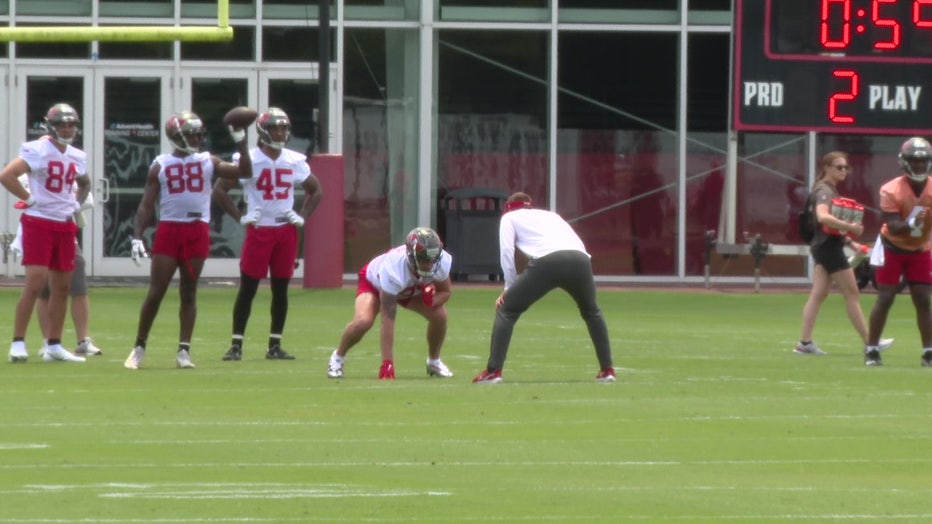 Payne Durham participating in drills at rookie minicamp. 
"He made me a deal where if he made that, I would come out to a summer workout. He made a bunch of those in a row, and now I'm here."
The fact that just five short years ago, Durham was still learning the ins and outs of playing tight end isn't lost on the rookie, either.
"I was like, 'Man, this is kind of cool,'" Durham thought to himself while reporting for rookie minicamp.
"Then, I called my high school coach, that got me into football, and thanked him again. I do that about once a week."
READ: 'Living the dream': Bucs late picks in the NFL Draft bring players with ties to Tampa Bay area
While the fifth-round pick out of Purdue can only guess what life would be like had he stuck with lacrosse, Durham doesn't have to guess what being an NFL draft pick feels like.
Because that dream already came true.
"It's an awesome experience, and I hope it's nowhere near over yet," Durham said.
The Bucs continue rookie minicamp this weekend with organized team activities set to start in two weeks.