Bucs still in playoff push after loss to Cowboys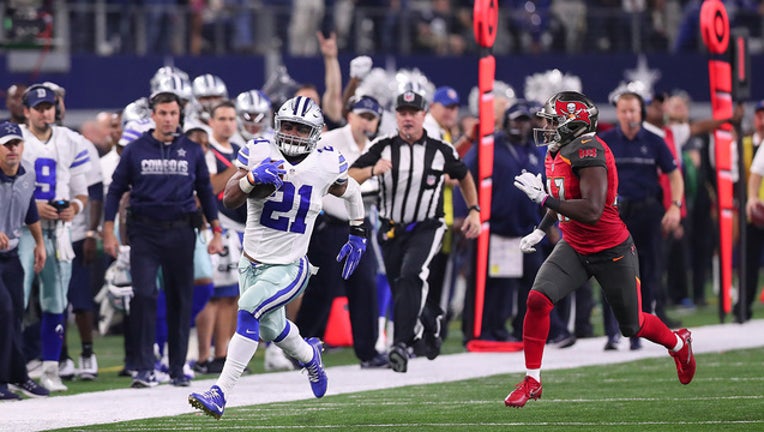 article
ARLINGTON, Texas (AP) - Jameis Winston and the Tampa Bay Buccaneers aren't quite ready for prime time.
They also aren't out of the playoff chase because of a tough loss that ended their five-game winning streak, the longest since their Super Bowl-winning season of 2002.
"We've just got to keep winning, see how it plays out," Winston said after a 26-20 loss at the NFC-leading Dallas Cowboys in his first Sunday night game.
The Buccaneers (8-6), who couldn't muster a comeback in the fourth quarter after erasing a 17-3 deficit and taking a 20-17 lead, dropped a game behind Atlanta in the NFC South with two games left to play.
After Winston threw touchdown passes to Adam Humphries and Cameron Brate in the third quarter, Tampa Bay had only one first down on their five possessions in the fourth quarter.
The Bucs punted with just over 2 minutes left after Winston was sacked and had two incompletions.
Ezekiel Elliott, the rookie leading the NFL in rushing, then had a 15-yard run before the Cowboys (12-2) were forced to punt with 1:38 left.
With the Bucs at their own 11, Winston had an 11-yard completion for their only first down in the final quarter before an incompletion and fumble they recovered and then two more incompletions.
"We had a chance in the fourth quarter. We're not playing for chances, we're playing for keeps here," first-year Tampa Bay coach Dirk Koetter said. "I can only hope that this experience will help us."
Elliott rushed for a career-high 159 yards, including a 2-yard TD when he celebrated by jumping into an oversized Salvation Army red kettle in front of the stands.
While the Cowboys closed in on home-field advantage throughout the NFC playoffs, the Bucs are currently outside the NFC's top six.
Tampa Bay split its two games with division-leading Atlanta. The Bucs go to New Orleans next weekend before closing the regular season at home against Carolina — those are the two teams behind them in the division.
"I'm not sure of all the scenarios yet," Koetter said. "Right now, Dallas is the No. 1 seed. We came to their place and didn't play our best game."
Dallas bounced back after their franchise-record 11-game winning streak ended, hanging on after Winston had rallied the Bucs.
Winston threw for 247 yards and two touchdowns but had four turnovers, including an interception that led to Dan Bailey's 38-yard field goal that gave Dallas a 23-20 lead early in the fourth quarter.
"Every game in the NFL is a must win," Brate said. "It gets amplified here at the end of the year. It's a great opportunity for us. We put ourselves in a good spot. Things didn't go our way today, but if we win our last two, we feel like we have a good chance of making the playoffs."
___
For more NFL coverage: http://www.pro32.ap.org and http://www.twitter.com/AP_NFL