Lightning beat Blackhawks 6-3, take 33 shots in 2nd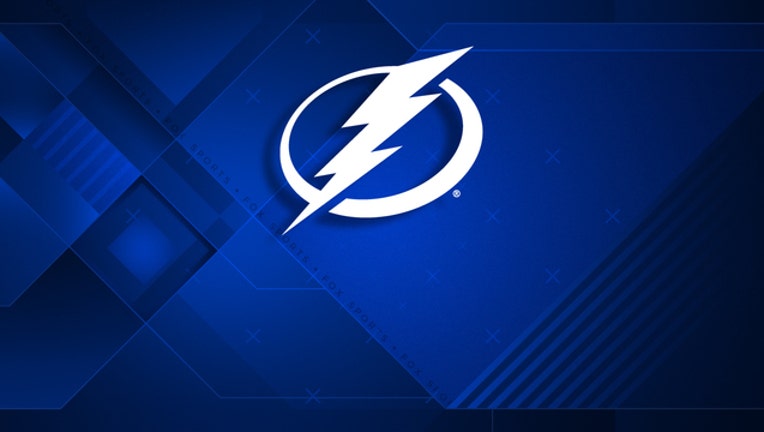 article
CHICAGO (AP) - The Tampa Bay Lightning sure lived up to their name - and reputation as one of the NHL's quickest teams.
Brayden Point had a goal and two assists and the Lightning peppered the Chicago Blackhawks with 33 shots in a three-goal second period in a 6-3 victory Sunday night.
The 33 shots are the most in the NHL in a period since 1997-98, when shots by period became an official statistic.
"We had a lot of low plays, a lot of rebounds that were probably racking up some shot totals," coach Jon Cooper said. "And everything was hitting the net. You need a lot to go right for something like that to happen. That's why it doesn't happen very often."
Nikita Kucherov and Victor Hedman each had a goal and assist, and Anthony Cirelli and Yanni Gourde also scored as Tampa Bay fired a team-record 55 shots. Ryan Callahan added an empty-netter with 2:05 left.
"We were flooding the ice," Gourde said. "We worked as a unit of five. It's great for everybody. Feel the puck, have a few touches, direct pucks at the net."
Blackhawks rookie Alexandre Fortin scored his first NHL goal to tie it late in the first, but the Lightning took charge with their speed and exploited Chicago mistakes to skate away with the win. David Kampf and Nick Schmaltz scored late in the third period to allow Chicago to close it to 5-3, but the Lightning's second-period blitz had sealed the outcome.
"(The second) was a tough period in a lot of aspects," Chicago coach Joel Quennville said. "I don't think we touched the puck at all."
Cam Ward got the start in goal for Chicago and made 49 saves as the Blackhawks played their third game in four days.
Corey Crawford was solid in Chicago's previous two contests, including a 4-1 win at Columbus on Saturday, as he returned from a concussion that had sidelined him since last December.
In this one, Ward's head was spinning after he stopped 30 shots in the second to keep it respectable.
"It's pretty rare to be seeing that much work in a period," Ward said. "We know that we need to be better, especially in our home building, and play with some pride and some passion. Unfortunately, it seemed like it was lacking at times tonight."
Schmaltz's power-play goal with 3:48 left was awarded after a video review showed the puck had crossed the goal line within the glove of goalie Louis Domingue. It was the first power-play goal allowed by the Lightning in 29 chances this season.
Domingue made 33 saves in his second start this season as No. 1 goalie Andrei Vasilevskiy got a night off.
Chicago came on late and outshot Tampa Bay 17-12 in a first period that ended tied at 1.
Kucherov opened the scoring 3:21 in after receiving Hedman's long stretch pass at the Chicago blue line. He sprinted past defensemen Brent Seabrook and Erik Gustafsson, then finished by lofting a backhander over Ward's glove.
Fortin tied it at 1 at 11:40 when he broke alone from the Tampa Bay blue after taking a long pass from Jan Rutta, who whipped the puck from corner of his own zone. After faking, Fortin fired between Domingue's pads.
Ward came up with tough saves throughout the game to prevent a blowout.
But Domingue's right-toe stop on Patrick Kane during a Chicago power play with 1:40 left in the first period was the flashiest. Kane sped down left wing, took a cross-ice pass and fired from the circle, but Domingue kicked out his legs and spun like a windmill to deny the Chicago star.
The Lightning took charge in the second, building a 4-1 lead while outshooting Chicago 33-6
Cirelli made it 2-1 at 4:22 of the period when he kept poking at a puck from a scrum at the right side of the net and eventually knocked it in.
Gourde increased it to 3-1 at 12:07 when he slipped between two defenders, took Ondrej Palat's feed from below the goal line and connected from the slot.
Point's goal's 1:54 later, on a rebound of Kucherov's shot put Tampa May in charge, 4-1.
Hedman pinched down to the left circle to make it 5-1 midway through the third.
Kampf connected from the slot with 4:43 left to cut it to 5-2
Schmaltz made cut it to 5-3 55 seconds later, but Callahan's empty-netter sealed it.
NOTES: According to a story from the Boston Globe, the Blackhawks allowed 33 shots in the second period of a 3-2 loss to the Bruins on March 4, 1941. Goalie Sam LoPresti stopped 31 of them. Boston had 83 shots for the game. ... The 21-year-old Fortin played in his fifth NHL game.
UP NEXT
Lightning: At Colorado on Wednesday night.
Blackhawks: Host Anaheim on Tuesday night.
___
More AP NHL: https://apnews.com/tag/NHL and https://twitter.com/AP_Sports