Lightning motivated to build on last year's success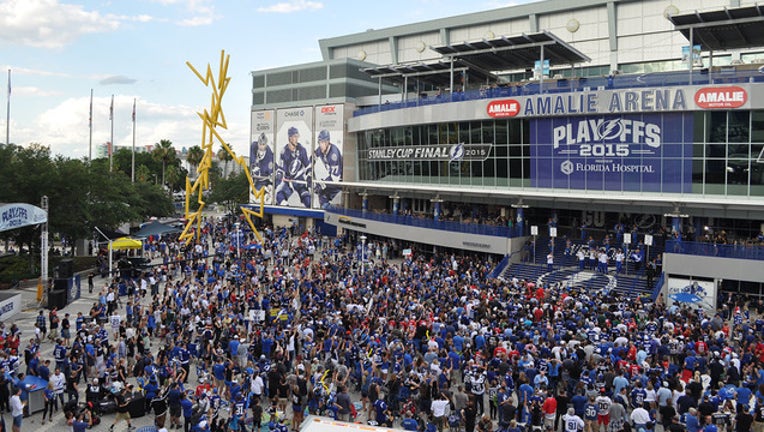 article
TAMPA, Fla. (AP) — Hall of Famer Steve Yzerman offers some simple words of advice for the Tampa Bay Lghtning, who have a goal of getting back to the Stanley Cup final this season.
The architect of the young team that came within two victories of winning the NHL title last spring says the best way to pursue unfinished business of hoisting the Cup is to not spend a lot of time talking about what they want to accomplish.
Yzerman, entering his sixth season as general manager of the Lightning, won three Stanley Cup championships as a player with the Detroit Red Wings, then added a fourth as an executive with the team.
"There's no guarantee we're getting back to the finals this year," Yzerman said. "I think 29 other teams would disagree with it being our turn" to win.
Driven in part by the disappointment of being swept by Montreal in the first round two years ago, the Lightning put together the best regular season in club history last winter. They defeated the Red Wings, Canadiens and New York Rangers on the way to the Cup final, where the Blackhawks defeated them in six games.
"There was a real hunger there," coach Jon Cooper said.
But captain Steven Stamkos said it would be a mistake to assume that the next logical step for a talented that led the league in scoring and set franchise records for victories (50) and points (108) is a return to hockey's biggest stage.
In addition to Stamkos, who's scored more goals (253) than everyone except Alex Ovechkin (256) over the past six seasons, the Lightning feature the exciting "Triplets" line of Tyler Johnson, Nikita Kucherov and Ondrei Palat, as well as forwards Ryan Callahan and Alex Killorn, and defenseman Victor Hedman.
Throw in goalie Ben Bishop, who had a franchise- and personal-best 40 wins last season, and it's easy to understand why it would be a huge letdown to not get back to the Cup Final — and win.
"You have to have mentality that nothing's going to come easy," Stamkos said.
"It's so hard to get there. The parity in this league, I think, is unmatched in pro sports," said Stamkos, who's entering the final year of a contract that pays him $5.5 million this season. "It's going to be tougher this year. Teams are going to be gunning for you. They know what to expect when they're playing against you."
___
Some things to know as the Lightning try to build on last season's success:
EYES ON STAMKOS: With little roster change anticipated, Yzerman's top priority this offseason was signing one of the NHL's most prolific scorers to a long-term contract extension. The GM remains optimistic of getting a deal done "at some point," however allowing the situation linger will only increase the chances it becomes a distraction. This is the final season of a five-year, $37 million contract Stamkos signed in 2011.
DIFFERENT MINDSET: The Lightning led the league with 259 goals last season, but the key to the team's Stanley Cup run was improved defense, anchored by Bishop. "We matured as a defensive group," coach Jon Cooper said. "We learned we could win the 1-0, 2-0 games, that we didn't have to be that run-and-gun Tampa Bay Lightning team to win games." He expects that attitude to carry over to this season.
YOUNG TRIPLETS: Johnson, Kucherov and Palat, who form one of the most productive lines in the NHL, combined to score 31 of the team's 65 goals in the playoffs. Johnson was a first-time All-Star last season and is just 25 years old. Kucherov is 22 and Palat, 24, meaning their best hockey likely is still ahead of them.
DEPENDABLE DUO: Bishop emerged as one of the league's most reliable goaltenders over the last two seasons, and now he's shown the Lightning can depend on him in the postseason, too. Just as importantly, the team thinks it has its goalie of the future in 21-year-old Andrei Vasilevskiy, who will miss the opening month of the season after undergoing vascular surgery.
WHAT'S YOU POSITION: Stamkos' has been a center most of his career, but was moved to right wing during the playoffs. Cooper has had little to say about where the two-time Rocket Richard Trophy winner will be used this season. Neither the Lightning or Stamkos has given any indication how that might play into whether the two sides will be able to agree to a contract extension keeping the captain in Tampa Bay beyond this season.