Mack, Valdes-Scantling return to USF following NFL seasons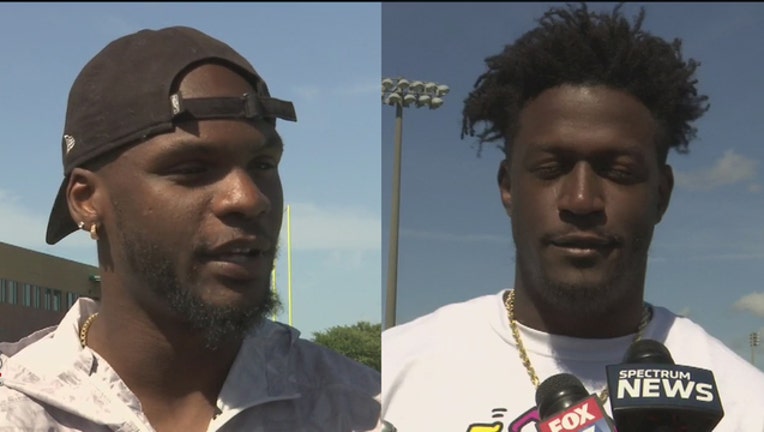 TAMPA, Fla. (FOX 13) - The latest batch of football players at the University of South Florida has its sights set on the NFL, hoping to become the next to make it big. 
Former Bull and current Indianapolis Colts running back Marlon Mack is an example of what the current squad strives to be.
"It's a good feeling, always, to come back and show you can do it," said Mack.
Mack will enter his third year with the Colts this upcoming season. He lead his team with 908 yards rushing and nine touchdowns. His 194 yards in the postseason, was second best amongst running backs. The Colts lost to the Chiefs in the divisional round.
"I just want to build on our team from last year," said Mack. "[We] started 1-5 and going to the playoffs. We want to hit that level of going to the Super Bowl, so that's what we're definitely trying to work on and get there."
Mack and Marquez Valdes-Scantling stood on the sidelines during USF's Pro Day last month.
"You know, just being here a year ago, time goes by so fast," said Valdes-Scantling, a receiver for the Green Bay Packers. "To see these guys out here working, it just brought back all the memories of my Pro Day and how exciting it was for me."
Valdes-Scantling was picked up by the Packers in the fifth round of the NFL Draft last year. As a rookie, his 581 yards receiving was thrid best on the team's roster.
"It's something I worked my whole life for," said Valdes-Scantling. "I can't thank nothing but God to be in this position. To be able to come from south St. Pete to Green Bay, Wisconsin, and be able to play on Sunday nights to live out my dream."
He and Mack are hoping to see more Bulls live out their dreams, like Tyré McCants.
"To come back and show people that you can do it, just always give people that like, 'Okay, that guy came back,' I can do it, too," said Mack.
"It's definitely a once in a lifetime chance, to be able to live out my dreams and play on the biggest stage, in front of millions of people," said Valdes-Scantling.