Push for Point: Teammates are also fans of Lightning's leading scorer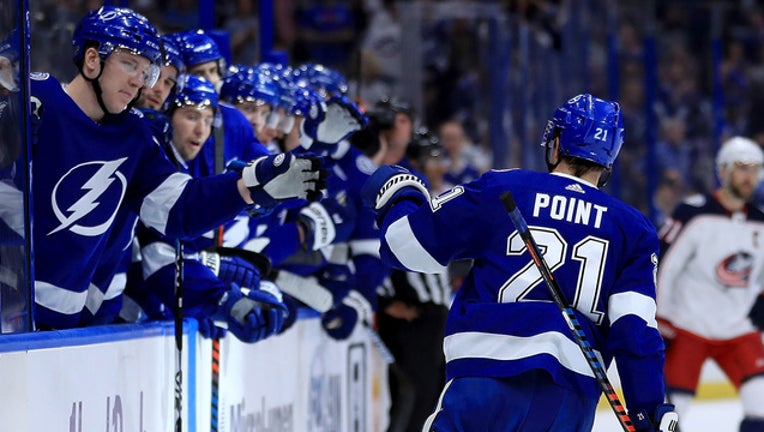 TAMPA, Fla. (FOX 13) - The push is on for the Lightning's Brayden Point to get him back to the All-Star Game for a second straight year. Point is one of eight players that you can vote for in the NHL's 'Last Man In' campaign that runs until Thursday night at 11:59 p.m. 
The Lightning's leading scorer certainly has the stats to support his selection.
"I don't think we need to state a case for him," said Lightning captain Steven Stamkos. "Just watch the kid play. It's pretty remarkable what he's been able to do."
"When you see what he's done in this league since he's been in this league," offered Lightning center Alex Killorn, "how many big time goals he's scored and how much he's contributed to our team. I definitely think he should be in the All-Star Game."
Point leads all finalist in points and his 17 power play points are more than any of the other candidate, but you're not going to hearing Point making his own case for the call.
"Thank you to all of the fans vote," said Point. "I think if you look at that list there's a lot of great players no it. So whatever happens, happens. Just thanks to the people that have vote."
The question is how many times has Point voted?
"No, I haven't voted myself," he laughed. "No, no."
So the push is on for Point. And since Point isn't going to vote for himself, his good friend and teammate Anthony Cerilli has agreed to lead the charge. 
"He doesn't want me to vote though," said Cirelli. "He wants it to be just the fans. I'm a fan of him though."
How many times have other Lightning players voted?
"This morning?" Killorn asked in jest. "I was practicing. I'm going to go home and it's going to be the first thing I do."
You can vote 10 times every 24 hours.
"Perfect, that's what I'll be doing," Killorn smiled.
The Lightning had four members make it last season and there's no reason to think this team doesn't have as many deserving players this year. 
LINK: NHL All-Star ballot