Rays' new pitcher Ryan Merritt never 'shakes in his boots'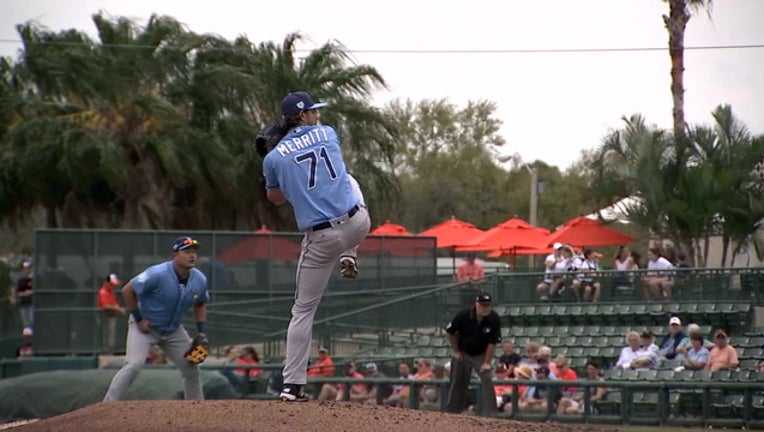 PORT CHARLOTTE, Fla. (FOX 13) - With just four major league games under his belt, Ryan Merritt started Game 5 of the 2016 ALCS for the Cleveland Indians. Merritt pitched 4 1/3 scoreless innings against the Toronto Blue Jays and helped Cleveland clinch a trip to the World Series. 
Now, three years later, Merritt is looking to write a new chapter to what has been one interesting career.
Merritt is getting a chance to do that with the Rays this spring. He's looking to bring the same kind magic that he made on the mound in the 2016 ALCS. Merritt was the storyline of that series after Blue Jay slugger Jose Bautista tried to rattle him by saying Merritt would be shaking in his boots pitching on the biggest stage in his career.
"I was pretty nervous," Merritt told FOX 13's Kevin O'Donnell. "No, I wasn't shaking in my boots. I was definitely nervous. All the emotions that you can think of and I knew I just had to compete; be myself."
After putting the Indians into the World Series, Merritt became an instant hit with Indians fans -- so much that they found his wedding registry and bought it out. 
"I think in one night I opened like 200 gifts or something," said Merritt. "Yeah they took care of me. I was a fun and special time."
Merritt isn't particularly tall, but you can't miss him on the mound. His pre-pitch routine is a little erratic.
"People call me 'Twitch,'" laughed Merritt. "All my teammates have always called me that and I wouldn't even notice it if people didn't pull it out or tell me about it. They tell me I'm all over the place on the mound. I think it relaxes me."
A shoulder and knee issue kept him out of the majors last year, but his career numbers are impressive. He's never lost a major league game. He's a perfect 3-0.
"It would be awesome if I could keep that forever," laughed Merritt. "I think the goal this season is every time I've touched the rubber is to try and win a baseball game, whether that's in the big leagues or it's in triple-A, wherever it is."