Scott Smith's College Caravan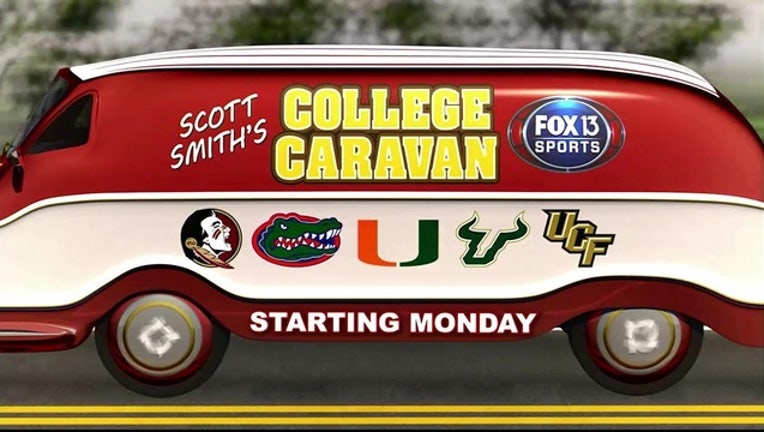 article
(FOX 13) - College football season is just days away, and most of Florida's big-name programs have seen some big-time changes in the last year or so. FOX 13 sports director Scott Smith is on the road this week, checking in with several top schools as they get ready. 
DAY 1: UNIVERSITY OF FLORIDA
%INLINE%
The College Caravan's first stop was Gainesville, Florida where Dan Mullen is heading into his first season as the Gators' new head coach. Mullen inherits a program that finished 2017 at 4 and 7. 
Mullen's top priority is finding a quarter to lead the Gators back to prominence. So far in training camp, Mullen has seen inconsistency from redshirt sophomore Feliepe Franks and Kyle Trask.
"To be a big-time quarterback, I don't even think they know how hard that is," Mullen said. "I think they should understand it hopefully by next summer. I was hoping that maybe just one of them it really clicked, but I didn't see that happen."
Florida chose Mullen to fix their quarterback issues that have hampered this program since Tim Tebow graduated in 2009. 
"For me, I watch each guy and I'm like 'Oh, that looks really good.' And then the next play 'Oh, that looks really bad,'" Mullen continued. "They've got to understand the why of what we're doing, the big-picture of things, to also be able to manage the offense. I think that's the one thing that I see from them that I'm harping on all the time, is not just to understand their position; understand the offense."
Until one of the quarterbacks steps up and grabs a hold of the starting position, Mullen plans to lean heavily his stable of talented running backs, which includes former Jesuit running back Malik Davis. Davis is back after his successful freshman season was cut short due to a knee injury. He rushed for 526 yards and two touchdowns in seven games.
"They're going to earn all their playing time in there, right? We want to run the ball," said Mullen. "We want to be a physical running team, and guys are going to earn their carries and earn their touches, earn their right to play."
The Gators open the season at home against Charleston Southern on September 1.
DAY TWO: FLORIDA STATE UNIVERSITY
%INLINE%
Scott Smith pulled into the state's capital on Tuesday where Willie Taggart has come home, sort of. The former USF head coach has landed what he calls his dream job leading the Florida State Seminoles. 
Taggart, who grew up in Bradenton, says this is a job he's always coveted.
"It means the world to me," said Taggart. "It's something that I've always wanted. As an individual that's always striving to be the very best and to have the very best. It's very gratifying to accomplish one of your goals to be the head football coach at Florida State University."
Taggart will make his Seminoles debut on the national stage as FSU opens up at home against Virginia Tech on September 3 on prime-time television.
"I really don't think about it that way," continued Taggart. "I just think about it was being my first game at Florida State and we're at home... that's great. Not necessarily that we are the only game. I didn't look at it that way. It's going to be big for our program. Not for me, but for our program, our guys, our goals and things we want to get accomplished. This is it, it starts there. We always have a goal where we want to win our first and last game every season. Also have a goal of winning at home, taking care of our home. Our guys were on that stage a year ago and it didn't end they way we wanted to. We have to make sure we are doing our parts to make sure we are on the other side of that come Labor Day."
Everyone wants to know about the quarterback competition between Deondre Francois, James Blackman, and redshirt freshman Bailey Hockman. Taggart says each one of the QBs brings something to the table and he is in no rush to pick a starter just yet. FSU has over three weeks before the season kicks off.
"They are all doing a good job," Taggart added. "Now, it's being able to win the team over by doing those things, and winning them over by making plays on the football field."
DAY THREE: UNIVERSITY OF SOUTH FLORIDA
%INLINE%
Day 3 of the College Caravan pulls into USF to catch up with Head Coach Charlie Strong and the Bulls.
The second year of the Strong era kicks off with some major holes to fill. Strong is looking ahead as his team lost 25 players - seniors who graduated last year - with 11 of them being starters.
"What's different about this team this year is, last year you had all those voices, and you don't have those voices now and this group of seniors never had to speak because [last year's seniors] did all the speaking for them," Strong explained.
Strong hopes this year will be a defining year after he spent his first learning the team. But with the loss of all those key players, he's looking to his up-and-comers to make a big impact.
"I've always been under the mindset that it's not about rebuilding there are guys that have been in our program now it's their time to step up," Strong said.
For the first time in three years, Quinton Flowers isn't the quarterback, so it's hard to know what to expect. 
For the first time in a couple of years they aren't the pre-season American Conference favorites. Now, they're more underdogs than anything.
DAY FOUR: UNIVERSITY OF MIAMI
%INLINE%
The University of Miami Hurricanes were in full-swing of Canes Camp in Coral Gables.
They're ranked 8th in the Coaches Poll and they have hopes for ACC and National championships. With 15 returning starters, on both sides of the ball, the team is stacked for success. 
The most tenured head coach in Florida - with only three years under his belt in Miami - Mike Richt said his team is what you would expect with the mix of veterans and rookies. 
"When you have leaders like [Shaquille Quarterman] and leaders like Jaquan Johnson and then even [Sheldrick] Redwine, [Michael Jackson], veteran guys that know what they're doing, there's a lot of guys that have played in big games. So if somebody's in there, throwing in there, who's a little bit young or inexperienced, they can help those guys raise the level of their play," Richt said.
The Canes got up to second in the rankings last year before a loss to Pittsburgh sent them on a losing spree. This year they hope to ride the turnover train all the way to the National Championship.
DAY FIVE: UNIVERSITY OF CENTRAL FLORIDA
%INLINE%
The University of Central Florida made a huge impact in 2017. They were American Athletic Conference (AAC) champions, Peach Bowl champions, and - depending on who you ask - national champions. They were also the only Football Championship Subdivision (FCS) team to go undefeated.
In 2018, they return largely intact, with the exception of a couple of departures on defense. They are the team to beat in the AAC this year, coming in ranked 23rd in the pre-season coaches poll.
They do have a new head coach, with Scott Frost taking a gig at Nebraska. Josh Heupel, former offensive coordinator at Oklahoma and Missou, is known for a fast-paced attack. 
Junior QB McKenzie Milton, who may be a Heisman contender this year, is settling into the speed. The whole team has been working to get in step with Heupel's game.
"During spring ball you try to introduce some of your base philosophies, some of your base schemes. We're incorporating some things they've done in the past, and some things I"ve done in the past that I didn't necessarily do at Missouri," Heupel said. "There's things we're grabbing from Oklahoma that I ran back there and had a lot of success with."
This is Coach Heuple's first head coaching position. He seems to be settling in, letting the players grow with him.
"You have to allow these 18 to 23-year-olds to change who they are and how they approach it and sometimes the lightbulb comes on real quick for these guys and they're dramatically different players and dramatically different people, how they handle things and try to be successful on the field. That's why you give training camp a full go," Coach Heupel explained.