Spurrier resigns, takes blame for South Carolina's slide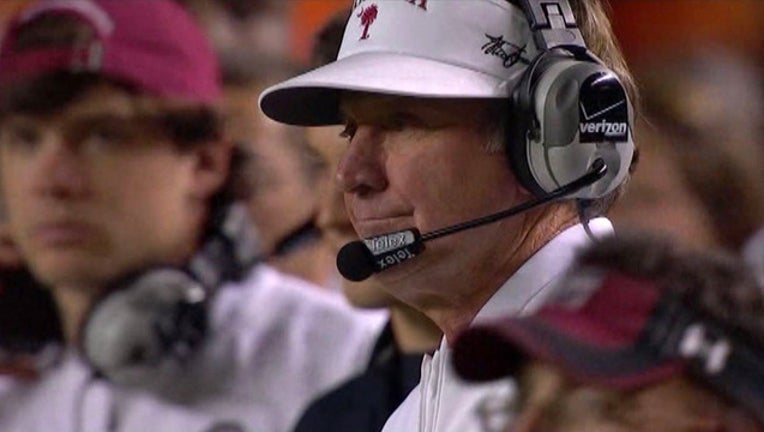 article
COLUMBIA, S.C. (AP) — Steve Spurrier said Tuesday that he made the decision to resign as South Carolina's head coach because the team was heading in the wrong direction.
"We've slipped. It's my fault. I'm the head coach," he told a news conference.
Spurrier said he started really thinking about resigning Sunday morning, spoke to South Carolina athletics director Ray Tanner that afternoon and told his team on Monday night that he was stepping down, effective immediately.
Spurrier said he felt he needed to step down now because he doesn't believe there is accountability with players if they know the coach won't be back next year. He also said he was a recruiting liability.
He had never had a losing season in 25 previous seasons coach at Duke (1987-89), Florida (1990-2001) or South Carolina, where he has been since 2005.
South Carolina President Harris Pastides said he asked the coach to stay through the rest of the season, but Spurrier declined.
Spurrier said it's "time for me to get out of the way and let someone else have a go at it. ... I was the best coach for this job 11 years ago, but I'm not today."
The Gamecocks are 2-4 and 0-4 in the Southeastern Conference for the first time in Spurrier's 23 seasons coaching in the league at Florida and South Carolina.
Interim head coach Shawn Elliott said his job was to help the team move forward.
"Our team is not in shambles, as some might say," he said after Spurrier left the podium. "Not sure the change is what they've needed but the change is what they've got. Going to do everything we can to make the University of South Carolina proud of this football program."
Spurrier was in the middle of his 11th season at South Carolina and while the Gamecocks are struggling, university officials praised his accomplishments and impact he has had on the football program.
Spurrier considered leaving last December after the Gamecocks went 6-6 in the regular season. But the team beat Miami in the Independence Bowl, a victory that seemed to re-energize him.
He said this summer he planned to coach two or three more years, then extended that to four or five years when several recruits who had committed to South Carolina backed away before signing day in February.
Then in July, Spurrier held a defiant news conference, telling Gamecocks fans not to listen to "enemies" questioning his commitment level, or implying he could no longer effectively coach at his age.
"We haven't lost it," Spurrier said in the summer. "We've got a dang good team."
But things have quickly spiraled downward this season.
The Gamecocks lost to Kentucky at home in the season's second week, then were blown out by SEC Eastern Division rival Georgia, 52-20, a week later.
Losses at Missouri and No. 6 LSU last week guaranteed Spurrier no better than a break-even season. Spurrier had never had a losing season in 25 previous seasons coaching in college at Duke (1987-89), Florida (1990-2001) and South Carolina.
South Carolina's inconsistency on offense this season has surely frustrated Spurrier, a Heisman Trophy winning quarterback at Florida who played for San Francisco and Tampa Bay in the NFL. After beginning his coaching career in the USFL, and leading Duke, he returned to the Swamp and took the Gators to a national championship with a high-flying, Fun-n-Gun attack.
The Gamecocks are 11th in total offense in the SEC, averaging 341 yards a game.
The high-water mark of Spurrier's 11 seasons at South Carolina was from 2011-13. The Gamecocks went 11-2 each season, led by quarterback Connor Shaw and top NFL draft picks like defensive end Jadeveon Clowney, receiver Alshon Jeffery and running back Marcus Lattimore.
The Gamecocks have used three starting quarterbacks through the first half of this season, including former walk-on Perry Orth and true freshman in Lorenzo Nunez.
South Carolina plays at home against Vanderbilt (2-3, 0-2) on Saturday.
Spurrier is the winningest coach ever at South Carolina and Florida. During his tenure at Florida he led the Gators to six SEC titles and a national championship before leaving his alma mater to see what he could do in the NFL.
After two losing seasons with the Washington Redskins he returned to the SEC with South Carolina in 2005 and turned the perennially mediocre Gamecocks into championship contenders.
Spurrier, who was 35-21 with the USFL's Tampa Bay Bandits from 1983-85, started his college head coaching career at Duke. He has a 228-89-2 career record with the Blue Devils, Gators and Gamecocks.
___
AP College Football: www.collegefootball.ap.org