Tampa Bay Lightning, Maple Leafs meet again in first round of NHL playoffs
TORONTO - The Tampa Bay Lightning have enjoyed more success than any other team over the past three NHL postseasons, while the Toronto Maple Leafs have dropped eight consecutive playoff series and exited in the first round each of the past six years.
Ultimately, though, the Eastern Conference contenders know they'll be judged this season by what happens next — not what they have or haven't accomplished in the past.
The Atlantic Division rivals begin a best-of-seven series Tuesday night in Toronto, with the Lightning launching a bid to reach the Stanley Cup Final for a fourth straight year. The Maple Leafs are hoping to finally get over the hump and advance beyond the opening round for the first time since 2004.
Tampa Bay won back-to-back Stanley Cups in 2020 and 2021, then came within two victories of pulling off the NHL's first three-peat since the early 1980s in losing last year's Cup Final to the Colorado Avalanche in six games.
PREVIOUS: Point gets 50th, 51st goals, Lightning beat Red Wings 5-0
The Lightning still have plenty of star power with a loaded roster featuring big-time scorers Nikita Kucherov, Steven Stamkos and Brayden Point, top defenseman Victor Hedman and goaltender Andrei Vasilevskiy.
The question is whether the team can shrug off an inconsistent regular season and make another deep playoff run.
Lightning coach Jon Cooper noted it's not as simple as flipping a switch because "that switch gets flipped for all 16 teams in the playoffs."
"In every locker room it goes on, but you've just got to hope it's coinciding with you playing well," Cooper said. "When those two things mirror each other, it's usually pretty good for your team."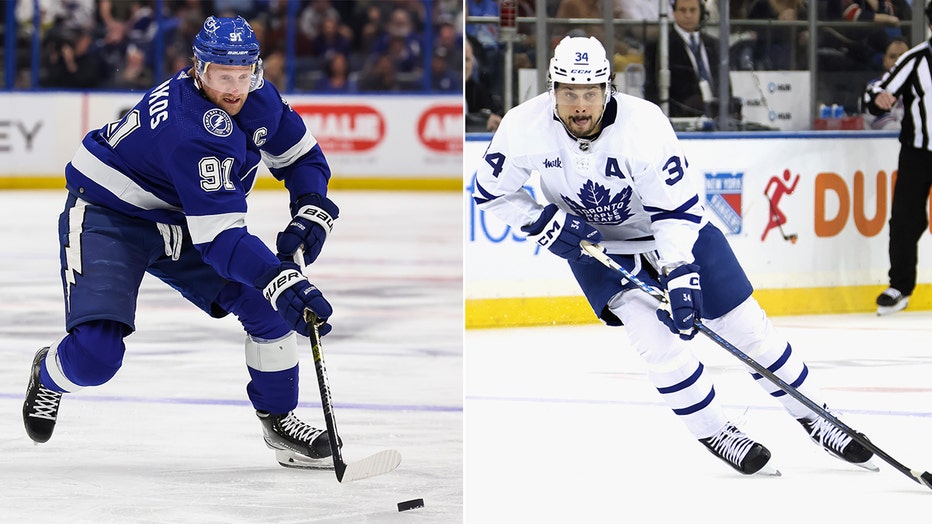 With forwards Auston Matthews, Mitch Marner, William Nylander, John Tavares and Ryan O'Reilly, along with confident goalie Ilya Samsonov, the Maple Leafs have a lot of outstanding pieces in place, too.
They held a 3-2 series lead against the Lightning last year, but couldn't close the deal.
"End of the day, there are a lot of good teams. Us, too," Samsonov said. "I think we're an elite team, probably the best team in the league."
MORE: Lightning earn playoff berth with win over Islanders
That may be hyperbole, especially considering the Boston Bruins set league records for victories and points this season.
The Maple Leafs, however, definitely could take a significant step forward by defeating the Lightning.
LEAFS FUTILITY
The Maple Leafs haven't won a playoff series since 2004, when they reached the Eastern Conference semifinals. They've dropped their opening series each of the past six years.
Toronto won two of three meetings between the teams during the regular season.
"I think we're aware of it, obviously, no doubt," Tavares said of Toronto's postseason woes. "All we can do is prepare for what's in front of us, and the opportunity we have at hand. Be at our best when we meet this challenge."
DIFFERENCE MAKER
No player has been as dominant in the playoffs over the past three years as Vasilevskiy, who was 48-23 with seven shutouts, a .928 save percentage and 2.08 goals-against average over 71 starts in helping Tampa Bay to back-to-back-to-back appearances in the Stanley Cup Final.
The 2019 Vezina Trophy winner was 34-22-4 during the regular season — 5-5 over his last 10 starts — though the unusually high number of losses is more of a reflection of the way teammates played in front of him than the performance of the star goaltender.
GOALIE MATCHUP
One of the keys to the series will be how well Samsonov plays in comparison to Vasilevskiy, especially with Maple Leafs backup Matt Murray still recovering from a concussion.
The 26-year-old Samsonov appeared in eight postseason games with Washington in 2021 and 2022, going 1-6 in seven starts with a .907 save percentage with a 2.98 goals-against average.
"I don't think about it. I'm more worried about how I'm feeling," the Toronto netminder said of the goalie matchup.
"We're not playing against Vasilevskiy but against the full Tampa team," Samsonov said. "I'm concentrating more on this locker room and how my teammates are feeling."
ROAD STRUGGLES
The Lightning were 18-22-1 away from home this season, finishing below .500 on the road for the first time since 2012-13.