USF Bulls unite in grief -- just in time for FSU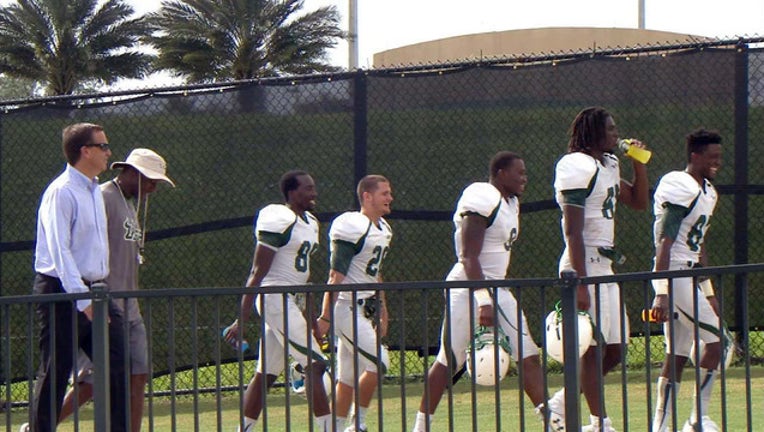 article
Bulls unite: It's the only way USF knows how to move past the death of a former teammate.
Tuesday was the first time back on the field since Elkino Watson, a former Bull, was stabbed to death early Sunday morning.
Willie Taggart guided his team with a smile on his face.  Behind that smile, he was still in mourning.
"He was behind our bench [against Florida A&M], he had told me how proud he was of our football team and their performance," said Taggart. "A lot of our guys were with him that night, and then the next morning, he's no longer here. So, you can only imagine what it was like to a lot of our guys."
It's been an emotional roller coaster for Willie Taggart and the Bulls. First, they come off that impressive win over Florida A&M. Tonight, they'll remember their former teammate Elkino Watson in a private ceremony at the Sun Dome. Tomorrow, they're back on the practice field in order to continue preparations for a top-10 team in Florida State.
"They wanted to keep going, and like I said, they want to make Elkino proud of them," said Taggart. "They want to continue to build on what Elkino helped us build right now."
The Bulls will try to build on their win over Florida A&M, despite the tough circumstances. It won't be an easy task against the Seminoles, who put up more than 600 yards of offense in their opener against Texas State.
"I just hope (Everett) Golson has an off day. I hope (Dalvin) Cook doesn't feel like playing. I hope the O-line (is) just a little sleepy," said Taggart. "I mean, they're very talented. We're going to have to play our A-game. We gotta play our A-game. But, I like our chances. I like our guys. I like the way our guys are playing. You know, I think our guys will be fired up about this competition and this challenge. I think they'll go out and put on a good show."
With heavy hearts, the Bulls will undoubtedly be playing for their fallen teammate as well.