Winston returns to work; Bucs not saying if he's starter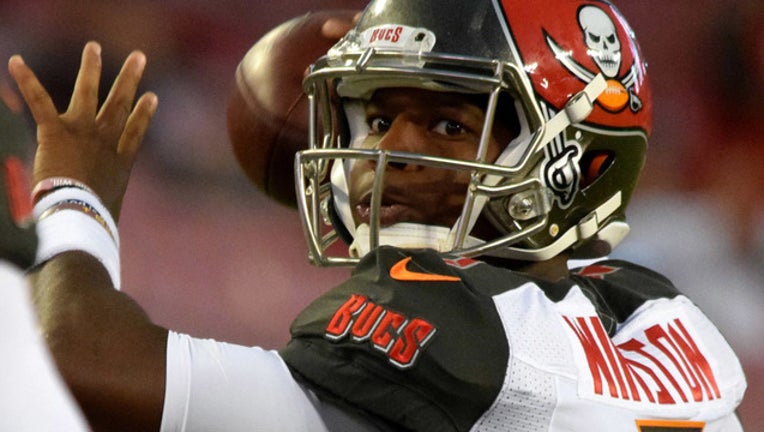 article
TAMPA (AP) - Jameis Winston is back on the job, though the Tampa Bay Buccaneers still aren't saying if it's as the team's starting quarterback.
Winston's three-game suspension for violating the NFL's personal conduct policy ended Tuesday, the first day the fourth-year pro was permitted to return to the team's training facility and have contact with coaches and teammates.
It was a day off for players following Monday night's 30-27 loss to the Pittsburgh Steelers, however coach Dirk Koetter said the first overall pick from the 2015 draft showed up bright and early, ready to begin preparation for the Chicago Bears.
What Koetter declined to say was whether Winston or Ryan Fitzpatrick, who has the Bucs off to a 2-1 start while throwing for more than 400 yards in a league-record three consecutive games will start Sunday.
"I know there's a lot of interest in the quarterback thing. I did talk to both Jameis and Fitz," Koetter began.
"It's great to see Jameis back in the building. He was here early and working hard. We welcome Jameis back, glad to have him. Short week," the coach added. "He assured me he was ready to go, which I don't doubt for a minute that's he's been working hard."
Without elaborating, Koetter said he shared the team's plans with both quarterbacks.
"We know what we're going to do. Both guys know what we're going to do," the coach said, "I hope everybody can appreciate it doesn't do us any good to tell our opponents what we're going to do. That'll work itself out as the week goes on."
Winston started 45 of 48 games over the past three seasons, going 18-27 while throwing for 11,636 yards, 69 touchdowns and 44 interceptions. The 2013 Heisman Trophy winner has topped 4,000 yards passing twice, but has yet to lead Tampa Bay to the playoffs.
Fitzpatrick, a 35-year-old journeyman who played for seven teams in 14 seasons, has thrown for 1,230 yards and 11 touchdowns in Winston's absence.
The Bucs rallied from a 20-point halftime deficit to make Monday night's game close. Fitzpatrick finished with 411 yards and three TDs, however he also helped dig the hole Tampa Bay couldn't escape with interceptions on three consecutive pass attempts in the second quarter.
Winston is expected to meet with the media on Wednesday, when team begins preparation for the Bears.
Fitzpatrick was asked Monday night about Winston's impending return and what it might mean for his role moving forward.
"You know, I have so much fun playing this game. ... I'm here just ready to do whatever it takes to help the team win, and I think that will be my mindset going forward," Fitzpatrick said.
Fitzpatrick also started three games last season, going 2-1 while Winston was sidelined with a shoulder injury.
"This quarterback issue we have right now is not an adversity," Koetter said. "We are blessed. I think we have three good quarterbacks on our roster right now. Not all teams in the league can say that."
___
More AP NFL: https://apnews.com/tag/NFLfootball and https://twitter.com/AP_NFL