Winston's 4 INTs leave Bucs with a quarterback question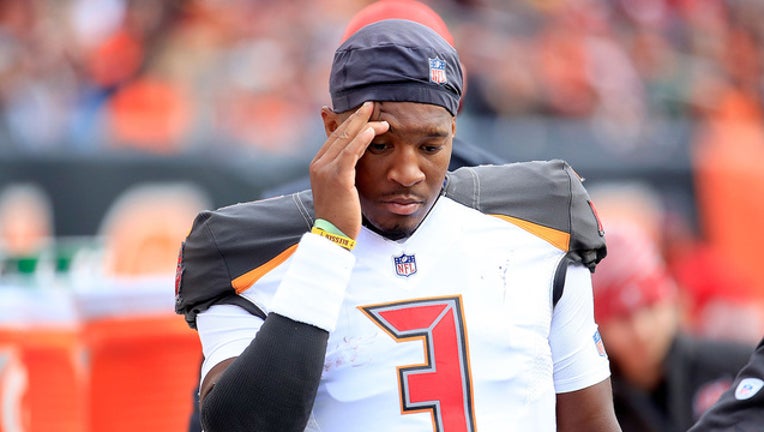 article
CINCINNATI (AP) - Ryan Fitzpatrick finished his postgame media session, turned the corner and saw Jameis Winston heading down the hallway. The two quarterbacks exchanged a supportive fist-bump.
It also might have been a passing-of-the-torch moment.
Fitzpatrick took over after Winston threw four interceptions - one returned for a touchdown - and rallied Tampa Bay with such an impressive performance that the job might be back in his hands. The Buccaneers have to pick one or the other following their 37-34 loss to the Cincinnati Bengals.
Nobody will be surprised if it's the bearded one.
Fitzpatrick had only a couple of minutes to warm up after Jessie Bates returned Winston's fourth interception for a 34-16 lead. Fitzpatrick led the Buccaneers (3-4) to a field goal and a pair of touchdowns, including his tying 18-yard pass and conversion with 1:05 left.
"It doesn't take a lot to get this thing going," Fitzpatrick said, moving his arm in a warmup motion.
He finished 11 of 15 for 194 yards with a passer rating of 154.9, just shy of perfect.
Was it good enough - and was Winston bad enough - to prompt another quarterback change in Tampa Bay?
"Today is not the day I need to decide that," coach Dirk Koetter said.
Winston opened the season on suspension for violating the NFL's personal conduct policy, and Fitzpatrick put up big numbers as his fill-in. Winston returned but has struggled, creating an opening for Fitzpatrick to reclaim the job.
Winston was benched after matching his career high with four interceptions, the third time he's thrown so many in his career. He has 10 interceptions, one fewer than all last season. Winston has thrown at least two interceptions in five straight games, tied for the most since 1990.
"I'm definitely the reason we came up short with this game, and I know that I have to fix it," said Winston, who was 18 of 35 for 276 yards and was sacked five times.
Two of his throws sailed in the gusty wind, and two others were simply forced. The decisive one went directly to Bates, who had a clear path for his 21-yard return.
"Just a bad decision," Winston said. "Just a really bad decision. Just a really, really bad decision."
Tampa Bay tried to fix its porous defense by switching coordinators. The Bengals (5-3) had a 100-yard rusher and a 100-yard receiver in the first half while pulling ahead by 21 points. They managed only 95 yards in the second half, 50 of them in their drive to Randy Bullock's 44-yard field goal on the final play.
Tampa Bay has the most productive offense in the league when it's not turning the ball over.
DeSean Jackson caught a 60-yard touchdown pass that moved him ahead of Jerry Rice for the NFL record. He has 24 TDs of at least 60 yards. It also was Jackson's 29th career TD of at least 50 yards, tying Randy Moss for second-most since the 1970 merger behind Rice's 36.
Mike Evans had six catches for 179 yards, including a 72-yard touchdown from Fitzpatrick . It was Fitzpatrick's fifth TD pass of at least 50 yards this season - most in the NFL.
And it wasn't enough.
"We can't turn it over seven times in two weeks," Koetter said. "That's obvious."
___
More AP NFL: https://apnews.com/tag/NFL and https://twitter.com/AP_NFL