Winston's big finish not enough for Buccaneers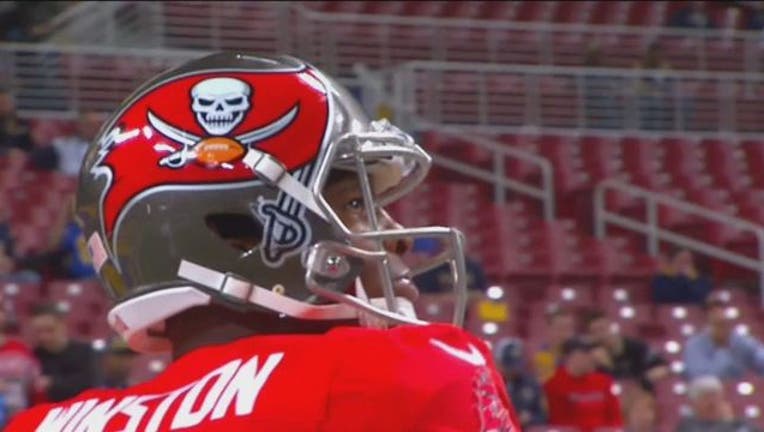 article
ST. LOUIS (AP) — Jameis Winston owned the fourth quarter. The problem was the first three quarters.
"The first half, I didn't play good enough for us to win," the Tampa Bay quarterback said after the Buccaneers' surge fell short in a 31-23 loss to the St. Louis Rams on Thursday night.
"We were protecting good enough. I just have to make throws."
Winston said the Rams' defense didn't do anything extra and the Bucs' offensive line did a good job. Although he passed for a career-best 363 yards, his first 300-yard effort, he put this one on himself.
Up 31-13, the Rams became conservative, and Winston took advantage with two touchdown passes. But he had just 125 yards passing the first three quarters.
"In these situations, the quarterback has to show up to play," Winston said. "Lesson learned, got to move forward. Our playoff hopes are probably done, but the season ain't over yet."
Though Tampa Bay totaled 509 yards, coach Lovie Smith didn't see a lot to like.
"With so much at stake, you want to play better," Smith said. "We're headed in the right direction. Not there yet."
Tavon Austin scored twice and Todd Gurley topped 1,000 yards rushing in what could be the Rams' final game in St. Louis.
The 31st-ranked offense had an inspired effort in front of another half-filled but spirited Edward Jones Dome crowd, rolling to a 21-3 halftime lead behind Case Keenum's two touchdown passes.
Fans chanted "Keep Our Rams! Keep Our Rams!" and carried signs, one of them reading "We Don't Need Kroenke, We Just Want our Rams."
Owner Stan Kroenke, who wants to move the Rams (6-8) to Los Angeles, attended the finale but kept a low profile.
The team announced 51,295 tickets had been distributed for the 66,000-capacity dome.
The halftime deficit was the Buccaneers' largest since they were down 35-7 against the Titans in their opening 42-14 loss.
Mike Evans had nine receptions for 157 yards and topped 1,000 yards.
Austin Seferian-Jenkins' 9-yard scoring catch cut the deficit to eight with 1:34 to play, but the Rams' Bryce Hager recovered the onside kick.
Benny Cunningham had a 102-yard kickoff return to the Tampa Bay 3 in the fourth quarter and a 44-yard return on the opening kickoff capped by Austin's 17-yard scoring reception.
Gurley needed 25 yards to become the first Rams rookie to rush for 1,000 yards since Jerome Bettis and didn't get it by much, gaining 48 yards on 21 carries.
Austin is the first player since Gale Sayers in 1965 to score at least four rushing touchdowns, five receiving touchdowns and one touchdown on a punt return in a season. He leads the Rams with 10 total TDs.
Several stars from the 1999 Super Bowl championship team attended the finale, including Orlando Pace, Isaac Bruce and Torry Holt, plus Kurt Warner and Marshall Faulk from the NFL Network. At halftime, Warner took off his sports jacket and tossed a pass to Bruce, who made the catch as he was running along the home team's sideline and jogged into the end zone.
Kenny Britt's 60-yard catch was the first by a Rams wide receiver since Stedman Bailey against Arizona in Week 4.
NOTES: Winston has 20 TD passes, breaking the franchise rookie mark of 19 by Mike Glennon in 2013. ... The Buccaneers' 98-yard scoring drive for the first of their two fourth-quarter TDs tied the record for longest in franchise history. ... Buccaneers S Chris Conte (left knee) was injured on Austin's second TD in the third quarter when he got tangled up with another defender.
___
AP NFL website: www.pro32.ap.org and www.twitter.com/AP_NFL
___
Online: http://pro32.ap.org/poll and http://twitter.com/AP_NFL