Winston's record day keys Bucs' big breakout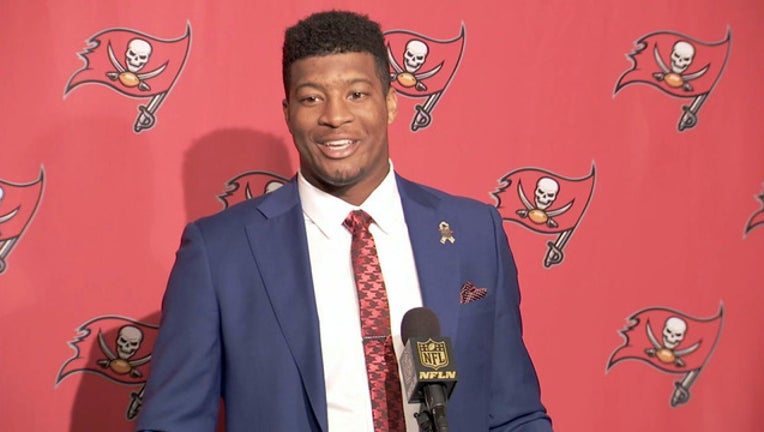 article
PHILADELPHIA (FOX 13) - The Bucs have been showing glimpses over the last month that their team was coming together under Lovie Smith. There have been stumbles this season, but game 10 turned out to be their breakout.
Jameis Winston set the record pace against the Eagles, tying the Bucs' record for most touchdown tosses in a game. He also tied the NFL's rookie record, joining just two others with five TD passes.
The key to the Bucs' offensive explosion began with the five up front.
"We just turned it up and we played better than they did from an offensive line standpoint," said Winston. "They took control of that line of scrimmage. When you control the line of scrimmage, it's hard to beat a team that's controlling the line of scrimmage."
The line lead the way for a dynamic duo. Winston and Doug Martin became the first teammates in NFL history to have five TD passes and rush for over 200 yards in a game on the road.
Martin broke the team record for longest run ever, he ran for over 200 yards in a game for the second time in his career, and his 177 yards in the first half were the most of a running back since 2003.
Winston points to the Bucs' new offensive coordinator as the reason for their success.
"He keeps us accountable," said Winston "He pushes us. And what he's doing to this offense is very inspiring for me because I'm his quarterback right now. I love that we play for that guy. It's how he coaches. Our coaches just treat us as true men, they hold us accountable. That's why we have to keep representing for them."
The Bucs are on a run with four wins in their last six games. They've put themselves in playoff contention, a spot they haven't been in in five years.
"I know Tampa Bay is happy because that's the first back-to-back wins we've had in a long time," Winston added.  "But like I said, we can't get complacent. Two wins in a row, that's good, but when you think about it, two wins in a row, that should be expected. Hopefully we can get on a roll."