Winston's suspension over; Bucs not saying if he's still No. 1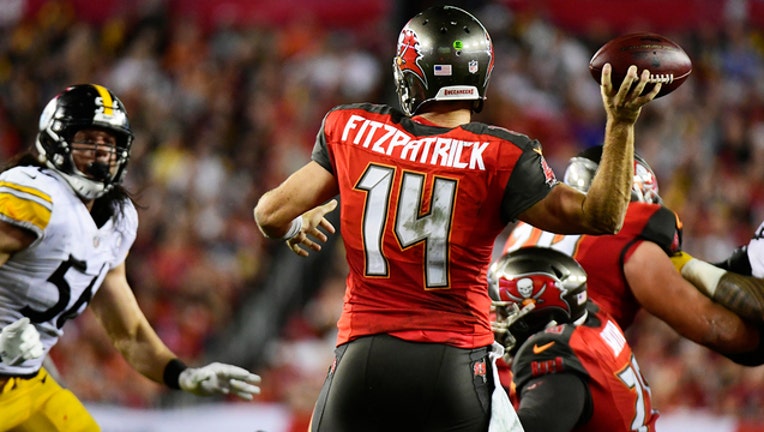 article
TAMPA, Fla. (AP) - The Tampa Bay Buccaneers can't avoid questions about Jameis Winston's return much longer. The young quarterback's three-game suspension for violating the NFL's personal conduct policy officially ended after Monday night's 30-27 loss to the Pittsburgh Steelers, however it's unclear if he's coming back as the team's starter.
Ryan Fitzpatrick's made the decision a lot tougher than expected by throwing for over 1,200 yards and 11 touchdowns in Winston's absence, including going 30 of 50 for 411 yards and three TDs against the Steelers.
Dirk Koetter repeatedly shrugged off questions about his plans while Winston was away. And now that his return is imminent, the coach is still not saying.
"Let's see what the injury report (says)," Koetter said Monday night, sidestepping the question once again.
"Anytime we have these games, it's not always obvious how the guys are going to come in the next day and come in on Wednesday," the coach added. "Let's see what happens. I mean, I'd love to get a chance to talk to Jameis face to face before I tell the rest of the world."
Ben Roethlisberger threw for 353 yards and three touchdowns for the Steelers (1-1-1), who built a 20-point lead and held on for their first win despite not scoring in the second half.
Pittsburgh's defense forced four first-half turnovers, including three interceptions of Fitzpatrick, the 35-year-old journeyman quarterback who's led the Bucs to a 2-1 start while throwing for more than 400 yards in each game.
"You know, I have so much fun playing this game. I have fun playing with these guys, and I'm here just ready to do whatever it takes to help the team win," Fitzpatrick said. "I think that will be my mindset going forward."
Winston started 45 of 48 games over the first three years of his career. He was suspended following the NFL's investigation of an accusation that in March 2016 he groped a female Uber driver during a ride in Scottsdale, Arizona.
"We love Jameis. He's a member of our team, and we're anxious to get him back," Koetter said. " He'll be great in our locker room and . whatever role that he ends up in, I know Jameis will embrace that role and give it everything's he got."
Some takeaways from Steelers-Buccaneers:
WHAT TURMOIL?
The Steelers capped a tumultuous week in which star receiver Antonio Brown made headlines by shouting at an assistant coach on the sidelines and getting into a spat on social media with a former team employee.
Brown scored on a 27-yard reception, Ryan Switzer caught 1-yard TD pass from Roethlisberger, and Vance McDonald stiff-armed safety Chris Conte to break into the clear on a 75-yard pass play that got the Steelers going early.
Roethlisberger's on-field chemistry with Brown appeared fine in the first game since the receiver responded to a former team employee on social media by suggesting the club trade him if it wants to find out how productive he can be without Roethlisberger.
"I still think the biggest issue was outside the locker room, people perceiving different things," Roethlisberger said. "Not saying we don't have issues. All teams have issues, and there's different things going on. But I think it was made a bigger issue than it really was."
FLAGS, FLAGS, FLAGS
The teams combined for five roughing-the-passer penalties, most in an NFL game since 2001, as fans around the league continue to gripe about flags being thrown for what appear to be routine tackles. Pittsburgh was flagged three times for hits on Fitzpatrick, and the Bucs were called twice for roughing Roethlisberger. In all, the Steelers were penalized 13 times for 155 yards. Tampa Bay had nine penalties for 80 yards. The Bucs also had a holding penalty that wiped out what would have been an 80-yard punt return for a TD by DeSean Jackson.
"I thought the penalties kind of marred the game. There were a lot of penalties on us and on them," Steelers coach Mike Tomlin said. "We'll look at it and learn from it, but I thought the guys played extremely hard."
COMEBACK
Tampa Bay made it close by keeping Roethlisberger and Pittsburgh's high-powered offense on the sideline for long stretches of the second half. Fitzpatrick led a long field goal drive that consumed nearly eight minutes of the third quarter. The Steelers used most of the remainder of the period to move into position for a 47-yard field goal that Chris Boswell missed.
The Bucs used TD catches by Chris Godwin and Mike Evans to pull within 30-27. They got the ball back with just over three minutes left, but the Steelers defense forced a punt and Roethlisberger ran out the clock.
"I thought our defense played awesome, creating turnovers, short field, making some stops," Roethlisberger said. "I told this team afterwards that was a total team win, all the phases. That's what Steeler football is all about."
___
More AP NFL: https://apnews.com/tag/NFL and https://twitter.com/AP_NFL