Food, ice, water, charging, and more available across Bay Area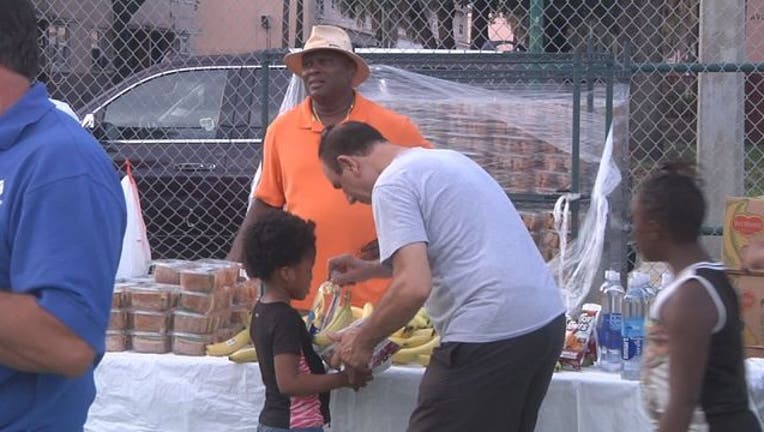 article
(FOX 13) - Services are popping up across the Bay Area for those impacted by Hurricane Irma.
Food, water, ice, shower facilities, and charging stations are just a few of the resources becoming available for those still without power.
For information about donating to these and other local charities, visit http://bit.ly/2xku41O.
The following list will be updated as new information is available.
Hillsborough County has opened three drive-up Points of Distribution (PODs) where residents impacted by Hurricane Irma can receive water, nonperishable food, and "shelf-stable" meals that can be made quickly.
The PODs are open Saturday (Sept. 16) and Sunday (Sept. 17) from 7 a.m. to 7 p.m.
Locations are:
Al Lopez Park, 4810 N. Himes Ave. in Tampa
Church of God Wimauma Convention Center, 5408 State Road 674 in Wimauma
University of South Florida Lot 18 T, intersection of USF Sycamore Drive and USF Elm Drive
Residents in vehicles will line up single-file, enter the location, receive items, and then exit through another location. Drivers and passengers must stay in the vehicle. They will be asked to "pop the trunk" and workers will load the items into the vehicle.
Hillsborough County and Feeding Tampa Bay will provide fresh food to residents affected by Hurricane Irma starting Thursday. Several sites in Hillsborough County will serve as food distribution sites to the public. Additionally, multiple locations will serve as food and supply collection sites.
Hillsborough County Food Distribution Site Dates and Locations:
Thursday, September 14
-Belmont Heights Estates, 2419 East 31st Avenue in Tampa - Food Distribution Time: 3 p.m. to 4:30 p.m.
-Dover Boys & Girls Club, 2820 Gallagher Road in Dover - Food Distribution Time: 4 p.m. to 5:30 p.m.
Friday, September 15
-Village Presbyterian, 13115 S. Village Drive in Tampa - Food Distribution Time: 9:30 a.m. to 11 a.m.
Saturday, Sept. 16, 2017
-University Area Community Development Center, 14013 N. 22nd Street in Tampa - Food Distribution Time: 9 a.m. to 10:30 a.m.
In Tampa, Metropolitan Ministries is providing meals to individuals and families on Thursday in the neighborhoods of Belmont Heights, Columbus Court and Robles Park.
The organization is also open to the public at both of its locations with food boxes, water, hygiene items, and clothing. They are onsite in Tampa with a canteen truck and serving hot meals.
Both Tampa and Holiday locations are open to the public to provide food, water, and other supplies.
For more information, visit the Metro Ministries Twitter page at twitter.com/metroministries.
Winn-Dixie is distributing free water and ice to Bay Area residents affected by Hurricane Irma.
Tractor-trailers containing more than 1,500 cases of SE Grocers bottled water or 40,000​ pounds of ice will be parked in select Winn-Dixie parking lots throughout the Bay Area to assist those in need, while supplies last.
-Winn-Dixie, 1049 62nd Ave. N., St. Petersburg, FL 33702
Friday, September 15 at 9 a.m.
SE Grocers 24-pack bottled water, limit two (2) per family
-Winn-Dixie, 2139 34th North, St. Petersburg, FL 33713
Saturday, September 16 at 11 a.m.
40-pound box of ice, limit one (1) per family, donated in partnership with Sanderson Farms
-Winn-Dixie, 805 E. Dr. Martin Luther King Jr. Blvd., Tampa, FL 33603
Saturday, September 16 at 10 a.m.
40-pound box of ice, limit one (1) per family, donated in partnership with Sanderson Farms
-Winn-Dixie, 9535 E. Fowler Ave., Thonotosassa, FL 33592
Saturday, September 16 at 10 a.m.
40-pound box of ice, limit one (1) per family, donated in partnership with Sanderson Farms
In Polk County:
Polk County is distributing food and water at the following sites from 8 a.m. - 6 p.m. every day until power is restored and stores are again able to be open again.  esidents in need of water and food are able to get two cases of water and one case of Meal, Ready-to-Eat, commonly known as MRE, per visit. The MRE is a water-activated self-contained complete meal at the following locations:
Davenport: Market Square Park, Market St. & 17/92
Dundee: Community Center, 603 Lake Marie Drive
Eagle Lake: Sheriff's Office, 150 S. Second Street
Fort Meade: Fort Meade Park, 1205 NE Ninth Street
Frostproof: First Baptist Church, 96 West B. Street
Haines City: Lake Eva Aquatic Center, 220 Third Street South
Lakeland: Victory Church, 1401 Griffin Road
Mulberry: Civic Center, 901 NE Fifth Street
Poinciana: Community Center, 395 S. Marigold
Polk City: Food Town, 303 Broadway Blvd. SE
For more information, please call the Citizens Information Line at 863.401.2234.
In Bartow, water and food will be available for residents in need at Fort Meade Park, located at 1235 9th St NE, Fort Meade, FL 33841. Each person will get one case of water and one ready-to-eat meal.
Those in need may also visit the POD multiple times. The county is working on setting up more in other areas, which will be announced on the Polk County Government website and social media pages.
In Manatee, Saratota, Hardee, and Desoto counties, church groups are uniting to help those without power, water, food, and many other resources. For details, call 941-755-8600 or visit http://mybayside.church/hurricane-irma/.
In Holiday, the Armed Anglers are distributing bags of ice each morning and evening at 1801 US Hwy 19, Holiday, Florida. For availability and times, call 727-945-1808
In Tampa, Planet Fitness is welcoming anyone to use their facilities free of charge beginning Thursday, September 14.
Facilities include showers, locker rooms and additional health and fitness facilities (no membership needed). Hours vary by location; non-members must simply show ID and sign in at the guest register. To find a Tampa area club near you, visit www.planetfitness.com and call to confirm if your nearest club is open.
In Clearwater, Cookie Cutters children's salon is offering free washes for children Thursday and Friday. The salon is also taking donations for the American Red Cross Disaster Relief Fund. The salong is located in Clearwater Mall at US 19 and Gulf to Bay Boulevard. For more information, visit www.haircutsarefun.com/clearwater-fl.
In St. Petersburg, AT&T has set up a charging station at the Carter G. Woodson African American Museum. The trailer can charge up to 60 devices at a time and provides a small locker for residents to temporarily secure their devices.
The museum is located at 2240 9th Ave. S in St. Petersburg and charging will be available from 10:00 a.m. - 2:00 p.m., Thursday, September 14.
In Riverview, a free day camp for girls has opened at Divas 4 Success Enrichment Studio, located at 6439 US Highway 301 South, Riverview, FL, 33578.
The camp will be open Thursday, Sept 14 and Friday, September 15 from 8:30 a.m. - 6:30 p.m.
Anyone in need of childcare for girls between the ages of 6-12 is welcome.
Across the Bay Area, Sam's Clubs are temporarily waiving membership fees to help those affected by Hurricane Irma. Sam's Club says all club locations in the Bay Area have reopened and are open to non-members beginning Wednesday, September 13. For a complete list of locations, visit www.fox13news.com/consumer/sams-club-waives-membership-fees-to-help-irma-victims.