2 charged with murder of 88-year-old Sebring man 1 year after the attack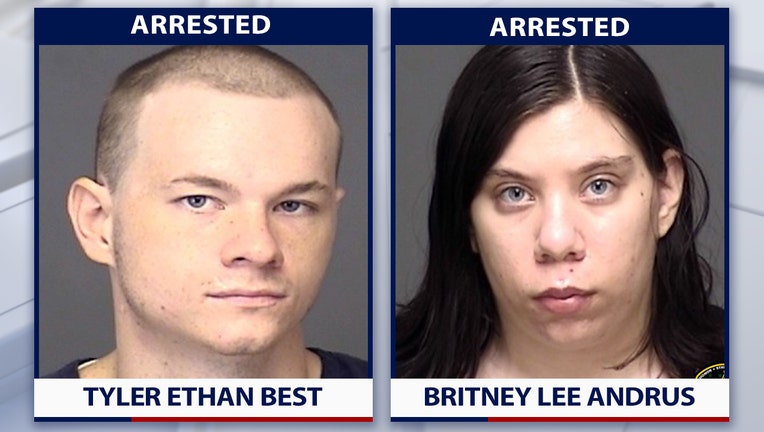 SEBRING, Fla. - Britney Lee Andrus, 24, and Tyler Ethan Best, 20, are facing second-degree murder charges in the death of 88-year-old James Little, according to the Highlands County Sheriff's Office. 
Deputies say on Oct. 22, 2020, Little was found severely beaten inside his Sebring home and died five days later.
Andrus and Best were living in a suite attached to Little's home at the time of the murder and deputies say they hatched a plan to rob him and steal his car so they could fund a trip to Michigan.
According to HCSO, Andrus and Best were considered suspects from the beginning. Once detectives had all the evidence in hand, including numerous interviews as well as analysis of blood and other biological evidence, the arrest warrants were obtained. Andrus and Best were arrested exactly one year after the attack. 
Andrus, who had just gotten out of the Highlands County Jail after serving time for a 2020 arson arrest, was brought back through the inmate door a little more than 12 hours after walking out of the front door of the jail.
Best has been in jail since shortly after the murder on charges of possession of a weapon/ammo by a convicted Florida felon, vehicle theft, fleeing/eluding an officer, unarmed burglary of a conveyance and operating a vehicle without a license. He was served with his new charges inside the jail. 
Both are facing charges of second-degree murder during the commission of a burglary, burglary with battery and grand theft auto.
Anyone with additional information about this case is asked to call Det. Du'Wayne Kelly at 863-402-7250 or email detectives@highlandssheriff.org. Anonymous tips can be left via the HCSO app or with Heartland Crime Stoppers at 1-800-226-8477.
UPDATES: Get news alerts and updates in the free FOX 13 News app