3 Lecanto High School musicians on the road to Macy's Thanksgiving Day Parade
LECANTO, Fla. - For a trio of Lecanto High School marching band members, all of their energy and effort were poured into a four-day stretch in February. The goal was clear-cut: complete the audition for the 2023 Macy's Thanksgiving Day Parade. 
After submitting their video auditions, the three juniors anxiously waited, and then Feb. 25 arrived. 
"I just see, 'Congratulations, Apostolos.' I'm like 'Is this what I think it is?'" Apolstolos Lesser recalled after getting the notification that they were accepted to perform.
The junior tuba player was in a Wawa when he opened his acceptance e-mail. His two friends and band mates had some humor attached to their e-mails.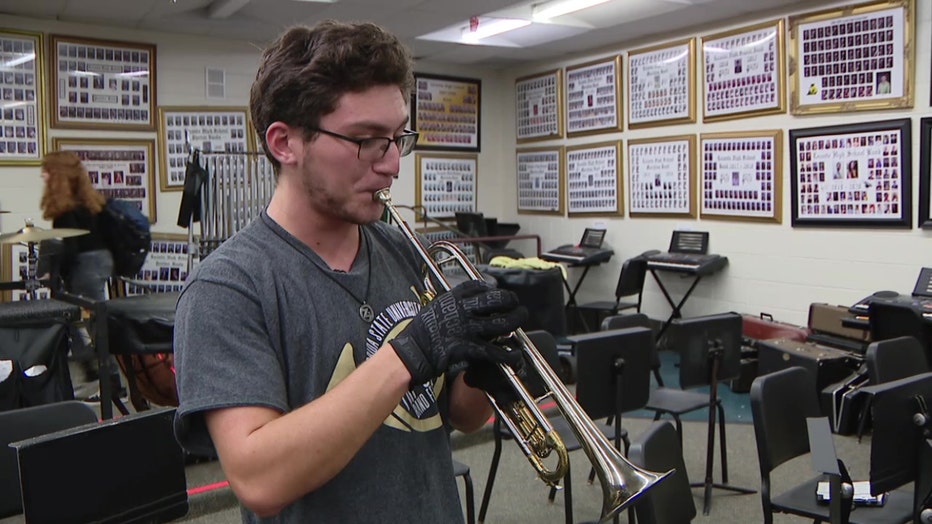 Apolstolos Lesser plays trumpet at Lecanto High in Citrus County
"I got the e-mail. It said, 'Congratulations, Jaime,'" junior Aidan Bice said with a smile. "It turns out I just had to scroll down a little bit, and there it was."
Bice plays the mellophone. Band mate Jaime Torres, III plays the saxophone. 
"Ummm....the first thing that went through my head was, 'Oh crap, oh crap, oh crap. I just got in,'" Torres, III said. 
They will join 182 musicians from around the country to perform in the Macy's Great American Marching Band during the Macy's Thanksgiving Day Parade. The city of Lecanto has a population of just over 7,500. 
"It's a small school. It's a rural area," Lecanto High School marching band director Bobby Crane explained. "For the music program, it just goes to show that bigger isn't better, louder isn't better. Better is better."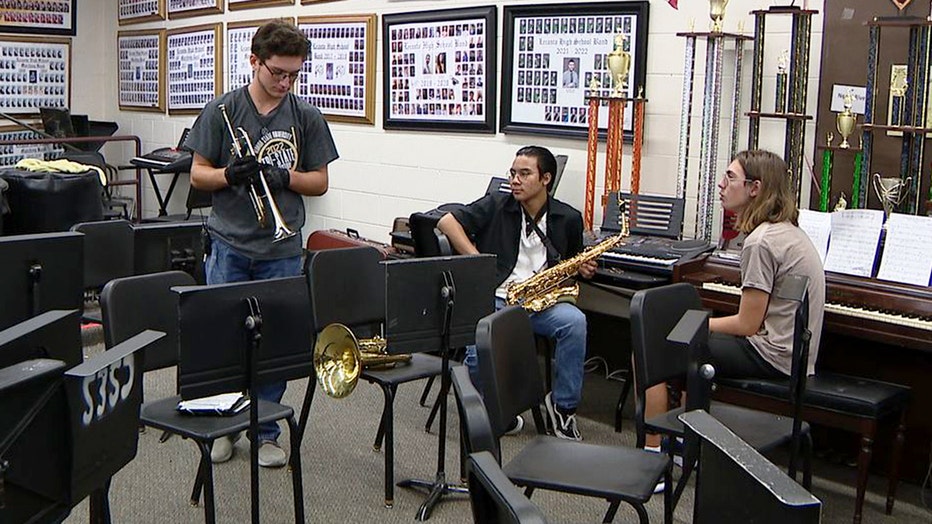 Apostolos Lesser, Jaime Torres, III, & Aiden Bice, of the Lecanto High School marching band, were selected to play in the Macys Thanksgiving Day Parade
It's fitting that the three musicians will experience this feat together. 
"Jaime and Paul are my best friends. I've been with them since freshman year, so we've done everything together," Bice said. 
All three have been surrounded by music their whole lives.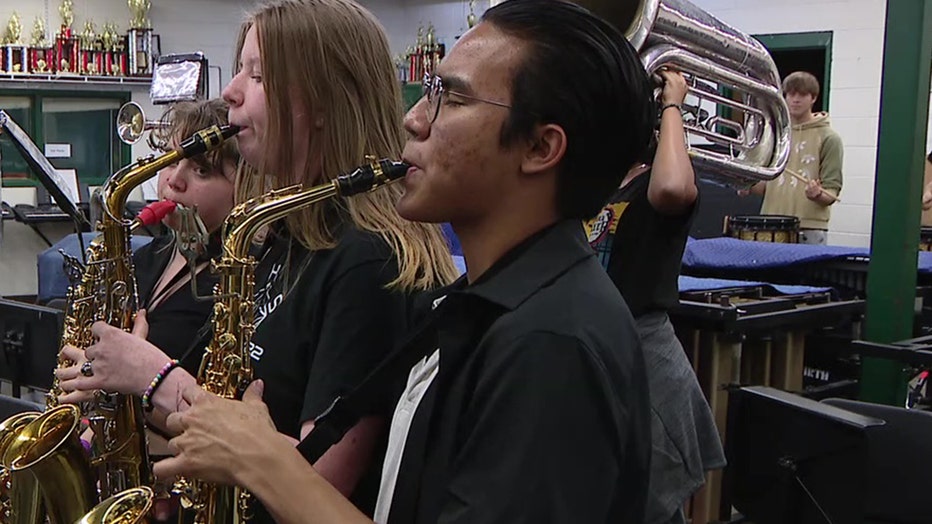 Jaime Torres, III plays saxophone at Lecanto High in Citrus County
Torres remembers hearing one of his mom's favorite artists, Alicia Keys, as a child along with hip-hop and Hawaiian music. 
Lesser received a family heirloom, his great-grandfather's trumpet, when he was a kid. He also shares his name with him.
"I always think back to my great pappoús, and him being my namesake, it's special. When I think about it, it makes me happy to be part of legacy like that," Lesser said.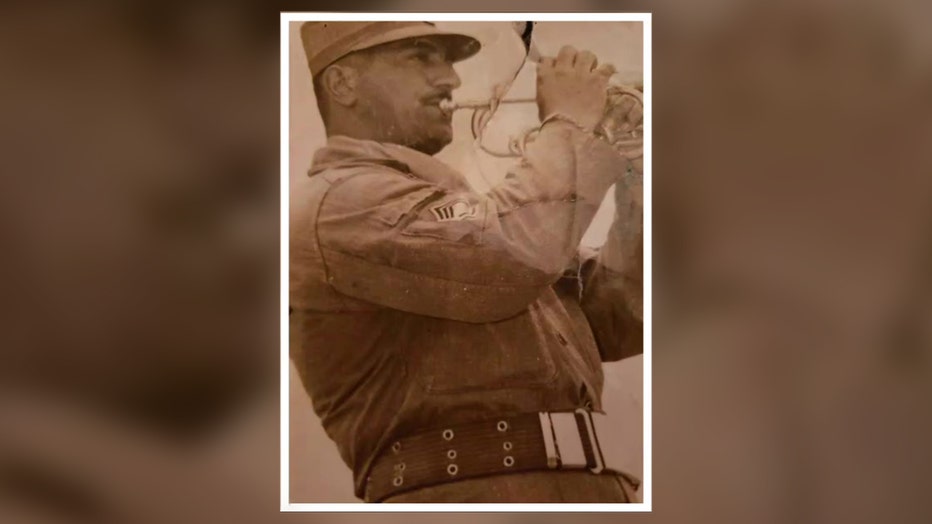 Apostolos Lesser's great-grandfather, also named Apostolos, handed down his trumpet
Bice is the son of a familiar name to many, former "American Idol" contestant Bo Bice, who finished second to Carrie Underwood during season four in 2005. 
Aidan Bice wasn't born yet.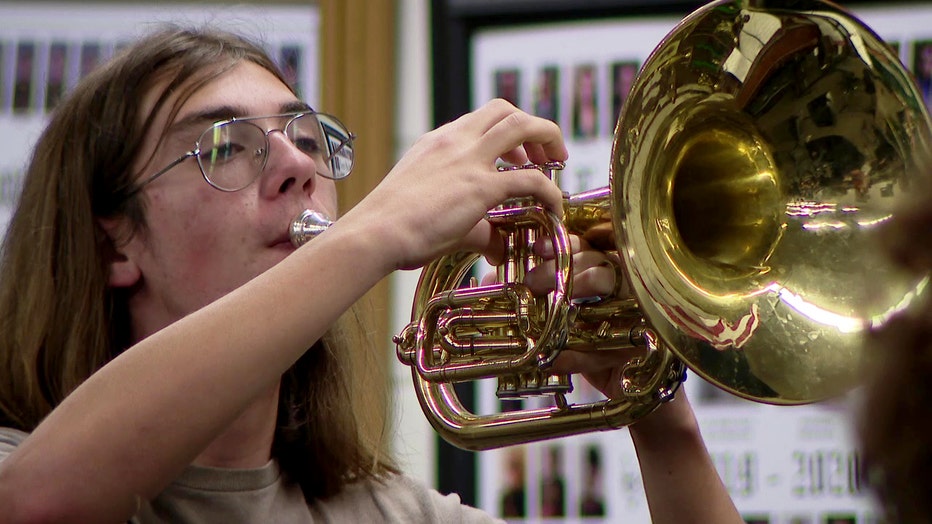 Aiden Bice plays mellophone
"I can't remember exactly when it was, but I know I was really young, and my dad just kind of said it as one of those pass along things. 'Yeah I was on American Idol,'" Bice recalled. 
The 17-year-old vividly remembers hearing the power of his father's voice when he was younger. Hearing his father play an acoustic guitar prompted Aidan to ask for one as a present. 
"American Idol" Season 4 - Top 4 Finalist, Bo Bice, 29, from Helena, Alabama (Photo by Ray Mickshaw/WireImage)
All three musicians also envision music in their futures. 
Bice hopes to compose music for video games. 
Lesser aspires to teach music. 
Torres III wants to be a part of music production. 
As for the present, they're preparing for the next marching season while preparing for the parade. 
"The Macy's Day Parade gave us another thing to look forward to," Torres said. "It gave us another target that we want to try and hit, raise ourselves to be better than, to be able to perform in."
The trio is also fundraising, each needing to raise $3,000 to fund the trip. They'll have each other to lean on during it all. 
"All three of us have similar goals in music, and we're just going to be nerding-out the whole time," Lesser said. 
Each musician has an online fundraiser to support their trips to the parade. Bice's has been fully funded. Torres and Lesser are still raising funds, and are close to their goals.