Accused Bay Area serial kidnapper may have victimized additional people
TAMPA, Fla. - Detectives with the Hillsborough County Sheriff's Office are searching for additional people who may have been victimized by an accused serial kidnapper.
According to HCSO, Dandre McNeil, 25, approached a victim in the parking garage of the Hub on Campus Tampa apartment complex with a gun and forced the victim to enter their vehicle around 4:30 p.m. on January 18. 
Deputies say McNeil made his victim drive him to multiple locations and retrieve an undisclosed amount of money, before finally leaving his victim at the intersection of East Hillsborough Avenue and Orient Road. 
According to HCSO, detectives also linked McNeil to a similar incident on January 2, 2023, at the Allegro Palm Condominiums in Riverview. McNeil approached another victim with a gun and attempted to rob and then force that person into their vehicle. That victim was able to escape without injury.
READ: What happened to Sabrina Aisenberg? Baby's disappearance still a mystery after 25 years
Authorities working with the Seminole Police Department say they also linked McNeil to the armed kidnapping, robbery, and rape of another victim in the Tampa Seminole Hard Rock Casino parking garage on January 7, 2023.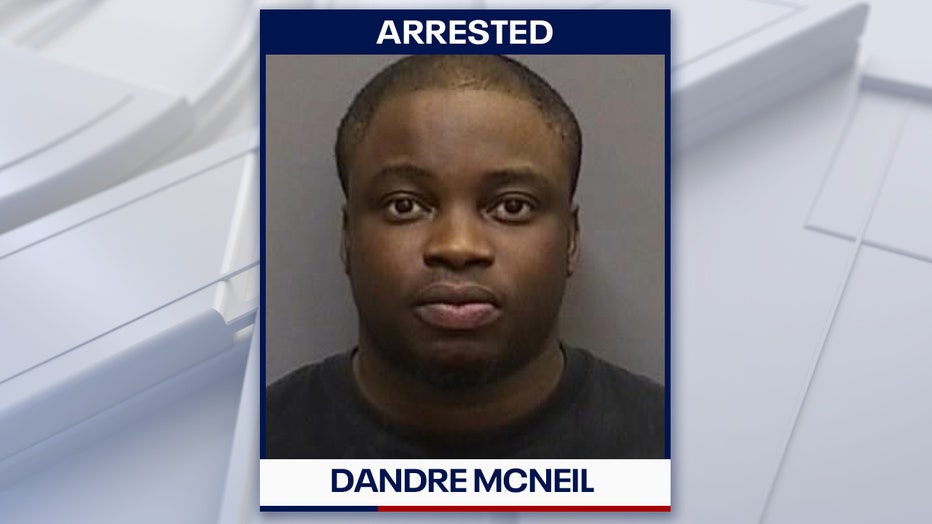 Dandre McNeil mugshot courtesy of the Hillsborough County Sheriff's Office. 
"This is an individual who has no respect of the law or persons he victimizes," said Sheriff Chad Chronister. "Our hearts are with the victims who endured these horrific crimes. If there are any other victims out there, please come forward, and let us find you the help you may need."
McNeil is facing several charges including battery, armed kidnapping, robbery with a firearm or deadly weapon, and sexual battery.
Anyone who believes they have been victimized by McNeil is asked to contact the Hillsborough County Sheriff's Office immediately at (813)247-8200.