Amazon debuts one-hour food delivery in Tampa today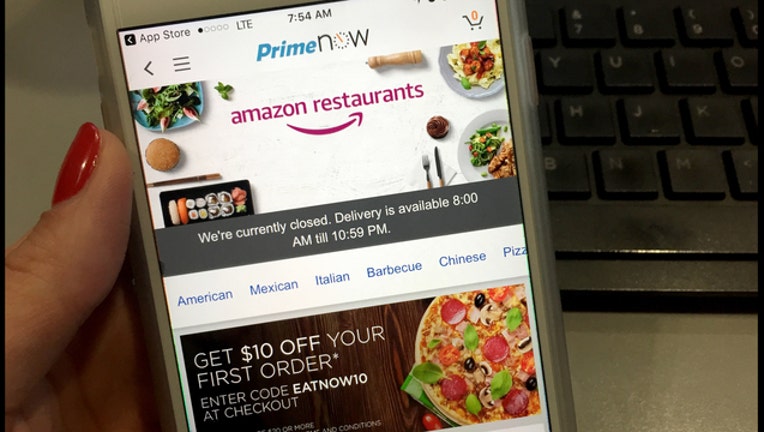 article
TAMPA (FOX 13) - Amazon Prime debuts a new service in Tampa on Thursday: free, one-hour food delivery.
The service is called Amazon Restaurants, and starting October 13, the online retailer will be delivering food from popular restaurants including Taco Bus, Datz, P.F. Changs, India's Grill, Renzo's Gourmet, and many more.
Datz owner Suzanne Perry says they are thrilled to offer their customers delivery with Amazon. She also expressed her excitement as a customer to use the service.
Amazon says that they will offer transparent pricing with no markups or hidden service fees. Delivery on all orders is free for Prime Members.
The service is available only to Prime members, and can be accessed using the Prime Now app or by visiting amazon.com/restaurants.
To see the full list of restaurants available in your area, visit www.amazon.com/restaurants and enter your zip code.
The service has launched in Orlando as well.
And, Amazon Restaurants won't just be bringing food to the Tampa Bay area— it also brings competition for UberEats, which launched here last month.
Participating Tampa restaurants include:
Byblos Cafe
Cafe 124
Carriage House 
Cherokee Store
Cooks
Curry Leaves
Datz
Datz Dough
Don Pan Bakery
Due Amici
Empanada World
Fountain Bistro
Fountain Sushi
Golden Ring Cafe
Gio's Italian Grill
Holy Hog Barbecue
India's Grill Kennedy
Intelligent Gourmet
La Segunda Central Bakery
Mad Dogs & Englishmen
Matoi Sushi & Korean
Moxies Café & Caterer
Mr. Empanada
Natures Table
Oggi Italian
Oishi Ultimate Japanese Cuisine
Origami Sushi
Ox and Fields
P.F. Chang's
Piquant
Pita Pit
Pokey's Rock & Rolls
Precinct Pizza
Queen of Sheba
Renzo's Gourmet
Romanos Pizza Express
Roux
Spain Restaurant and Toma Bar
Taco Bus
TamPiz
Thai Thani
That's Amore Restaurant
The Brass Tap
The Brunchery Restaurant and Catering
The Bungalow
The Stone Soup Company
Yeoman's Cask & Lion
Zudar's