Another large great white shark is pinging near the Tampa Bay area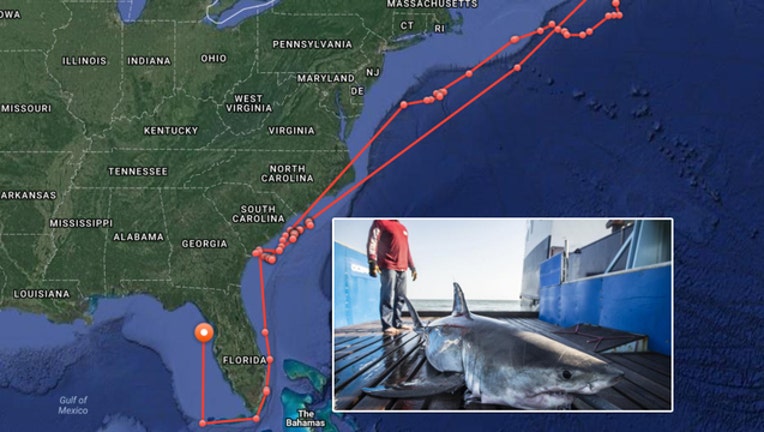 PINE ISLAND, Fla. - A female great white shark named Savannah is hanging out just off the west coast of Florida in the Gulf of Mexico. 
According to the tracking site, Ocearch, Savannah pinged just west of Pine Island in Hernando County and appears to be headed north, after swimming past St. Petersburg and Tampa. 
Savannah was named after the people of Savannah, who were welcoming to the Ocearch team and have a passion for the ocean, Ocearch says. 
RELATED: Very large great white pings off Tampa Bay
"Savannah" is eight-feet six-inches long and weighs about 460 pounds. She was tagged in March of 2017 off Hilton Head, South Carolina. 
Her tag shows pings off the coast of South Carolina, then shows her swimming north toward Nova Scotia, back down off the coast of South Carolina, then along the Florida coastline and into the Gulf. 
Another shark, a 12-foot-long great white named Miss Costa, spent the New Year pinging off the coast of Tampa in the gulf. Miss Costa, originally tagged in Nantucket, Massachusetts, is now swimming off the coast of Key West, according to her most recent ping on Jan. 30.
Ocearch studies and tracks critical data related to marine life including great white and tiger sharks and works with conservation outreach and education efforts globally. 
The Ocearch Global Shark Tracker shares real-time data as the sharks ping locations around the world. The sharks can be tracked online or on the Global Shark Tracker Apps available for Apple and Android.