Ashley Drive project to reconnect Tampa neighborhoods divided by interstate
TAMPA, Fla. - The city of Tampa is ready to reconnect neighborhoods divided by I-275. The plan is one of several safety improvement projects in the pipeline.
The U.S. Department of Transportation pitched in $5.3 million for Tampa to redesign the Ashley Drive interchange, through the Reconnecting Communities Pilot Grant Program. It brings back together the Tampa Heights neighborhood and northern part of downtown Tampa. 
"One day I did what someone just referred to as the Ashley Street dash," said Gloria Jean, a resident of the Downtown River Arts District. "I went under the Ashley Drive viaduct. Yes, I know it's dangerous, but I was trying to prove a point."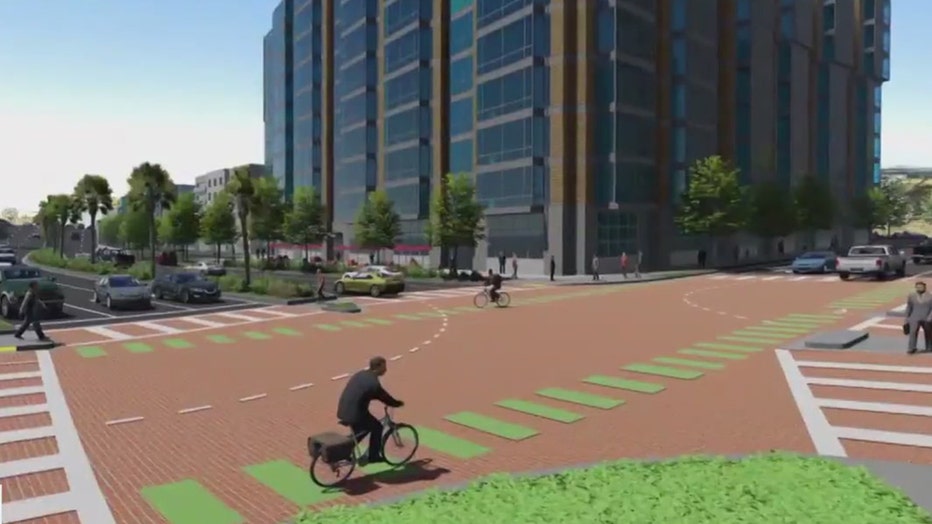 The city of Tampa said the Ashley Drive Interchange project will bring Ashley Drive down to street level, slowing traffic in the area and better transitioning drivers from I-275 into downtown. That's a big deal for seniors who live nearby.
"I can't begin to tell you what this will mean for everyone in downtown regardless of your station in life," said Jena.
The project also adds pedestrian and bicycle options, changes Walk Bike Tampa advocates for.
RELATED: Hillsborough commissioners approve plan for transportation tax money to send to Tallahassee
"If a senior cannot use the road safely or a child cannot use the road safely, it's not really a city for everybody. It's just for those who are privileged enough to be able to have the access right now," said Emily Hinsdale, who is on the board of directors for Walk Bike Tampa.
Hinsdale said more safety is always needed.
"A lot of bike lanes could be added in. We have other 1,000 streets without sidewalks still," said Hinsdale.
MORE: 'It's called malfunction junction for a reason': Changes on the way for I-275, I-4 interchange
Tampa planners said they will redesign Cass street to make it safer, filling in a critical gap in the Green Spine Cycle track. A protected bike lane, new on-street parking and pedestrian safety improvements will soon come to 14th street in Ybor City. 
Road safety improvements are also coming to Twiggs Street downtown and Habana Avenue in West Tampa, with community input beginning soon in the coming months. 
The city said its Main Street project will add a new crosswalk at Habana Avenue, speed tables, on-street parking and intersection improvements between MacDill Avenue and Armenia Avenue, with the first phase of improvements beginning this spring.
"So the big thing for all of us is access. How do we access the city? It doesn't matter how great the city is if you cannot participate in it as a member of the community," said Hinsdale.
The connections create opportunities that make residents and advocates excited.
"I think that is going to be wonderful moving forward," said Hinsdale.