Attendees of President Trump's Tulsa rally must agree to a coronavirus liability waiver
OKLAHOMA CITY - The sign-up page for guests to register for tickets for President Donald Trump's rally next week in Tulsa, Oklahoma contains a disclaimer stating attendees "voluntarily assume all risks related to exposure to COVID-19" and agree to not hold Trump's campaign, the venue or any affiliates liable for any illness or injury.
"By attending the Rally, you and any guests voluntarily assume all risks related to exposure to COVID-19 and agree not to hold Donald J. Trump for President, Inc.; BOK Center; ASM Global; or any of their affiliates, directors, officers, employees, agents, contractors, or volunteers liable for any illness or injury," the notice states.
The rally marks the president's first of the coronavirus era as the pandemic rages on and will be held on June 20 at the BOX Center. Trump said that he's planning more events in Florida, Texas and Arizona as well.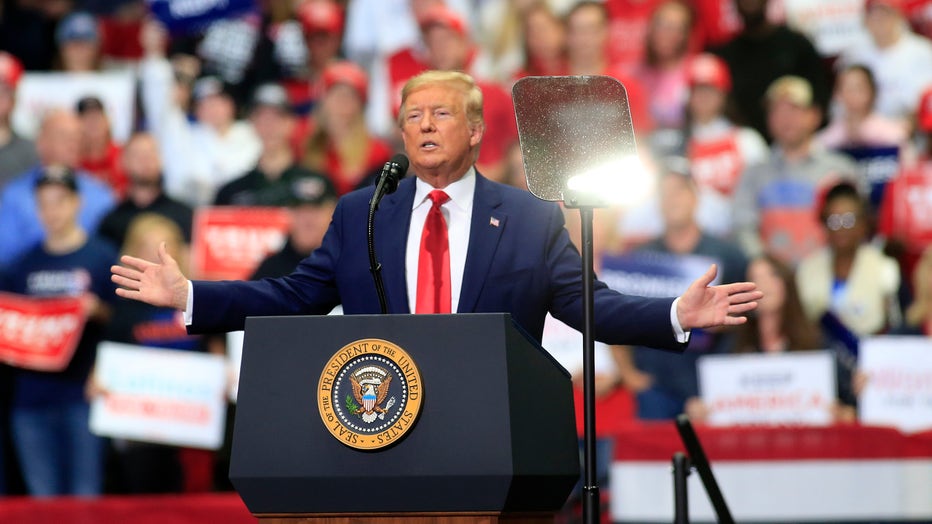 FILE - U.S. President Donald Trump speaks to supporters during a rally on March 2, 2020 in Charlotte, North Carolina.
RELATED: President Donald Trump to restart rallies amid COVID-19 pandemic
Despite more than 110,000 Americans having died due to the coronavirus, which health experts warn still poses a very serious and present danger, Trump has reveled in the upcoming event, saying his administration is "looking forward to it," and calling it "a beautiful new venue."
The campaign picked Tulsa's BOK Center, with a listed seat capacity of 19,199. The arena's Facebook page shows organizers calling off shows there by country singer Alan Jackson and other performers into mid-July, citing the coronavirus pandemic.
Arena marketing director Meghan Blood said Thursday she didn't know yet about any plans for social distancing or other coronavirus precautions for Trump's rally, which would be one of the larger public gatherings in the U.S. at this stage of the outbreak.
Campaign officials said safety decisions would be made in coordination with local authorities.
The campaign officials said they picked Oklahoma because arrangements could be made quickly, for a variety of reasons: Oklahoma has a Republican, Trump-friendly governor; the state is not seeing huge numbers of coronavirus cases; and the arena was "turn-key" and could easily be opened for the rally. Moreover, the rally will be held up the turnpike from a district held by Rep. Kendra Horn, one of the Democrats the GOP feels is vulnerable this fall.
Campaign officials also wanted to hold the rally where they could all but guarantee a big crowd despite coronavirus concerns, according to the officials. Oklahoma is one of the most Republican states in the nation and Trump has not held a rally there as president, so it will likely deliver an enthusiastic audience eager to see him, the officials believed.
RELATED: President Donald Trump to restart rallies amid COVID-19 pandemic
The ongoing pandemic is not the only concern that has raised eyebrows over the timing of the event.
Trump's rally was initially scheduled to take place on Juneteenth, the commemoration of the ending of slavery in the United States, and Tulsa has its own troubling history on race. Its once-thriving African American business community was decimated in 1921, when a racist white mob killed hundreds of black residents. Black residents attempted to rebuild in the decades that followed, only to see their work erased during urban renewal of the 1960s.
But after a request from Oklahoma Gov. Kevin Stitt, along with disapproval from national and local leaders, Trump moved the date to June 20.
Oklahoma was among the earliest states to begin loosening coronavirus restrictions, with salons, spas and barbershops reopening in late April. Republican Gov. Kevin Stitt's most recent reopening phase places no limits on group gathering sizes as of June 1 and leaves the decision about how closely to adhere to social distancing guidelines up to business owners and local officials.
Stitt said the state was honored that the president was visiting.
"The President is making Oklahoma his first campaign stop since March 2, and his visit here confirms Oklahoma is the national example in responsibly and safely reopening," Stitt said in a statement issued Wednesday by his office.
The Associated Press contributed to this report. This story was reported from Los Angeles.