BayCare's COVID-19 drive-thru testing site at Tropicana Field quickly reaches capacity on opening day
ST. PETERSBURG, Fla. - It was 5:30 a.m. when the first cars started lining up outside of St. Petersburg's Tropicana Field to be tested for COVID-19. And if you weren't the first 357 people, you were turned away.
"On any given day, if we don't have the supplies to do the test, we have to cease doing testing for that day," said Dr. Keith Waldrep, Baycare Urgent Care's chief medical officer.
The site hit testing capacity just an hour after opening. As Waldrep explained, their short supply is up against way more than just a long line of cars.
"BayCare has a finite supply of testing materials that we must use in our intensive care units, our surgery centers, our emergency rooms, our hospitals, our ambulatory sites, and our drive thru testing locations," he continued.
Tweeting his frustration this morning, St. Petersburg Mayor Rick Kriseman said, his office is "working with the state to bring additional, expanded testing with Saturday and evening hours to another St. Pete site ASAP."
Hillsborough County says, they're seeing the same capacity problem, with a different catalyst.
"This is not a shortage of test kits issue," said Jon-Paul Lavandeira, who runs Hillsborough County COVID-19 testing operations. "What we've been needing more than anything are the licensed medical professionals at these sites, in order to process these folks through."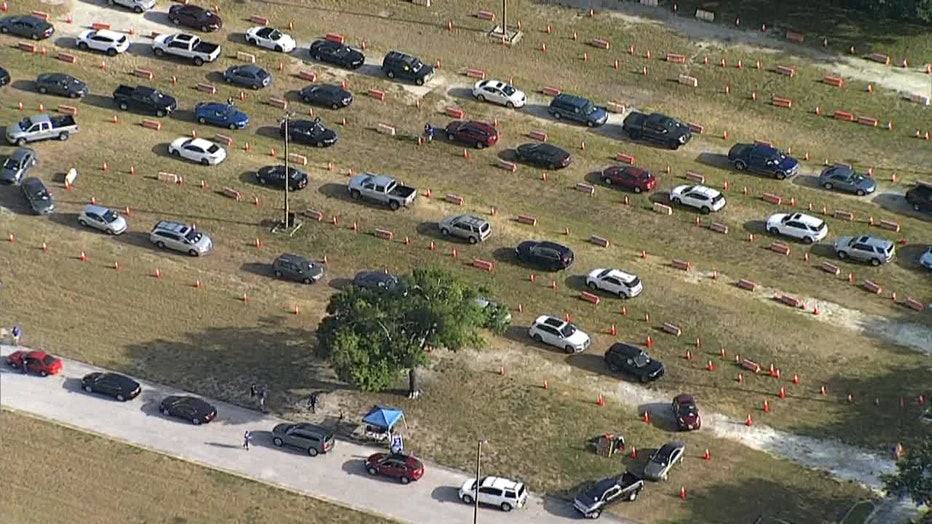 People were lined up at 5 a.m. for the new COVID-19 drive-through site at Tropicana Field. It opened 7 a.m. on Monday, June 29. (FOX 13 News)
The county says it's not a matter of getting more bodies out there – right now, the sites are run by medical professionals volunteering their time.
"They're basically in between shifts, whether that's at the hospital, or trying to go to the doctor's office. They're doing this for the good of the community," he said.
But after a week of negotiating with the state, help will arrive in Hillsborough on Tuesday.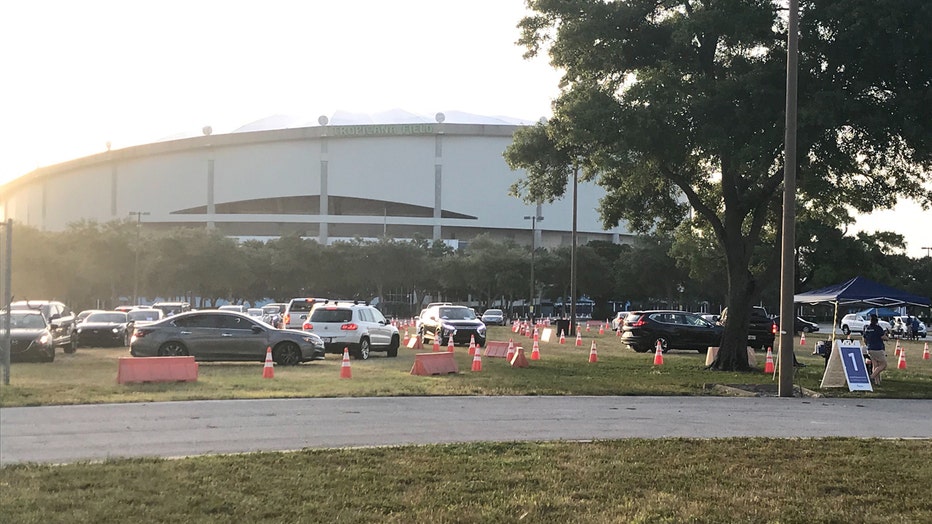 "They're going to be taking over, starting tomorrow, the operations of our Raymond James [Stadium] testing site. They'll be bringing a significant amount of licensed medical professionals. They are going to be able to process 1,000 people a day through that site," Lavandeira said.
It's a big deal, he says, because it'll free up the pressure off their smaller community testing sites, because more people will be able to get tested at Raymond James Stadium. 
This, as Pinellas County waits to hear if help is on the way for them.
LINK: Head over to BayCare's website for more information on Tropicana Field testing. Separately, Community Health Centers of Pinellas is providing COVID-19 testing, including those who could be asymptomatic. Appointments are preferred. More information can be found here.