Deputies search for arsonist who broke into church and set pews on fire
TOWN 'N' COUNTRY, Fla. - Deputies are searching for a man who broke into a Hillsborough County church, then lit several pews on fire.
The Hillsborough County Sheriff's Office released surveillance video showing the man breaking a glass pane at Incarnation Catholic Church in Town 'N' Country around 10:30 p.m. Friday.
The suspect, who appeared to be holding a large bottle, then entered the church and poured flammable liquid onto three wooden pews before setting them on fire.
Investigators said the man then ran out of the building without appearing to steal anything from inside.
"We are working to identify this criminal who broke into one of Town 'N' Country's most popular Catholic Churches and caused significant damage," Sheriff Chad Chronister said in a statement. "While we are unsure of his motive, it is clear he has no respect for private property or a sacred place of worship. We promise this church community we are doing everything we can to capture this suspect and ensure he is held accountable for his actions."
Despite the attack on their church, weekend Masses went on as planned, with a message of not only forgiveness but also gratitude that Incarnation still stands strong, nearly 60 years since it began.  
"Just last week, we heard all about forgiveness, right?" Father Michael Cormier asked the congregation," and praying for those who hate us and for our enemies?"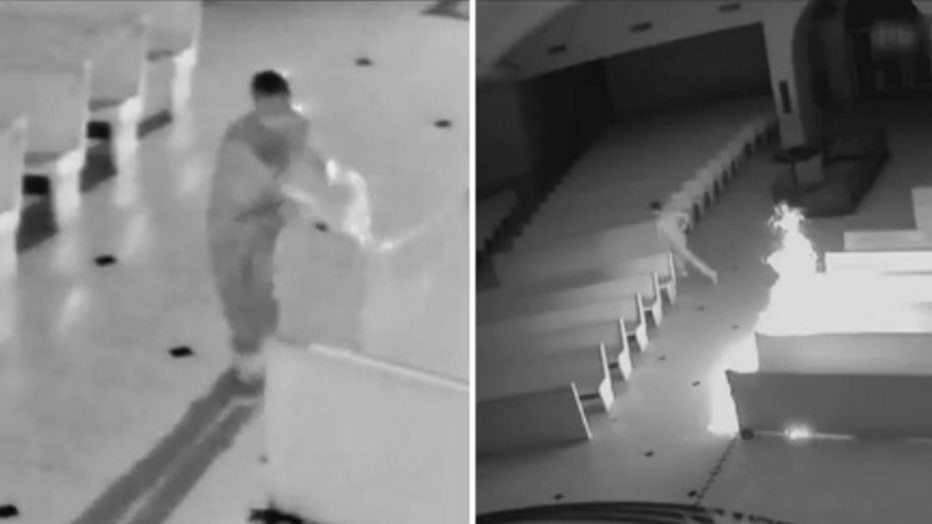 "We pray for this individual, that you remove the malice and the hatred from his heart," Cormier said. "Lord, that which does not kill us makes us stronger."
This week's message hit close to home, as members of the congregation sat just feet away from the burned pews.
"Like our scriptures, we've been struck down by this not destroyed," Cormier said. "In the end, evil never wins."
The Hillsborough Fire Marshal's fire investigator and the Bureau of Alcohol, Tobacco, Firearms and Explosives (ATF) are also investigating.
Anyone with information is urged to call the Hillsborough County Sheriff's Office at 813-247-8118.