Video: Pinellas County deputies take 'leap of faith' to stop out-of-control boat near St. Pete Pier
ST. PETERSBURG, Fla. - A deputy's leap of faith to stop a runaway boat may have avoided a tragic accident, the Pinellas County Sheriff's Office said.
Deputy Travis Fernandes and his partner, Deputy Jillian Constant, got a call about a runaway boat on July 30, about three-quarters of a mile off Coquina Key and St. Pete Pier.
They said the captain fell off the boat and a Good Samaritan rescued him as his boat sped away.
The Coast Guard tried to deploy prop fowling devices to stop the boat, but it didn't work, Deputy Constant said. 
Thankfully, only a Coast Guard boat and a Sea Tow boat were in the area. 
"The vessel was continuing in a circle-like fashion, and we made our way to the inside of the vessel, and we matched the speed of the vessel," Deputy Fernandes said.
READ: St. Pete fire chief placed on administrative leave: 'Nothing is more important than dignity on the job'
Deputy Constant matched the runaway boat's speed and pinned the marine unit's vessel against the runaway boat while Deputy Fernandes got ready for the daring jump.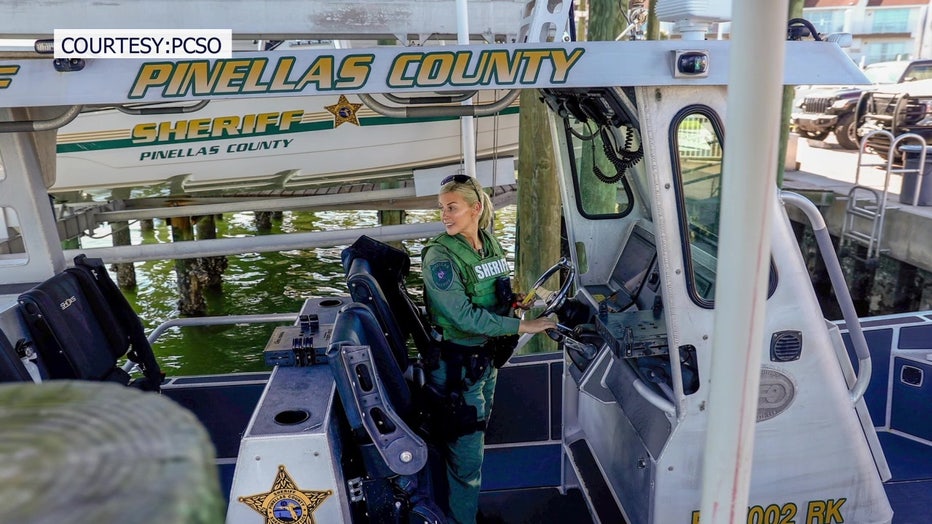 Deputy Constant on boat. Image is courtesy of the Pinellas County Sheriff's Office. 
"Just the physical force of them being put together allows him to get onto the vessel easier, more successfully, and without less danger," Constant said.
"If you were to try to do it the wrong way, which is approaching it from the outside of the vessel, a couple of terrible things could happen, which is, one, you don't have a stable platform and now a gap could widen between the vessels and the person jumping could fall off in between and get crushed," she said.
Video: Missing Florida boater rescued after being lost at sea overnight in sinking Jon boat
"Or, you could push the vessel off course so you could push it further to the left or the right because you're on the outside of the vessel. So, you must always go on the inside of the vessel," Constant said.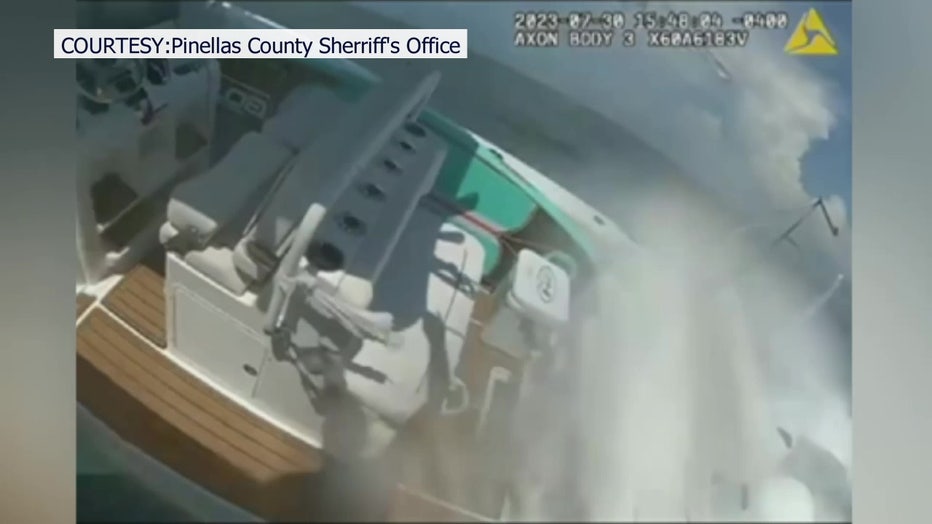 Deputy Constant takes a lepal of faith 
Fernandes jumped onboard and slowed the boat down.
READ: Shark bites woman near St. Pete Pier: 'It was the perfect cocktail for the perfect storm'
"The speeds of the vessels being matched at that point, it's almost like we were stationary if that makes sense," Fernandes said.
"It could have been catastrophic. It was right outside the main shipping channel. It was three-quarters of a mile off the St. Pete Pier. This is a heavily trafficked area, especially on a Sunday evening. When we arrived, as Deputy Fernandes said, there were no other vessels in the area, but there were prior to our arrival," Constant said.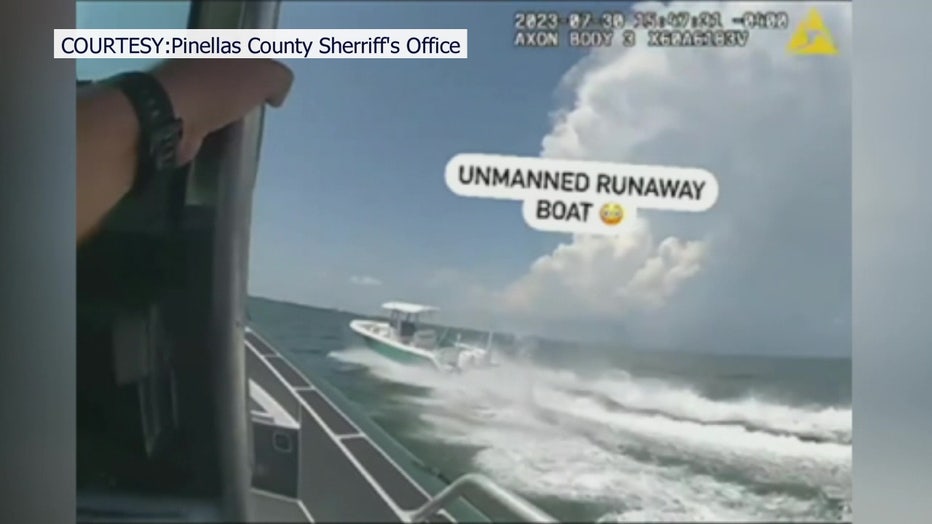 Image courtesy of the Pinellas County Sheriff's Office. 
The deputies said that while they do their own stunts, they don't want others to. Instead, they say to call the Sheriff's Office or the Coast Guard if you see a runaway boat.
"We drive boats 10 hours a day, four times a week. We train for this stuff. We train for all sorts of incidents, so it's not okay for someone to try to do this on their own. Plus, our vessel's a little different too, you know, we got the foam on the sides really helps," Fernandes said.
READ: St. Pete leaders considering two proposals for Municipal Marina redevelopment
They said, luckily, there have only been three runaway boats in the past three years.
Constant and Fernandes said boat captains should always wear the kill switch, which would've prevented this from happening.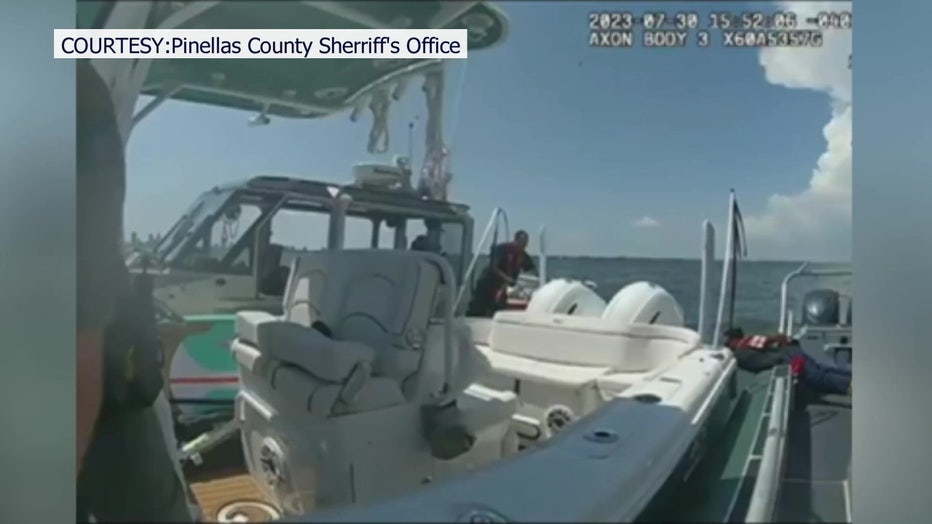 "Operate your boat in a safe manner just like you would with a car. Just operate it in a safe manner. Don't do anything that you wouldn't normally do. If the boat's on a plane, stay behind the steering wheel," Fernandes said.
While video of the harrowing jump has gone viral, Fernandes and Constant said it was just another day at work.
"You definitely have to have a lot of trust in each other in order to make this go successfully," Constant said. "[It went] as smooth as butter," she said.