Drug traffickers get high on stash, call police on selves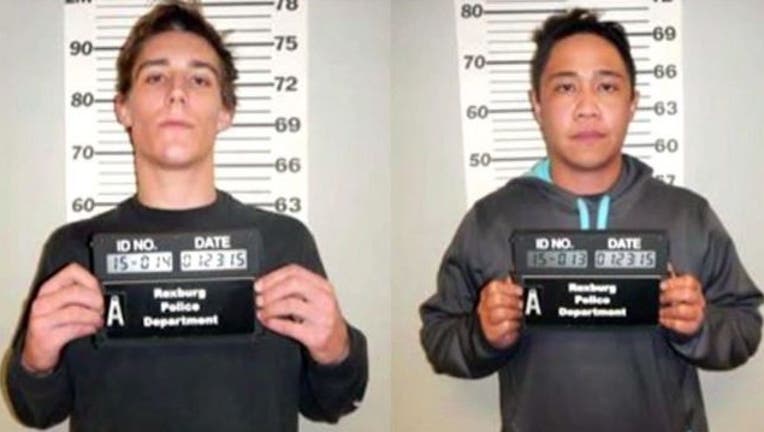 article
In Idaho, two men were arrested a year ago for carrying 20 pounds of marijuana from Las Vegas to Montana. That may not be of interest, but what is interesting is how they got caught: they called the cops on themselves.
Here's what happened. In January 2015, Leland Ayala-Doliente, 22, and Holland Sward, 23, were driving from Las Vegas to Bozeman, Montana, with about 20 pounds of weed in the car. According to EastIdahoNews.com, the two decided to partake in the pot when they believed they were being followed by undercover police officers.
When they got to the town of Rexburg, they parked on the side of the road and called 911 and said they would give themselves up because they wanted "just get on with it".
Here's a sampling of the call, courtesy of EastIdahoNews.com:
Ayala-Dolitente: Hi, uh, we're the two dumb asses that got caught trying to bring some stuff through your border and all your cops are just driving around us like a bunch of jack wagons and I'd just like for you guys to end it. If you could help me out with that, we would like to just get on with it.
Dispatcher: You got caught doing what?
Ayala-Dolitente: Ahh… okay. Um… We kind of got spooked here trying to bring some stuff across your Idaho border.
Dispatcher: Ok.
Ayala-Dolitente: And, yeah. A bunch of your cops driving around in a bunch of civilian cars not wanting to pick us up. I don't know what's the deal. I was just wondering if you could help us out and just end it.
Dispatcher: Ok… um….
Ayala-Dolitente:Yeah… if you could call one of them. I don't know. It's getting cold out here man. I just want to get warm and just get on with this whole thing so…
Listen to the entire call from EastIdahoNews's YouTube video:
The dispatcher was clearly in disbelief about what was happening but asked the guys where the were, which they gave up willingly. Ayala-Dolitente said they were near an Applebee's and "all your buddies are around us so if you could help us out that'd be great."
Police weren't anywhere near the duo but when they arrived, they said both men had their hands on their heads and Sward said to an officer "We got caught and we're surrendering."
Police found 20 pounds of pot inside a dog cage that two men put on the side of the road plus $567 in cash.
Both men were charged with felony trafficking. Sward got his reduced to possession with intent to deliver and got five year's in prison, which was reduced to five year's suspended, with probation.
Ayala-Dolitente got between 1 1/2 years and 8 years, originally. The problem was, he showed up to his sentencing and tested positive for marijuana, cocaine, and oxycodone.