Elkhart man pulls 8-foot long alligator gar out of the Trinity River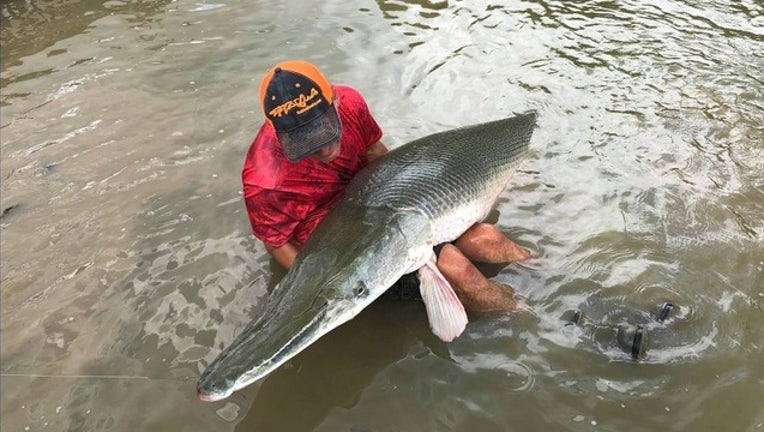 article
Bubba Bedre calls himself "the gar whisperer."
Sunday afternoon he lived up to the nickname. The 43-year-old, part-time fishing guide and a client pulled in a massive alligator gar that measured more than 8-feet long out of the Trinity River south of Dallas. It was so big that when Bedre first hooked it, he thought it was a log.
"I pulled and it didn't budge one bit," Bedre said.
But the massive catch was almost the one that got away. Bedre hooked it once earlier in the day and had it on the line for more than 30 minutes before the fish escaped. Just when he and his client were about to give up, the fish took the bait once again. This time, Bedre wasn't letting go.
"I've been after him for several years," Bedre said. "I ended up hooking that fish up about five years ago. It did the same thing and ended up breaking my line. We couldn't catch it that time."
Lacking a scale on the boat, Bedre turned to a formula to estimate its weight. Originally adapted for northern sturgeon, he says it works well for alligator gar too. He's even tested it against his own scales and the formula held its own. On Sunday, it spit out a massive number: more than 230 pounds.
"We can safely say that it was between 230 and 250 pounds," Bedre said.
If true, it would be one of the largest alligator gars caught in the state using a traditional fishing pole. The record belongs to a 279-pound beast caught in the Rio Grande. In May, a man caught a 264-pounder further south in the Trinity.
Bedre will not say exactly where he was when he caught it – only that he was on the river between Palestine and Dallas. Bedre says that he has quite a following within the community and if he revealed the location it would be ruined. For now, it's just between Bedre and his clients.
"I get lots of people that follow me around wherever I go," Bedre said. "It's getting worse and worse every year. If I put exactly where I was at then there'd be 20 boats there tomorrow."
Part of the reason he doesn't want to give up the location is because he's seen how the fish's numbers can be decimated. According to Texas Parks and Wildlife the population of the fish has decreased in recent years in the state. Bedre used to bow fish, but had a change of heart and now practices catch-and-release fishing using just a traditional pole.
"I killed my share of them and then I realized what was actually happening to them," he said. "I started guiding rod and reel trips only."
Now he works with TP&W on the freshwater advisory committee. He thinks the fish's population is rebounding and says he's seen a lot healthier ones in the Trinity ever since the 2015 floods.
"We catch a lot of fish in the 80-pound range right now," Bedre said. "The river is overloaded with 50 to 80-pound fish that are five years old. That's the problem now – working my way through the smaller fish to find the big'un.
Bedre returned to his day job as an engineer with the Union Pacific railroad on Monday. Friday morning, he was back on the river, livestreaming his group as it corralled a 176-pound specimen.