FL gubernatorial candidates campaign along I-4 corridor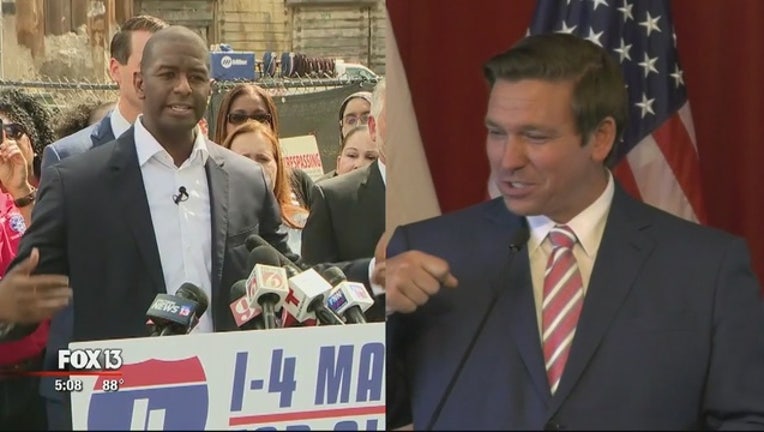 article
TAMPA (FOX 13) - The candidates for Florida governor unleashed on their challengers at separate campaign rallies Thursday. Both continue to campaign along the crucial Interstate 4 corridor, where elections are usually decided.
"What our opponent is offering is far-left radical politics," said Rep. Ron DeSantis, referring to Mayor Andrew Gillum. "We have an opportunity to build off of the success we've had under Governor Scott. I think our opportunities here have never been better."
Voters like Linda Nelson, however, see a better opportunity in Gillum than DeSantis.
"I think the fact that he's a wannabe Trump is a part of the problem," she said.
Republican Connie Geeabate sees a different problem.
"Gillum would be so bad for this state," Geeabate said. "He wants to raise taxes in the state of Florida by one billion dollars."
It's an issue the GOP candidate addressed.
"He's never met a tax he wouldn't hike," DeSantis said. "His view is more benefits for himself, more taxes for you. I don't think that's a very good formula for the taxpayers of Florida."
Gillum's tax proposal includes hiking the corporate tax rate from 5.5 to 7.75 percent to bring in about $1 billion in revenue per year. But while DeSantis had the support of many Tampa and St. Pete-area residents, mayors from both cities were in Orlando stumping for his opponent.
"I haven't heard a plan from Ron DeSantis, I don't know what that plan is," Buckhorn said. "I think I know what it is. It's what the Koch Brothers tell him what it is, and what Donald Trump tweets about. That's his plan for Florida, and that's not what we need."