Florida to get $340-million in post-Irma aid for citrus industry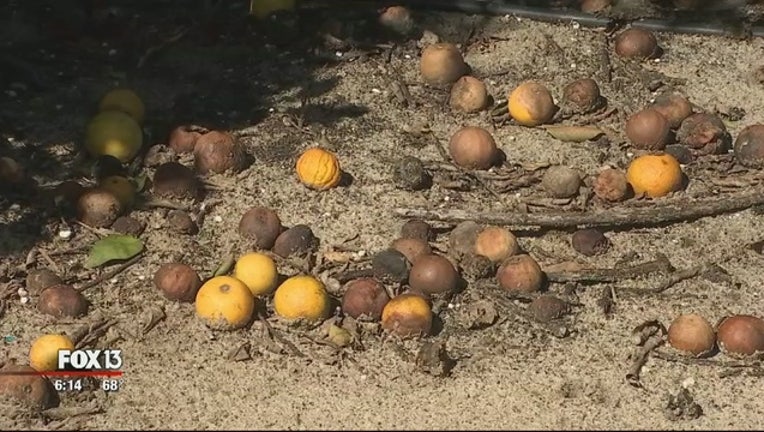 article
TALLAHASSEE (NSF) - Florida will get $340 million to help citrus farmers replace trees and groves lost to Hurricane Irma, as the federal government continues to release details of the industry's much-awaited disaster relief funding.
The block grant, part of a $2.36 billion package Congress directed in February to agricultural businesses impacted by hurricanes and wildfires in 2017, is designed to help the struggling citrus industry, which suffered at least $761 million in losses from Irma.
For farmers, many facing years of diminished crops, applying for the funding could still be more than two months away. A news release from the U.S. Department of Agriculture said the overall "2017 Wildfires and Hurricanes Indemnity Program" will begin no later than July 16.
"While nothing in this town works as quickly as I would like, our team is working as hard as we can to make these resources available to farmers in need, as quickly as possible," U.S. Agriculture Secretary Sonny Perdue said in a video release Tuesday.
The grant money will be available for citrus farmers needing to buy and plant replacement trees or for repairs, such as fixing damage to irrigation systems.
Florida Agriculture Commissioner Adam Putnam said in a video release that the goal is to deliver the money in an "effective and timely manner."
"While no amount of relief can make the farmers who suffered damages from Hurricane Irma whole, this much-needed disaster relief will help Florida agriculture get back on its feet," Putnam said.
The state's overall agriculture industry suffered approximately $2.5 billion in losses from Irma, according to an estimate that Putnam's department released in October.
The citrus industry, currently on pace to produce about one-third fewer oranges and about half the grapefruit compared to the past growing season, views the grove rehabilitation funding as a way to bridge anticipated production losses that will continue into the 2020 crop year.
U.S. Sen. Marco Rubio, R-Fla., noting Irma's long-range economic impact to some of the state's rural communities, said the money should help "make sure that crop yields, and life throughout Florida's heartland, return to normal as quickly as possible."
U.S. Rep. Tom Rooney, a Republican whose district includes major citrus-growing areas, expressed confidence the money "will give Florida's citrus industry some financial certainty to get through the next couple of seasons."
The federal agriculture funding, part of a $90 billion storm relief package signed by President Donald Trump in February, is aimed at recovery efforts from Hurricane Irma, Hurricane Harvey in Texas and other areas of the western Gulf Coast, Hurricane Maria in Puerto Rico and wildfires in California.
Perdue noted that Irma's hit on Florida came as the growing season was just getting underway.
"The Florida citrus industry was likely hit the hardest, and with such a high-value crop, they face a steeper financial burden and as a whole, have less coverage through our traditional insurance options," Perdue said in the video.
Payments will be calculated based on factors including how much of a crop has been harvested, how much was expected to be grown and the amount of insurance a grower has on the crop. Payments can reach 95 percent of losses for producers with insurance and up to 65 percent for losses for producers without insurance.
Also, to be eligible for the money, damaged crops, trees, bushes or vines must be in counties declared primary disaster areas. For Irma in Florida, that covers nearly everything east and south of Taylor and Hamilton counties.