FOX News reports Pres. Trump to send 4,000 troops to Afghanistan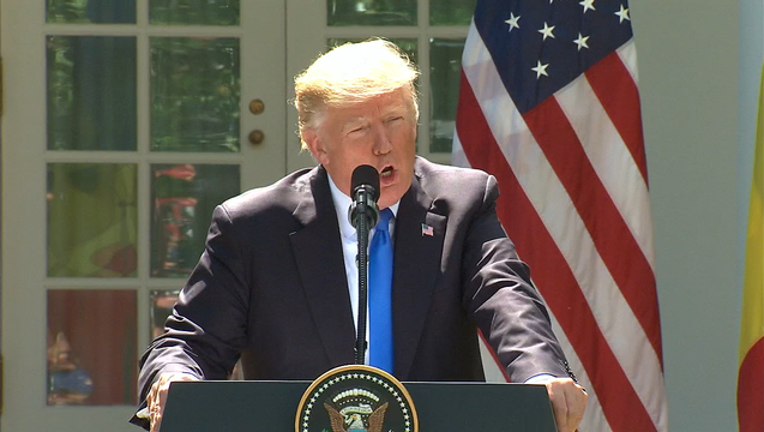 article
WASHINGTON (AP / FOX News) - A U.S. official says President Donald Trump has signed off on sending 4,000 more troops to Afghanistan, FOX News reporter Jennifer Griffin has learned. It is not clear if Pres. Trump will discuss the deployments during his scheduled speech on Monday. There is also no mention of troop withdrawal.
President Trump will unveil his updated Afghanistan policy Monday night in a rare, prime-time address to a nation that broadly shares his pessimism about American involvement in the 16-year conflict. Although he may send a few thousand more troops, there are no signs of a major shift in strategy.
Trump's announcement caps months of debate that illustrated a basic problem in Trump's Afghanistan decision: As a candidate he criticized the war and said the U.S. should quickly pull out, but he also campaigned on a vow to start winning wars. Exiting now, with the Taliban resurgent, would be impossible to sell as victory.
"I think there's a relative certainty that the Afghan government would eventually fall," says Mark Jacobson, an Army veteran and NATO's former deputy representative in Kabul.
And while Trump has pledged to put "America First," his national security advisers have warned that the Afghan forces are still far too weak to succeed without help. That is especially important as the Taliban advance and a squeezed Islamic State group looks for new havens beyond Syria and Iraq.
Even now, Afghan's government controls just half the country.
Wary that the president is prone to last-minute decisions, officials at the White House, Pentagon and State Department remained tight-lipped about the plan ahead of Trump's 9 p.m. EDT televised address from Army's Joint Base Myer-Henderson Hall.
But early statements from advisers and military officials suggested Trump had lined up a plan the Pentagon put forward earlier this year, involving sending close to 4,000 more U.S. troops to Afghanistan to boost the roughly 8,400 there now. At its peak, the U.S. had roughly 100,000 forces there, under the Obama administration in 2010-2011.
The Pentagon does not claim the troop increase will end the conflict, but military officials maintain it could help stabilize the Afghan government and break a stalemate with the Taliban.
Ahead of the speech, top officials emphasized Trump was pursuing a "regional" approach to stabilize South Asia, where neighboring Pakistan is accused of tolerating the Taliban, and nuclear-armed India and Pakistan are seldom far from conflict. Tillerson spoke Monday with foreign ministers from all three countries to discuss "a new, integrated regional strategy," the State Department said.
Trump's televised speech comes as the president has suffered one of his most difficult stretches to date - marked by controversies over white supremacy, the Confederacy and his former chief strategist, Steve Bannon, who was pushed out last week.
Bannon had advocated a proposal to gradually swap out U.S. troops and use private contractors instead to fight in Afghanistan. The military, Secretary of State Rex Tillerson and others did not support that proposal, officials say. Those officials weren't authorized to discuss internal deliberations publicly and requested anonymity.
With no perfect options, Trump is likely to largely keep the mission - and any new troops - focused on training and advising Afghan forces, who are still unable to defeat the Taliban insurgency despite 16 years of U.S. help. In some areas Afghan forces are losing ground to the group the U.S. attacked after the 9/11 attacks for harboring al-Qaida.
While the U.S. keeps working to help the Afghan army make headway against the Taliban and convince them to talk peace, a counterterrorism operation is also expected to continue against the Taliban and an affiliate of IS that has gained a foothold and battled both the Taliban and U.S. forces. Last week, an American soldier died fighting IS militants in eastern Afghanistan.
The Pakistan piece presents another challenge. It's widely accepted that Afghanistan's Taliban leaders are living in Pakistan and that Pakistani hospitals treat the group's wounded.
Trump is expected to press Pakistan to shut down Taliban sanctuaries using a mix of diplomatic and economic incentives, along with threats of consequences if Islamabad doesn't cooperate. The carrot-and-stick approach has been tried before, with the U.S. withholding Coalition Support Funds.
Of key concern to Washington is the Haqqani network, blamed for some of the most devastating attacks in Afghanistan. Allied with the Afghan Taliban, the Haqqani network also has deep ties to Pakistan's powerful ISI intelligence agency.
A fraught period of wrangling over a new U.S. strategy ran longer than Trump initially envisioned. Several times over the past months, officials had predicted Trump was nearing a decision to go along with his commanders' recommendations, only to see the final decision delayed.
The Pentagon has argued the U.S. must stay engaged to ensure terrorists can't again use the territory to threaten the America. Afghan military commanders have agreed, making clear they want and expect continued U.S. military help.
"I assure you we are with you in this fight," Gen. John Nicholson, the top U.S. commander in Afghanistan, said Sunday at Camp Morehead, where Afghan commandoes are trained southeast of Kabul. "We are with you and we will stay with you."
After reviewing war options Friday with his national security team at Camp David, the presidential retreat in Maryland, Trump tweeted Saturday that he'd reached a decision.
The setting for his speech, Joint Base Myer-Henderson Hall, is a short drive from the White House across the Potomac River and near the Pentagon. The base sits alongside Arlington National Cemetery, the final resting place for many Americans who have died in the war.
___
Burns reported from Amman, Jordan. Associated Press writers Kathy Gannon in Islamabad and Sagar Meghani and Darlene Superville in Washington contributed.
___
Reach Josh Lederman on Twitter at http://twitter.com/joshledermanAP and Robert Burns at https://twitter.com/robertburnsap