GA boy in viral prayer video is now cancer-free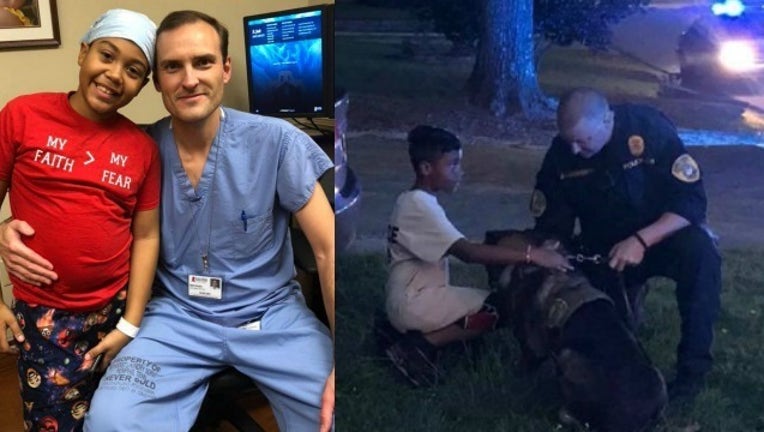 article
The family of a little boy featured in a viral photo last summer is feeling extra grateful this Thanksgiving. That's because he's now cancer free as they head into the holiday season. 
App users: View full article here
Several years ago, Jalen started experiencing some health issues. After months of not being able to determine what was causing terrible headaches, night terrors, and extreme anxiety, Jalen was eventually diagnosed with a brain tumor. 
Following the devastating news, Jalen's family set up a Facebook page to create a support system for Jalen. That's when a central Georgia newspaper picked up on his story. The word got out fast from there and the community was quick to rally to the side of the young boy.
Arguably, some of Jalen's biggest fans included members of the Warner Robins Police Department. Over the summer, as Jalen was about to leave for his biopsy at Navicent Health, several officers arrived at his door to give him an escort, but first, they joined the family in prayer.
The video posted to the Team Jalen Facebook page showed the emotional scene as officers sat with Jalen, praying. The officers also brought gifts of t-shirts and stuffed animals, all bearing German shepherds, Jalen's favorite dog. The 9-year-old actually has a collection of stuff German shepherds which has been dubbed "Jalen's guard dogs." All were donated to the young child.
In the months following the viral post, Jalen was very ill as he battled cancer. 
Then, this week, they received some very welcomed news. Jalen is now cancer-free. 
"We are ecstatic," Jalen's family told FOX 5's Katie Burk. 
Jalen's family told FOX 5 he is still in the recovery stage, so they aren't sure when he'll be able to go home from the hospital, but they are feeling beyond blessed and thankful. 
For updates on Jalen, visit the Team Jalen Facebook page.
RELATED: Georgia officers pray with 9-year-old boy with brain cancer