Gillum concedes race for governor; Senate hand recount wraps up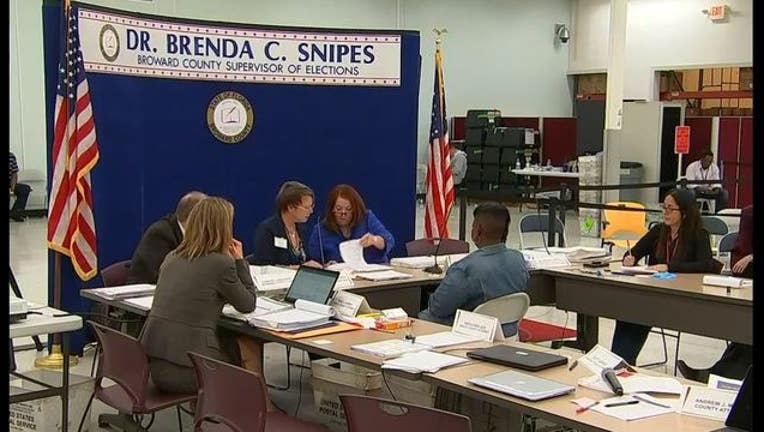 article
TALLAHASSEE, Fla. (AP) - Democrat Andrew Gillum says he is ending his hard-fought race for Florida governor and has congratulated Republic Ron DeSantis.
Gillum posted a live video on Facebook on Saturday afternoon in which he congratulated DeSantis. Gillum had conceded to DeSantis on election night but retracted it after the margin between the two candidates narrowed. The race went to a legally required recount, but after an initial machine recount, DeSantis still led Gillum by more than 30,000 votes.
Gillum, who is Tallahassee's mayor, isn't saying what he plans to do next. 
"Stay tuned," he said in his brief remarks. Nonetheless, Gillum says he will remain politically active, adding "the fight for Florida continues."
Gillum's announcement came hours after President Donald Trump said on Twitter that Gillum will be a "strong Democrat warrior" and a "force to reckon with."
Meanwhile, With just hours to go, most Florida counties had finished their hand recount in the state's contentious U.S. Senate race.
The smattering of results publicly posted on Saturday showed that Democratic incumbent U.S. Sen. Bill Nelson was only gaining a few hundred votes in his bitter contest with outgoing Gov. Rick Scott, a Republican.
State officials ordered a manual recount earlier in the week after a legally required machine recount showed that Scott led incumbent Democrat Bill Nelson by about 12,600 votes. More than 8 million voters cast ballots in the race.
Florida's high-profile race for governor was close as well, but not enough to trigger a hand recount. It appeared Republican Ron DeSantis would wind up defeating Democrat Andrew Gillum by more than 30,000 votes.
Counties have until noon on Sunday to file their official results, but it appears the gap is too far for Nelson to close. Nelson's campaign has remained quiet as the final count has gotten closer.
Nelson and Democrats filed several lawsuits following the close election, challenging everything from the state's signature mismatch law to deadlines for mail-in ballots.
The Nelson campaign managed to secure only one victory in court. U.S. District Judge Mark Walker gave voters until 5 p.m. Saturday to fix their ballots if they haven't been counted because of mismatched signatures. Nearly 5,700 ballots were rejected because signatures on ballot envelopes did not match signatures kept on file by election officials.
But Walker rejected additional lawsuits, including one that sought to change the rules used while inspecting hand ballots.
If the 76-year-old Nelson loses, it would likely spell an end to a lengthy political career that stretches back four decades. Nelson was first elected to the U.S. Senate in 2000. A win for Scott would mark his third victory since the multimillionaire businessman launched his political career in 2010. In each race, Scott has barely edged his Democratic opponent.
State law requires a machine recount in races where the margin is 0.5 percentage points or less. Once that recount was complete, if the differences in any of the races are 0.25 percentage points or less, a hand recount is ordered. Local canvassing boards only review ballots where a vote was not recorded by voting machines.
Back in 2000, the state became the target of ridicule during the chaotic recount of the presidential election that was ultimately won by George W. Bush by 537 votes.
The stakes aren't quite as high this time around, but there have been plenty of problems, especially in two Democratic strongholds in South Florida
On Saturday, the top elections official in Broward County acknowledged publicly that her office had misplaced more than 2,000 ballots.
The South Florida Sun-Sentinel posted video where Broward County Supervisor of Elections Brenda Snipes said that 2,040 ballots had been "misfiled."
"The ballots are in the building," Snipes tells members of the canvassing board responsible for doing the hand recount.
It was another snag for Snipes, who has already been under fire for the way her office has handled the election and recount. Some Republicans have been calling for Gov. Scott to remove her from office.