'A success story': Lakewood Elementary teachers in St. Pete first to receive $1,000 bonuses
ST. PETERSBURG, Fla. - After going from an "F" school to an "A" school, the teachers of Lakewood Elementary in St. Pete were among the first in Florida to receive their $1,000 bonus. Earlier this year, state lawmakers set aside federal funds to provide the checks to teachers – and first responders -- across the Sunshine State. 
On Tuesday morning, on the first day of school in Pinellas County, the governor of Florida made a stop at the school, describing it as a "success story."
The funding for the bonuses, which included checks for first responders, came from federal CARES Act funds. The purpose was to thank teachers, firefighters, police officers and EMTs for their work during the COVID-19 pandemic.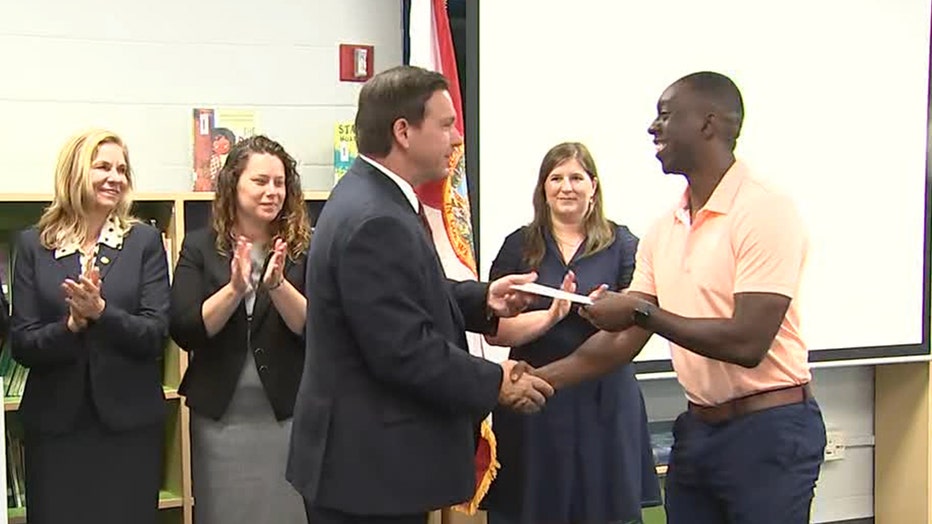 Gov. DeSantis hands $1,000 bonuses to teachers at Lakewood Elementary School in St. Petersburg, Fla.
For Lakewood Elementary, their accomplishment was years in the making, and one that wasn't halted by the pandemic, Gov. Ron DeSantis pointed out, adding that the hadn't scored better than a "D" since 2013. But that all changed during this past school year. They scored an "A."
"You don't always see everything right away because this is a long journey," DeSantis said. "I tell you some of these kids will look back…after they've gone to college and thank these teachers and thank the school for getting them on track."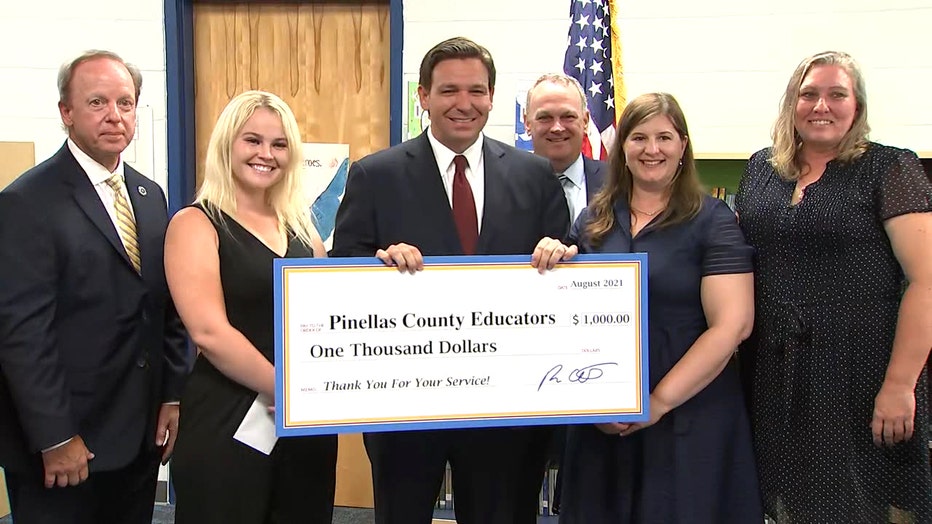 He touted the teachers before they received their checks in-person during Tuesday's press conference, including a kindergarten teacher, whose students were considered to be "not kindergarten-ready." By the end of the school year, 99% of her students were at or above grade level, the governor said.
According to U.S. News & World Report, Lakewood Elementary enrolls 82% economically disadvantaged students. Education Commissioner Richard Corcoran said during the press conference that is the "low-income kids that are most vulnerable to falling behind."
"COVID attacked us and our teachers fought back," he said. "It's such a testimony to the work that you do…thank you for your great work."
DeSantis said other teachers and principals across the state – about 170,000 full-time teachers and 3,600 principals, he stated - have either started receiving those checks or will receive them within the next week.
The governor's visit occurred during the ongoing battle between some school districts and the state over mask mandates.
Pinellas County is one of several in the Bay Area that is making masks optional for students. Across the bay, Hillsborough County is mandating masks but offering parents the chance to opt out.
This week, Corcoran said he is looking to enforce Gov. DeSantis' threat to withhold the salaries of school officials in Alachua and Leon counties if they don't comply with a state rule aimed at allowing parents to decide whether children wear masks in school. 
MORE: Florida education commissioner ramps up DeSantis' threat to school officials over mask mandates
In Alachua County, masks are mandatory in classrooms for the first two weeks of school. In Leon County, the superintendent announced earlier this week that students in elementary and middle schools must wear a mask. Both  counties decided to require parents to submit doctors' notes for children to be exempt from wearing masks --- drawing objections from Corcoran.
RELATED: Superintendent of school district in Florida's capital goes against DeSantis, requires masks
"The emergency rule does not require parents to submit medical documentation from a physician or a nurse practitioner in order to opt out, and any such requirement is inconsistent with the emergency rule," Corcoran wrote in nearly identical letters Monday to leaders of both districts.
DeSantis issued an executive order on July 30 seeking to prevent local school boards from imposing mask mandates on students during the COVID-19 pandemic. That led to the state Department of Health on Friday approving a rule that, in part, requires allowing parents to opt out of mask requirements.