Hillsborough school employees protest plan to privatize custodial services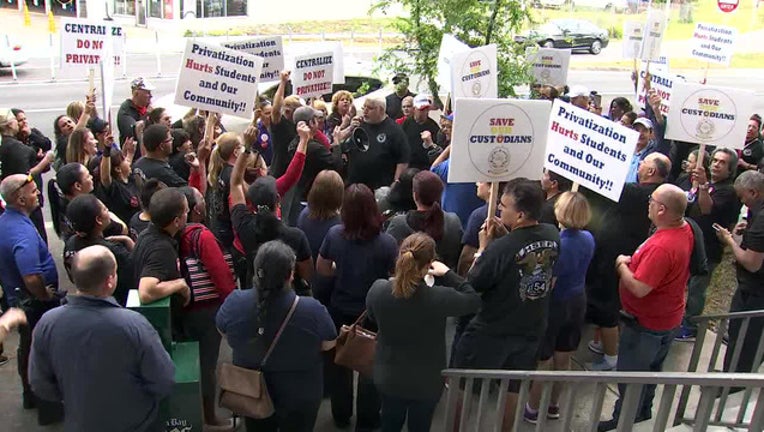 TAMPA, Fla. (FOX 13) - On the steps of Hillsborough County's school headquarters building, employees loudly protested the thought of privatizing custodial services.
"Privatization will hurt because it will take these jobs away from these people that have worked here for so long," said Iran Alicea, president of the Hillsborough School Employee Federation (HSEF). 
The dozens of workers protesting were just a small percentage of the county's workforce employed as custodians. There are more than 1,500 custodians in the district.
Right now, the district says, it's simply exploring the idea of subcontracting its custodial services as it looks for ways to cut costs. 
"This is really about getting costs, so we can know if we want to even make any decisions moving forward, and talk it over with the school board, and seeing what any transition would look like even if we do anything," said Jeff Eakins, the district's superintendent. 
The district sent out a letter to all 24,000 of its employees to notify them that it will soon begin accepting bids from private companies. 
"Nothing is changing at this time," said Tanya Arja, spokesperson for Hillsborough County schools. "We're not sure if anything will change, but the board asked the district into possible benefits of having an outside company come in and do custodial services. The only way that we can look into that possibility is to put out a RFP, which is when we ask companies to bring us information, on exactly what they could do, the cost, what kind of services they could provide." 
District employees say there's a better way to clean up this mess. 
"Let's centralize, there is savings to be had by centralization," said Alicea. "Let's sit down, let's talk about it. Let's do what's right for our custodians and our school district." 
The district says a move could save it millions of dollars, but these workers fear it could come at a cost to their families. 
The proposals from outside companies are due April 17. Should a change be made down the road, custodial staff would be able to remain in their current positions throughout the 2019-2020 school year. 
Meanwhile, a $9-million check was delivered to Hillsborough County Public Schools today. It's the first wave of the half-penny sales tax from the education referendum that passed back in November. 
The money will be spread out to around $1.3-billion over the next 10 years for several projects like air conditioner replacements and roof repairs.