Inverness home completely destroyed in fire, officials say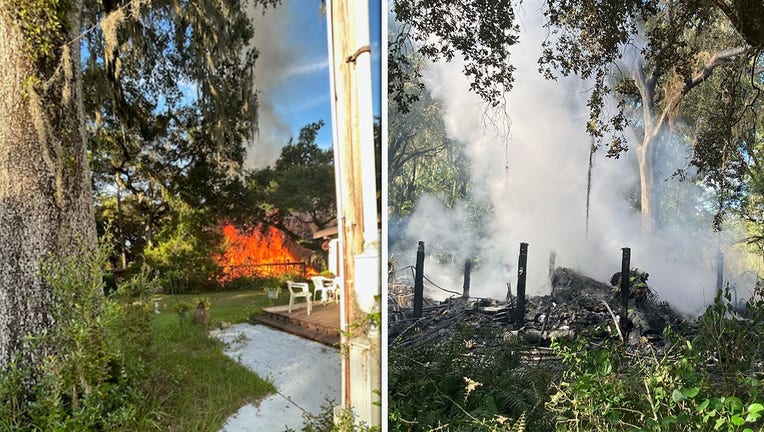 article
INVERNESS, Fla. - Multiple 911 calls reported a two-story stilt home engulfed in flames on Wednesday morning, according to firefighters.
Around 8:41 a.m., Citrus County Fire Rescue responded to a fire on E. Leaf Ct. in Inverness. When firefighters arrived, they say they were unsure if anyone was trapped in the home.
Officials say many animals were reportedly inside the house.
According to officials, firefighters from Hernando, Homosassa, Floral City, Kensington, Connell Heights, Highlands, Citrus Springs, a rescue unit, safety officer, and the Rehab Unit from Citrus Springs responded to the scene.
READ: Shore Acres home under renovation after being damaged during Hurricane Idalia catches fire: SPFR
Firefighter say the second floor of the home was mostly collapsed and there were live power lines on the side of the house. Authorities asked the power company to secure power.
Neighbors told officials that they contacted the homeowner who said the house was unoccupied during the fire. Crews say they began extinguishing the fire and protecting the surrounding exposures.
First responders began extensive overhaul and mop up operations after the fire was under control around 9:12 a.m., according to officials.
READ: Hurricane Idalia recovery efforts continue one week after floods devastated Citrus County
Investigators discovered that the homeowner left the house around 7:30 a.m. and left fans and lighting on for the animals on the bottom floor.
Crews say the only animal they found safely was a pig. The home was completely destroyed, according to first responders.
The Florida State Fire Marshal's Office was contacted to investigate the cause and origin of the fire, according to officials.
Authorities say the last unit cleared the scene at 12:33 p.m.