It's time for 'Back to the Future' Day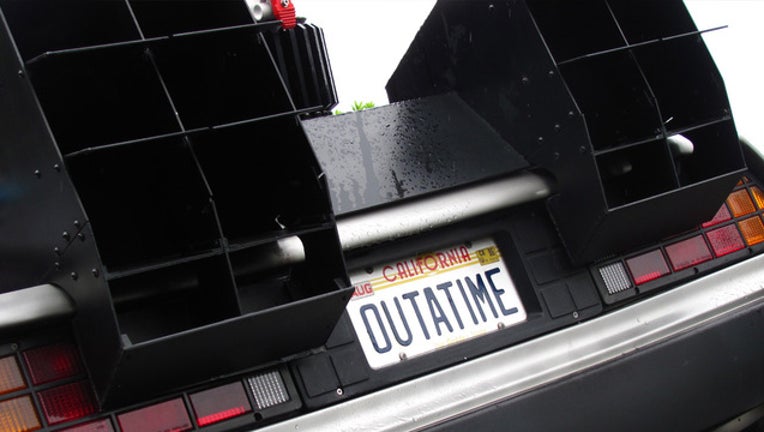 article
LOS ANGELES (AP) - LOS ANGELES (AP) — The future is today — if "Back to the Future" is to be believed.
The celebration of the so-called "Back to the Future" Day on Wednesday marks the date — Oct. 21, 2015 — that the characters Marty McFly, Emmett "Doc" Brown and Jennifer Parker famously journeyed from 1985 to 2015 in the sci-fi film trilogy's second installment in 1989.
"Back to the Future Part II" envisioned a colorful 2015 with flying cars, hover-boards and self-tying shoelaces. While those doodads are hardly prevalent today, the film did accurately tease the rise of such technology as flat-screen televisions, biometric scanning and hands-free gaming. It also predicted the Chicago Cubs winning the World Series — an actual possibility with the Cubs contenders in the real-world playoffs, although maybe not for long.
"Back to the Future" Day is being celebrated Wednesday with an appearance by the original cast at a Lincoln Center screening in New York, as well as several fan-centric events and more than 1,700 theaters hosting screenings across the country.
"Back to the Future" filmmaker Robert Zemeckis' trilogy has left a lasting impression on pop culture in the 30 years since the original film debuted, spawning a theme park attraction, video game and animated series.
Beginning Wednesday, the town of Reston, Virginia, is ceremoniously changing its name to Hill Valley, McFly's fictional hometown. The Washington West Film Festival will feature a marathon screening of the trilogy Wednesday and a Sunday screening of the original film, with appearances by stars Christopher Lloyd and Claudia Wells, as well as screenwriter-producer Bob Gale.
"Back to the Future" Day will be celebrated in Southern California during the four-day "We're Going Back" fan event. The festivities will occur at locations featured in the film series, including a tour of the Hill Valley town square on the Universal Studios lot, an "Enchantment Under the Sea" dance at the Hollywood United Methodist Church and a screening in the parking lot of the Puente Hills Mall, where McFly famously blasted off in Doc Brown's time-traveling DeLorean.
The "We're Going Back" fan event will also host the premiere of "Back in Time," a documentary about the franchise's legacy featuring interviews with such notables as Michael J. Fox and Steven Spielberg. The documentary will also be released digitally Wednesday.
Other celebrations include a re-creation of Hill Valley on Thursday in Fillmore, California, where part of the franchise was filmed, and Million McFly March, a gathering of fans dressed as McFly that will begin at the Burbank, California, location of Burger King depicted in "Back to the Future."
For those who don't want to leave home, the trilogy is exclusively streaming on Amazon Prime, and Universal is releasing a special edition trilogy box set in light-up packaging resembling Doc Brown's flux capacitor.
___
Online:
http://www.weregoingback.com
http://www.backintimefilm.com
http://www.millionmcflymarch.com
___
Follow AP Entertainment Writer Derrik J. Lang at http://www.twitter.com/derrikjlang