Laid-off, furloughed workers should file for benefits immediately, attorney warns
TAMPA, Fla. - A spike in unemployment claims is expected as shutdown orders for businesses go into full force. The labor department says this week saw the largest rise in jobless claims since the 2008 panic.
The coronavirus pandemic has many wondering where they will get their next paycheck from if they are laid off or furloughed. Employment law attorney Erik DeL'Etoile said it's important to breathe, know others are in the same boat and file for unemployment.   
There's a good chance the unemployment office is closed so DeL'Etoile recommends going online to Floridajobs.org. The website allows people to file for unemployment online.
"It's going to be a process and there's going to be a lot of people applying, so the sooner you apply the better," DeL'Etoile explained, adding people who are furloughed still have the opportunity to receive unemployment if they are not getting paid. 
Earlier this week, Governor Ron DeSantis said restrictions on unemployment eligibility have been relaxed, which means any employee who has lost their paycheck because of the coronavirus pandemic will be eligible for unemployment payments.
Waiter and part-time sports reporter Jack Whidden, of Wesley Chapel, last worked on Tuesday. With stadiums and restaurants both emptied due to COVID-19, he's not sure what his future holds.
"There are no words to describe how difficult that is," he said. "I have never been in this situation before."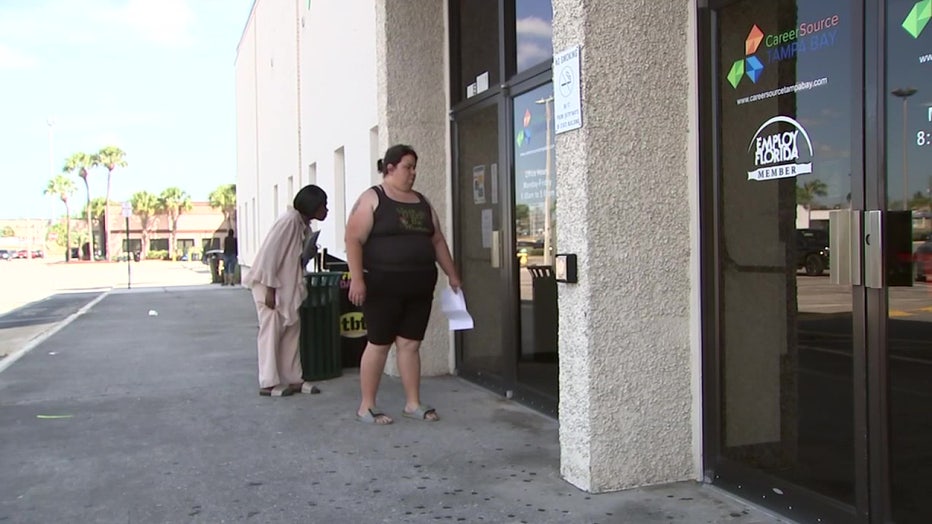 Whidden said he has $1,300 worth of bills due next week and only enough to pay half.
"Am I going to get kicked out of my apartment? Am I going to get kicked out of school because I can't afford my tuition deposit?" he wondered.
He's not even close to being the only one filing for unemployment.
"If you go back two weeks, you saw an increase last week and an even bigger spike this week," Gov. Ron DeSantis said of unemployment claims during a press conference Friday.
The Labor Department says nationwide unemployment claims rose last week from 211,000 to 281,000, a bigger increase than any week since 2008.
Although we are still waiting for firm numbers, Goldman Sachs predicts jobless claims for this week will be 10 times bigger than normal, at 2.25 million.
The state's unemployment website warns it's taking longer than normal to get through to file a claim.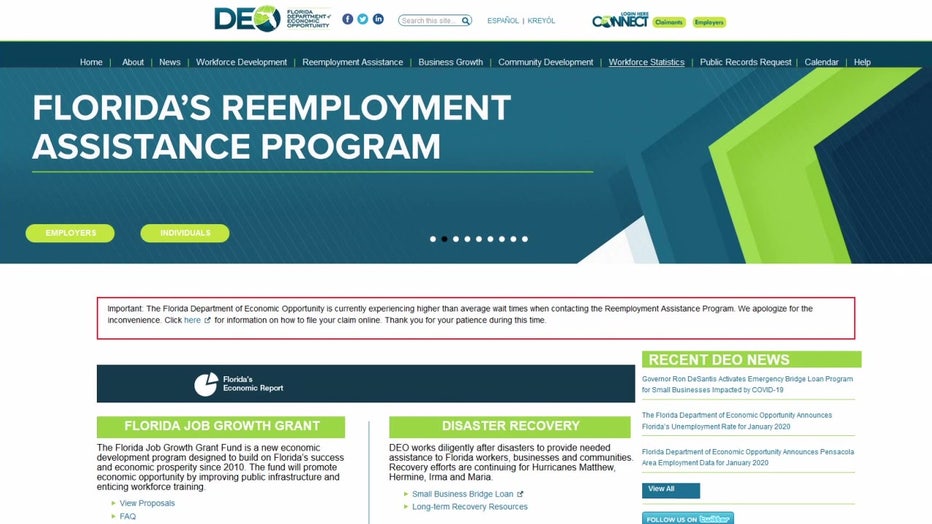 The governor said he has removed a requirement that all who seek unemployment register with the state's job search portal -- and make continued reports on steps they are taking to find employment -- in order to be eligible. To file an unemployment claim online, visit http://www.floridajobs.org/Reemployment-Assistance-Service-Center/reemployment-assistance/claimants/apply-for-benefits.
According to DeL'Etoile, employers now have the right to ask about an employee's medical situation because there is so much uncertainty on who or who may not be infected with COVID-19.
"Since it's been labeled a pandemic, an employer is allowed to ask more pointed questions regarding your medical condition. They can even go as far as taking your temperature to ensure the health and safety of your fellow employees," DeL'Etoile explained.
Salaried employees, who are told by their boss to go home will still get paid, according to DeL'Etoile.
He explained, "If you work at all during your day, whether it's 10 minutes or 100 hours you are entitled to your full salary. So, if you're told to go home and you're still checking emails, still supposed to be taking phone calls, as a salaried employee you're still working and you would be entitled to your full salary."
The governor says he is considering a moratorium on all eviction proceedings.
If you feel sick:
The Florida Department of Health has opened a COVID-19 Call Center at 1-866-779-6121. Agents will answer questions around the clock. Questions may also be emailed to covid-19@flhealth.gov. Email responses will be sent during call center hours.
LINK: Florida's COVID-19 website
CORONAVIRUS IN FLORIDA: What you need to know
AROUND THE WORLD: CoronavirusNOW.com
Map of known COVID-19 cases:
MOBILE APP USERS: Click here for map