Lawmakers again looking at turning off red light cameras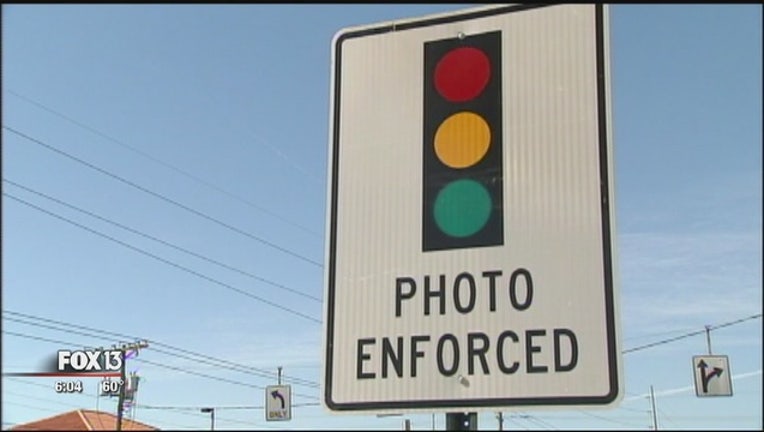 article
TALLAHASSEE (NSF) - The latest effort to end red-light cameras got a green light from a House panel Wednesday.
The House Transportation and Infrastructure Subcommittee voted 13-1 to support a measure (HB 6007) by Rep. Bryan Avila, R-Hialeah, and Rep. Blaise Ingoglia, R-Spring Hill, that would repeal a law known as the Mark Wandall Traffic Safety Act of 2010.
A repeal would prevent the state Department of Highway Safety and Motor Vehicles and local governments from using the cameras for traffic enforcement.
Avila said the law may have been well-intentioned, but it has become "a revenue stream" for governments. He also said a recent state study shows the cameras have failed to enhance public safety.
Opponents, including the Florida League of Cities and Melissa Wandall, the wife of Mark Wandall, argued local officials should be able to decide whether to use the cameras. Melissa Wandall maintained the law saves lives.
"If I thought this … was killing other people, maiming other people, injuring other people, I tell you right now I would have my husband's name taken off this (law)," said Wandall, whose husband was killed by a red-light runner in 2003. "I'm not just an advocate, I know the statistics. I work with law enforcement. We're taking all these tools away from law enforcement."
For motorists, the proposal would eliminate $158 fines imposed on the owners of vehicles caught on camera running red lights, starting July 1, 2020.
State and local governments split the fine revenues, with the fines yielding nearly $60 million for the state budget last year, according to the Florida Department of Revenue.
WATCH: Worst red light runners in Florida in 2016
Red-light camera opponents have tried unsuccessfully for years to repeal the law. But Avila believes a study released Dec. 31 by the Department of Highway Safety and Motor Vehicles will bolster the case for the bill during the upcoming legislative session.
"This program simply has not met its intended purpose of enhancing public safety," Avila said. "The facts show that there has been a significant increase, in terms of rear-end crashes at these intersections, due to the red light cameras."
In a survey of 148 intersections in 28 cities and counties across the state, total crashes were up 10.14 percent when comparing data before the cameras were installed and after they were in place, according to the state report.
RELATED: Crashes up at red-light camera intersections
"As a government, are we willing to trade public safety for revenue?" asked red-light camera opponent Paul Henry, a retired law-enforcement officer representing the Liberty First Network.
But Rep. Barbara Watson, a Miami Gardens Democrat who cast the lone vote against the measure, noted the study looked at crashes up to 250 feet from intersections. Also, Orange County Sheriff's Capt. Dennis Strange maintained the cameras are a deterrent, anecdotally noting that drivers modify their behavior where they know cameras are used.
"I can tell you that my sons, when they got their permits, they knew where every red light camera was … because I had a standing rule, if you are issued a citation, that's your baby, you pay it," Strange said.
In voting for the bill, subcommittee Chairman Rep. Brad Drake, R-Eucheeanna, said he'd like to hear testimony from governments, such as the city of Tallahassee, on why they have removed the cameras.
Last year, the House voted 83-33 to support a repeal effort, but the measure failed to get through the Senate committee process. Freshman Sen. Frank Artiles, who was the main sponsor of the House effort in 2016, has filed the Senate version of the bill (SB 178) for the session that starts March 7.