Manatee commissioners approve Lakewood Ranch expansion next to Freedom Factory
BRADENTON, Fla. - The Manatee County Commission has voted to move forward with the Taylor Ranch Development, despite concerns from Cleetus McFarland with the Freedom Factory Racetrack and Bradenton Motorsports Park, residents of Panther Ridge, racing fans, and others who live nearby. 
"This is ag land, and we wouldn't be here today if the developers weren't being greedy," said one resident of East Manatee County. 
One by one, residents voiced their concerns. 
"Our county's residents have been bombarded with so many development projects being passed that it's been overwhelming. People have been unaware and unable to keep up with challenges." Said Mimi Swan. 
'Don't let my racetrack die': Housing, horsepower clash with sprawl reaching Bradenton raceways
A 4,500-home expansion of Lakewood Ranch is planned for Taylor Ranch off State Road 64 and Burneside Boulevard. 
"We've chosen to live in the country where we felt we were insulated because of our deed restriction, but we feel like the county commissioners don't care about that," said Danielle Lennon the Vice President of the Panther Ridge homeowner's association. 
Developer presentation slides for housing near Bradenton Motorsports Park, Freedom Factory
Residents are concerned about traffic, water quality and a change in country living. 
"We bought our homes and our farms, I don't want to be in the middle of a subdivision and that's what will happen," said another resident. 
Those living on acres in Panther Ridge thought the future development area boundary line would protect them until 2040. 
RELATED: Sick Week brings drag racers to cruise Bay Area roadways
Manatee County Commissioners said no.
"The FDAB is not a wall. It's a line in the sand that was a temporary line at that time to hold growth to that point. We've exceeded that. You can see that happening every day here. You can see that by the traffic coming here and we can't stop people from coming here, but if we don't plan for growth, growth with plan for us," said Commissioner Mike Rahn. 
While current residents asked the county to slow down, commissioners said developers have the right to make plans for their land.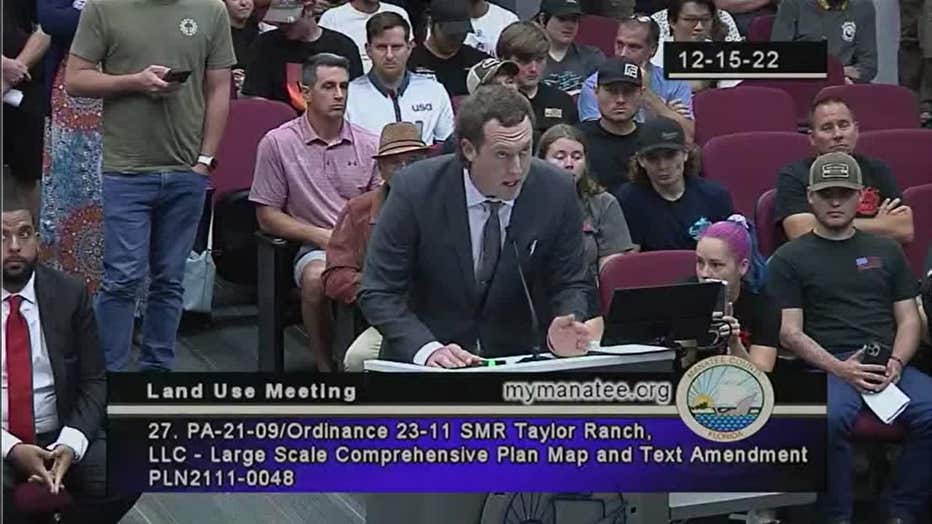 Garrett Mitchelle, aka Cleetus McFarland, owner of the Freedom Factory, at Manatee County Commission land use meeting on development near his business
"You've got to get the farmers and talk to them if you don't want these types of things to happen. It has nothing to do with us.  We only follow the policy that's being pushed in front of us," said Commissioner Jason Bearden. 
Manatee County Commissioners voted 5 to 2 to approve the 4,500 home development.  
Commissioners James Satcher and Jason Bearden were the two dissenting votes. 
An attorney for the Freedom Factory Racetrack plans on filing an appeal. More legal action is expected. 
"This was a promise that was made and we feel that we were lied to our promises were broken and the county is not protecting us, they're doing a quick and dirty. It's a money grab," said Lennon.