Manatee County Hurricane Preparedness Expo brings in 50 vendors for residents ahead of hurricane season
PALMETTO, Fla. - Fifty vendors filled the Bradenton Area Convention Center for Manatee County's third annual Hurricane Preparedness Expo.
"It's now to be prepared, it's now to have your plans, it's now to get their hurricane kits together, and we have people here from insurance, to roofers, to handymen, just be better prepared and alert of what they might need pre-storm and on the other side, post-storm," said Steve Litschauer, the deputy director of public safety and chief of emergency management in Manatee County.
Litschauer says one of the most common issues people had after Hurricane Ian was not having the right insurance coverage.
MORE: Hillsborough emergency officials prepare hurricane shelters with two weeks until 2023 season
"If you're a renter make sure you have renter insurance, we saw through Ian and post-Ian, they had a tornado hit, many people did not have insurance," said Litschauer.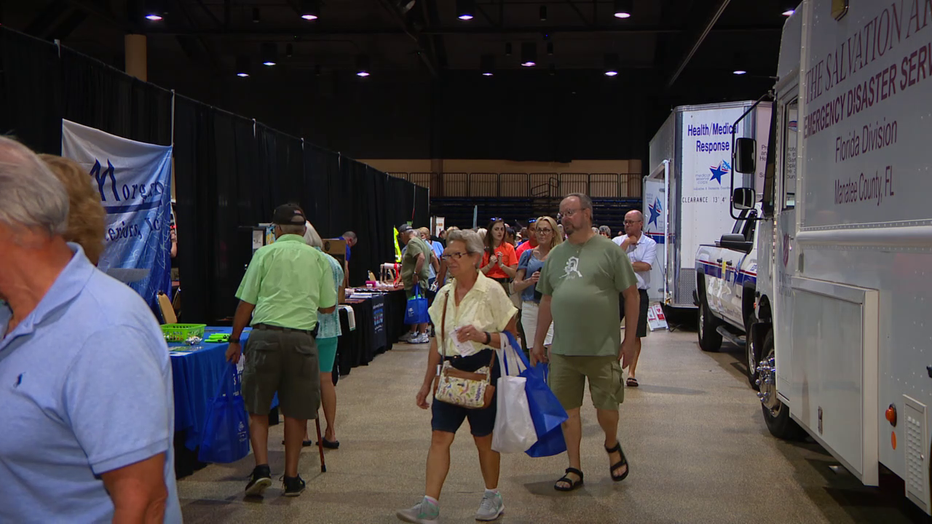 Insurance companies were vendors at the expo, even mobile feeding units and non-profits. The American Red Cross's booth also showed people how they help after a storm.
"We're just hoping people will be better prepared, know what to expect, have a plan, know where to go," said Litschauer.
These are crucial reminders for people, so they can get through with ease when mother nature strikes hard.
"I wanted to get my kit together first, you always think you've got everything until it comes down to it, and you don't have everything, and we're looking for a roofing contractor, so that type of person is here also," said Jeanette and John Lawson, who have lived in Manatee County for 25 years.