Manhunt underway for two Florida escaped inmates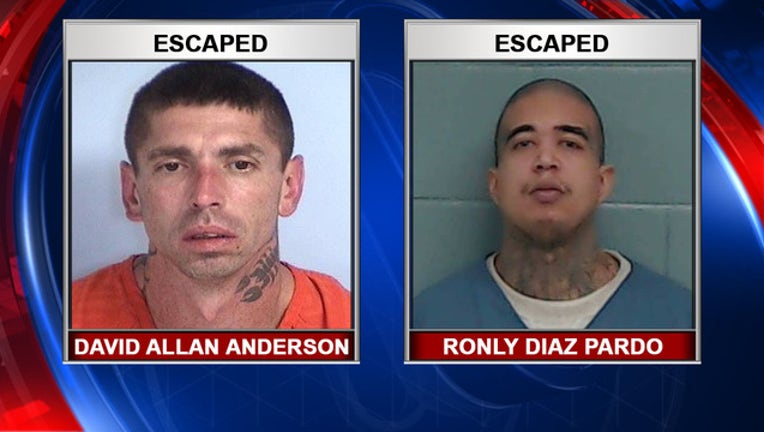 article
CHIPLEY, Fla. (FOX 13) - Two Florida inmates are on the run after escaping a jail located in the panhandle.
Washington County deputies say they are searching "multiple locations" in the southeastern region of the United States for 27-year-old Ronly Diaz Pardo and 39-year-old David Allan Anderson.
Around 11 p.m. Sunday, officials say the duo escaped from the county jail, located in Chipley, FL, by chipping away at a portion of their cell wall located under a sink. This allowed them access to a maintenance room where they were able to exit into the jail yard and crawl under a padlocked gate that they had bent.
Pardo faces charges including murder after allegedly stabbing another inmate in late June. He was serving a prison sentence at the Northwest Florida Reception Center after being convicted of selling marijuana and lewd and lascivious battery in Collier County. He is also being held for the U.S. Marshals due to being sentenced to a 22 years for trafficking charges. 
Anderson was awaiting trial in Washington County after charges stemming from a May 2017 chase that began in Seminole County, Georgia and traveling through Jackson County in Florida. He was apprehended in Washington County and faces charges including fleeing and eluding law enforcement and possession of drugs. He was booked again in July 2017 after failing to appear for court.
Washington County officials received a report Monday morning of a stolen vehicle which occurred about one mile from the jail. They believe the escaped inmates took the vehicle to flee the area. The vehicle is described as a 1996 silver or beige Lincoln Town Car with a vinyl top, with a license plate number: PH712D.
The duo could be anywhere in the southeastern U.S. as the Sheriff's Office searches "multiple locations" in the region.
"We have had a tremendous amount of support from several local law enforcement agencies concerning this investigation, as well as the U.S. Marshals Felony Fugitive Task Force and the Florida Department of Law Enforcement (FDLE)," says Sheriff Kevin Crews in a statement. "We will not stop until both of these individuals have been apprehended."
Anyone with information on the whereabouts of the escaped inmates are asked to contact Washington County Sheriff's Office at (850) 638-6111 or provide an anonymous tip by called (850) 638-8477 or by email tips@wcso.us.