Marco Rubio wins re-election to Senate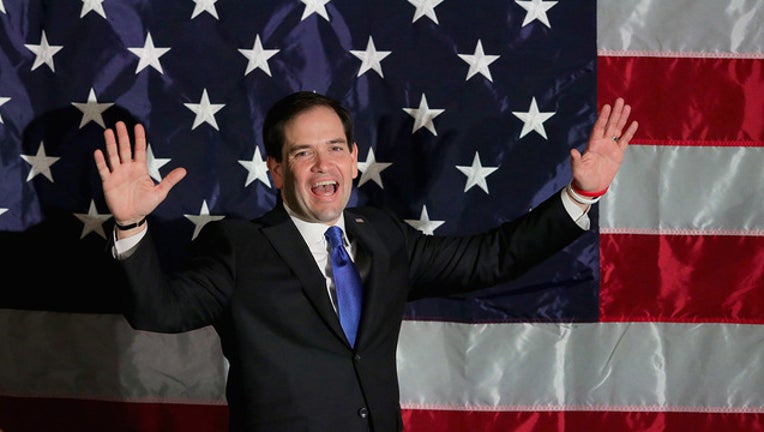 article
TALLAHASSEE, Fla. (AP) - Republican Sen. Marco Rubio won a second-term Tuesday in a race where he was forced to defend his support for Donald Trump and turn back suggestions he was only seeking re-election to advance his future presidential ambitions.
Rubio defeated U.S. Rep. Patrick Murphy, a two-term congressman with a reputation as a moderate that Democrats hoped would make him successful in a swing state like Florida.
Loud cheers and chants of "Marco! Marco! Marco!" erupted at Rubio's election night party when the raced was called shortly after polls closed.
LINK: Full Congressional race results
LINK: Presidential results & map
The presidential race between Hillary Clinton and Donald Trump remained tight with more than 8 million votes counted. The state's 29 electoral college votes are the biggest prize among swing states, and there's little chance Trump can win the presidency without Florida.
Florida approved a constitutional amendment to expand medical marijuana, and was electing at least eight new members to the U.S. House.
Rubio decided to seek a second term just two days before the deadline to make the ballot and after repeatedly saying he wouldn't seek re-election. Rubio had sought the GOP nomination for president, but dropped out of the race after Trump soundly beat him in the Florida primary.
Still, many speculate the 45-year-old senator will eventually make another presidential run. Rubio's entry into the race nearly cleared a crowded Republican primary and immediately gave Republicans their best shot at holding the seat. Outside groups pumped millions of dollars into the race to help ensure the victory.
Murphy at one point nearly closed the gap in the polls despite national Democrats diverting their money from Florida to Senate races where television ads are less expensive. Republicans attacked Murphy for embellishing his resume by claiming to be a small business owner and a certified public accountant before being elected to Congress in 2012. Murphy was a part owner of an environmental cleanup company, but the business was set up by his wealthy father, and he was a licensed CPA in Colorado, but not in Florida, where he worked at an accounting firm.
Murphy repeatedly criticized Rubio for saying he still supported Trump even after calling the billionaire a dangerous, erratic man who couldn't be trusted with the nuclear codes. Murphy also called Rubio out for missed votes and intelligence briefings while running for president, and questioned whether he would serve his full six-year term.
Rubio wouldn't make that commitment until the candidates' first debate, when he said, "God willing," he will serve the entire term.
Rubio won his seat in 2010, using a tea party wave to come from behind and beat then-Gov. Charlie Crist.
Heading into Election Day, a record number of Floridians voted early. Republicans had already cast 2.5 million ballots by mail or at early-voting sites, compared with 2.59 million by Democrats. About 1.25 million independents also cast early votes.
"This was a long campaign season, a divisive campaign season. It felt incredible to finally get voting out of the way," said Republican law student Michael Beato, 22, who voted early in the Gainesville area. "I'm happy that I voted on the issues that matter, on the constitutional amendments. Happy that I voted for my senator, Marco Rubio."
In South Florida, Democrat Gary Ansley, a 66-year-old contractor from Wilton Manors, said he voted for Murphy because Rubio has shown he doesn't want to be a senator, just president, and wants to privatize or cut many social programs.
"He has voted against the people, not for the people," said Ansley, who also cast a vote for Trump.
Florida also will send at least eight, and possibly more, new representatives to the U.S. House. Retirements, a state Supreme Court order to redraw congressional maps, and members leaving to seek other political office have led to the eight open seats. In addition, Republican-turned-Democrat former Gov. Charlie Crist is running a strong race against U.S. Rep. David Jolly in a newly drawn district that now has more Democrats. Republican U.S. Reps. John Mica and Carlos Curbelo also are facing strong Democratic competition.
Florida voters also decided to amend the state constitution to legalize medical marijuana, broadening access to pot beyond the limited therapeutic uses approved by the legislature two years ago. Two years ago, a similar measure failed.
------
AP reporters Terry Spencer in Miami, Jason Dearen in Gainesville and Tamara Lush in St. Petersburg contributed to this report.