Maria finally racing out to sea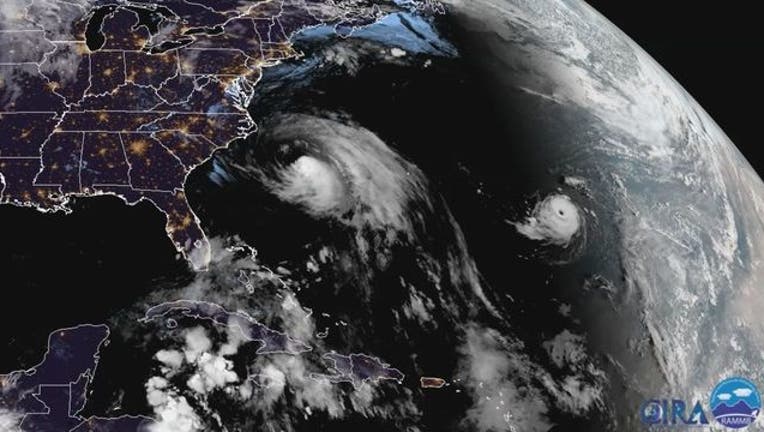 article
WAVES, N.C. (AP) - Maria was finally racing east in the Atlantic on Thursday, giving the United States a rest from the constant threat of tropical weather for more than a month.
No injuries have been reported on the U.S. mainland with Maria, which mainly lashed North Carolina's fragile Outer Banks with high water and waves pounding the fragile islands from both sides, washing over the only highway connecting Hatteras Island to the mainland.
While Maria's most punishing hurricane-force winds remained offshore, tropical storm-force winds extended for as much as 230 miles (370 kilometers) from the center, churning up the surf on both sides of the islands. Maria moved slowly Monday and Tuesday before accelerating out to sea late Wednesday and weakening to a tropical storm early Thursday.
Officials expected conditions to improve quickly Thursday on the Outer Banks, so schools could reopen, sand could be removed from roads and the ferries that provide access to Ocracoke Island can begin running again.
By Thursday morning, Maria was centered about 275 miles (440 kilometers) east-northeast of Cape Hatteras.
Since Harvey formed in the Gulf of Mexico on Aug. 24, forecasters have been watching the Atlantic for likely threats to the United States or the Caribbean islands.
But the National Hurricane Center predicts that Maria and Hurricane Lee, which strengthened to a major Category 3 hurricane Wednesday before weakening to Category 2 in the open Atlantic, were both headed quickly east into colder water and away from the region.
Maria struck Puerto Rico, its Category 4 winds devastating the island. As the storm headed north and west, North Carolina officials ordered more than 10,000 tourists to leave Hatteras and Ocracoke because of the possible flooding.
That left locals to watch another storm chew up their beaches. This is the fourth named tropical storm to affect the islands in the past two years. During the winters, Nor'easters can also churn away sand and flood roads.
"Mother Nature keeps chopping at it," said Tony Meekins, 55, a lifelong resident of Avon who works as an engineer on the temporarily halted Hatteras-Ocracoke ferry. "We see storm after storm."
Standing near Avon's closed fishing pier, Meekins pointed to where the dune line is gone, pounded down by previous storms. At low tide, a layer of wet sand covered the road.
Brent and Donna Bennett of Buxton worry about lost wages. He works at an ice cream shop, which is closed, and she can't make it through the floods to her hotel desk job in Hatteras Village.
"Storms are something you come to expect. We seem to have more of our share recently, and I'm over it," Donna Bennet said.
Meanwhile, the Trump administration announced it will waive federal restrictions on foreign ships' transportation of cargo to hurricane-ravaged Puerto Rico.
White House Press Secretary Sarah Huckabee Sanders said Thursday on Twitter that President Donald Trump had "authorized the Jones Act be waived for Puerto Rico." She said Trump was responding to a request from the governor and it "will go into effect immediately."
The Jones Act is a little-known federal law that prohibits foreign-flagged ships from shuttling goods between U.S. ports. Republicans and Democrats have pushed Trump to waive the Jones Act, saying it could help get desperately needed supplies delivered to the island more quickly and at less cost.
___
Associated Press writer Jack Jones in Columbia, South Carolina, contributed to this report.